Steiger Dynamics LEET Home Theater PC
PRICE
$5,635
AT A GLANCE
Plus
Quietest PC I've ever used
Impeccable build quality
High-end A/V gear gorgeous looks
Minus
Incredibly expensive
Still a PC, which scares some people
THE VERDICT
A stunningly silent, built-like-a-tank, ultimate HTPC.
I am a vocal supporter of the home theater PC, a computer that lives in your home theater or media room. While not for everyone, HTPCs offer incredible access to content for your enjoyment. This includes games, of course, but also media streaming, Web pages, and personal video/audio libraries. Sure, you can get most of that through other devices, but often not as easily or well.
I've built more than my fair share of HTPCs over the years, some documented for this very magazine. (OK, technically, for Home Theater, but we're all one big happy family now). My Wood HTPC was especially amusing (check it out here). But I've come to realize that my building skills (woodworking or otherwise) lack a certain level of…I'm not sure of the word…quality? Some things are best left to the professionals. Case in point, Steiger.
Steiger Dynamics is a small company that specializes in custom-built HTPCs. The fit and finish are that of a good luxury product. You can specify what hardware you want, and they'll build a PC to match. The company sells a wide range of packages, with starter systems that begin around $999 in their Maven lineup and go up from there—way up, especially in their LEET Reference family, tested here. We spec'd a top-of-the-line review sample, of course, because…why not?
A Case to Behold
The case and build quality are two of the main reasons to get a pre-built HTPC. After all, the parts inside you can buy yourself (mostly). The case of Steiger's LEET configuration is incredible. It looks, and is built, more like a high-end amp or pre/pro than a computer. The anodized aluminum chassis is one piece, feeling higher in quality than a lot of A/V gear I've reviewed. The 7-inch dimmable front LCD screen can display a variety of data like CPU usage, internal temperature, and a clock. LEDs (which can be turned off) illuminate the interior to show off the impeccable (custom-made) cable and tube management through the clear top panel.
Ah yes, the tubes. You'd expect liquid cooling at this price, but here it's on a whole other level. It's not just that the CPU and the GPU are liquid-cooled; the radiators that vent the heat look like they came out of a car. One runs nearly the length of the case, is an inch thick, and has two big 120mm fans blowing out the side. Another radiator, on the back, is half as long, the same thickness, and has one 120mm fan.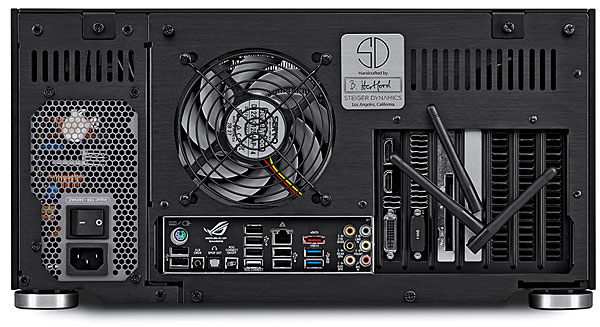 Here's what all of that means: This thing is quiet. From 8 feet away (on my sofa), I could just barely make it out when there was nothing else running in the room. It's no louder than my DVR. On full throttle, running a game at 4K, you can hear the fans, but it's still quieter than other PCs I've used and probably quieter than what's going on in the game itself.
Noise is one of the main reasons why an HTPC can be so annoying; adding its song to the hum of a room (thank the loud fans) isn't something many people will put up with. But the Steiger LEET shows how you do quiet with a bunch of powerful pieces that would literally cook themselves to death without adequate cooling. For ambitious DIY-ers Steiger even sells the LEET case separately, starting at $799. From there, you can add on the parts you want (LED lighting, cooling, etc.). The actual computer bits, beginning with the motherboard, are all up to you.
The Setup
Customarily, when I'm using my own HTPC, I'm in the middle of my couch, with the keyboard on my left (partly over my left leg) and the mouse and a rigid mousepad on my right. It's fantastically comfortable—for me, anyway.
For a little more stability in your HTPCing, Steiger sells the Couchmaster cushions from $139 (see photo below). These consist of a rigid table surface that rests on two thickly padded arm cushions. Think of two big chair armrests with a board spanning them—except it's all very posh, straddle-wrapped in synthetic leather, with wrist cushions, cable management, and pockets. I found it a bit excessive, but it's certainly more regal than my slouchfest of a setup.
Of course, casual users who aren't hardcore gamers might just go with a wireless keyboard/touchpad combo, or use a tablet or smartphone with a third-party media manager or remote desktop app. But either way, a word of warning: With any computer usage, but especially while sitting on a couch, you're at risk of causing strain to something, more so with long gaming sessions. Something like the Couchmaster can help, but always be wary of any pain and experiment to find a position that works.
Wired Versus Wireless
Steiger supplied a wireless Logitech keyboard and mouse for my review. With my usual HTPC setup, I use a Microsoft Ergonomic keyboard and a Cyborg RAT7 gaming mouse, both wired.
The advantage of wireless is obvious: no wires. However, I prefer wired for three reasons. The first is that it gives you more flexibility in your choice of keyboard/mouse. For example, the RAT7 has expandable facets to let it fit my hand perfectly. (I find most mice way too small to be comfortable.) The Ergonomic keyboard keeps carpal tunnel at bay. USB extension cables (two, 15 feet each) are only a few dollars.
Then there's the slight communication lag with some wireless gear. I didn't notice it with the Logitech, but with other wireless mice especially, it's evident. No lag with USB. And the third knock against wireless: Batteries can die in the middle of a game. (This always happens.)
Windows 8.1 and Media Center
Every new version of Windows gets flack. Every one. No one likes change, and Microsoft (often rightly) gets blamed for failing to understand how people use their products. I didn't have a problem with Windows Vista or 7, and this review was my first chance to try 8.1. I'd heard horror stories of the forced user interface changes that were clearly meant for tablets. But on an HTPC, Win8.1 works—kinda.
Unlike the normal Windows desktop we've all gotten accustomed to over the past few decades, Win8 and 8.1 boot into a Start screen that uses big blocks of color. Each block (or tile) has something in it you might want, like a program or news. You can move these tiles around, add/subtract/resize them, whatever you want. It's clear to see how this would be great on a tablet or a touchscreen. In the 3-foot interface of a standard PC, it seems more cumbersome than helpful. In the 10-foot interface of an HTPC, however, it isn't terrible. If you generally use your HTPC for only a few things (games, streaming, Web, etc.), then you can make the primary tiles your main blocks to access oft-used activities, while others can provide quick visual access to other info, such as sports and weather.
Then, of course, there's Windows Media Center. As much as I'm an HTPC fan, I've never understood WMC. I get the attempt—as in Microsoft attempting to create an easy-to-use coating for media enjoyment over everyday Windows. But that's always how it feels to me: a coating. What I found, though, is that the more visually friendly interface of 8.1 tends to make WMC feel unnecessary. You can add icons to the Start page with the programs you need (iTunes, photos, etc.) and leave it as uncluttered as you want.
The benefit of using a computer versus a streaming media player (like a Roku) is access to the infinite content of the Web, without the cumbersome navigation of a remote or the limitations of any one ecosystem. Want to watch one of Amazon's new TV shows? No problem. Want to watch an old movie that's available only on iTunes? Also no problem—from the same device. Then there's access to networks like CBS that put their programming online but not on services like Hulu. In the end, you're getting multiple content sources—infinite content sources, really—all in one box.
And you can download 'til your eyeballs are happy. Our Steiger review sample had a whopping 9 terabytes of available storage (after RAID backup), which is more than enough to hold all your lossless music and your HD movies, too.
There are, of course, myriad options for third-party media-management software. I couldn't hope to cover all of them here, except to give you a few favorites to point you in the right direction. There's nothing wrong with using WMC itself, of course, but as far as basic media-management goes, I prefer iTunes. While it has gotten bloated and cumbersome over the years, it's still fairly simple to use. You can encode your CDs into bit-perfect WAV files or the acoustically identical Apple Lossless to save space (as I do).