Audeze LCD-XC Headphone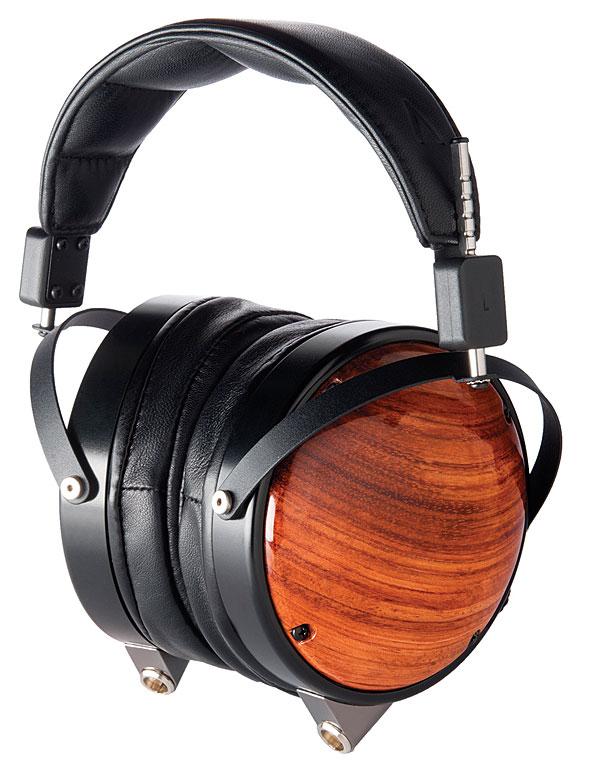 PRICE
$1,799
AT A GLANCE
Plus
Bass to die for!
Rock-solid build quality
Advanced technology drivers
Minus
It's crazy expensive!
They're heavy!
THE VERDICT
Every now and then, a headphone comes along that truly advances the state of the art. Audeze LCD-XC is a game changer!
Even now, in the midst of an unprecedented boom market, American-made headphones are pretty rare. There's Grado and Koss, but Audeze joined the fray just four years ago, when their LCD-2 debuted at the Rocky Mountain Audio Fest in Denver. I was knocked out by its big and brawny sound; it was easily the most powerful headphone I'd ever heard.
The tech is a departure from more conventional dynamic or even electrostatic headphones. Audeze features planar magnetic drivers, and the LCD-XC I'm writing about today boasts huge, 6.17-square-inch drivers. Their ultra-thin diaphragms are sandwiched between Neodymium magnet arrays, and when audio signals run through the conductors, the diaphragm moves back and forth. The LCD-XC's Fazor waveguides focus the sound on your outer ears.
The key advantage of planar magnetic over conventional dynamic drivers is that, instead of using a voice coil to push the diaphragm from the edge, Audeze's conductors are distributed over the entire diaphragm, so they more efficiently dissipate the heat generated by the signal's current than a traditional voice coil. Audeze claims the LCD-XC's 22-ohm impedance is stable, whereas dynamic drivers' impedance varies over the frequency range. Planars' distortion is significantly lower than that of dynamic drivers, and that really makes a difference when you rock out. Push these 'phones as hard as you want, and they'll never cry uncle. Which reminds me, the LCD-XC is more dynamically alive and powerful than any electrostatic headphone on the planet, and unlike 'stats, which always need to be partnered with specialized amplifiers, the LCD-XC can be plugged into a smartphone or any high-quality headphone amp. The LCD-XC is 5 dB more sensitive and easier to drive than Audeze's LCD-2 and LCD-3 headphones.
The gorgeous Bubinga wood-capped ear cups distinguish this model from Audeze's open-back headphones. The LCD-XC is closed, so it's the only Audeze that hushes the outside world's noise and keeps most of the sound focused on your ears. You can wear the LCD-XC to bed and not disturb your partner.
This headphone definitely feels more substantial in your hands than Sennheiser's, Beyerdynamic's, or Grado's flagship models. The LCD-XC weighs a hefty 22.9 ounces, but the weight is so evenly distributed that the headphone is surprisingly comfy to wear for hours at a time. The sumptuously padded lambskin (or optional leather-free microfiber) covered ear cushions deserve some credit here. The pads' gentle clamping pressure is easier to deal with than a lot of lighter-weight headphones that feel like they might crush your skull. The LCD-XC comes with a rugged carry case and two 8.2-foot cables—one's terminated with a 6.3mm plug; the other cable sports a four-pin XLR plug for use with balanced headphone amps.
Each LCD-XC is auditioned and measured by an Audeze technician, and the measurements are stored at their California factory. Warranty runs three years—that's longer than any other high-end headphone I know of.
While I've enjoyed Audeze headphones played quietly, they really come into their own cranked way up. Dynamic impact is astonishing, and you never get the feeling you're approaching the limits of what the LCD-XC can do. That sort of effortless power is downright addicting. Resolution is superb, and for a closed-back headphone, the soundstage is big and wide. AKG's new flagship, the K 812, is somewhat more see-through transparent and more open sounding, but the LCD-XC's foundation and drive outclass the K 812. It's a head-versus-heart contest, and the LCD-XC sends shivers up and down my spine.
Specs
Type: Closed-back, over-the-ear
Weight: 22.9 ounces
Impedance: 22 ohms