Prisoners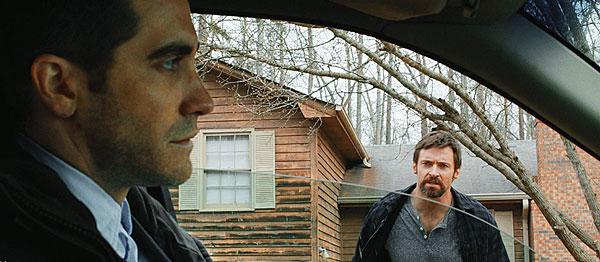 Jackman brings his trademark rage, counterbalanced by Gyllenhaal's zealous-but-law-abiding detective. Throw in inspired performances by Maria Bello as Anna's mom and a pair of disturbing character studies from Melissa Leo and Paul Dano, and you have a pure actors' movie—one of the best in years—including possibly the most three-dimensional portrayal of Gyllenhaal's career.
The video and audio play supporting roles, and very subtle ones. The opening scene, a forest shot with deep focus, is virtually monochromatic. Both colors and contrast remain muted throughout the film. Incandescently lit domestic interiors are rendered with an exaggerated orange hue, contrasted nicely by the bright-white, fluorescent lighting inside the police station. Clearly, these are intended consequences of Roger Deakins' masterful, cinéma vérité–inspired cinematography, but they yield a disc whose video is not of reference quality. Great shadow detail and deep blacks proclaim the film's excellent production values as well as the excellent Blu-ray transfer.
Sonics are realistic but unspectacular. Scenes that unfold during storm conditions are notable for their atmospheric surround effects. Through a good system, you'll find yourself in the middle of a downpour bracing against sheets of rain. The peals of shotgun thunder that attend the opening scene resonate throughout the forest and light up the surround channels. Given this movie's overwhelming reliance upon dialogue, vocal intelligibility and detail are superb, especially evident in the faint, whisper-squeaks of Dano's tortured character.
The virtual absence of extras is disappointing, limited to two perfunctory chapters featuring snippets of director Denis Villenueve and his actors. A grueling morality play, Prisoners shows that we're all hostages: to anger, fear—whatever human frailties we possess. Not the best choice to show off your theater system, but if you miss the days when actors—not special effects—were the stars, Prisoners will hold you captive.
Blu-Ray
Studio: Warner Bros., 2013
Aspect Ratio: 1.85:1
Audio Format: DTS-HD Master Audio 5.1
Length: 153 mins.
MPAA Rating: R
Director: Denis Villenuve
Starring: Hugh Jackman, Jake Gyllenhaal, Viola Davis
When six-year-old Anna Dover and her neighbor disappear, father Keller (Hugh Jackman) tramples the law to find her. While Detective Loki (Jake Gyllenhaal) methodically investigates, the impatient Keller kidnaps his daughter's alleged kidnapper and attempts to extract a confession through torture. Prisoners is a perfectly paced psycho-drama that engrosses and rewards its audience.
LATEST VIDEO