Baetis Audio Revolution II Media Server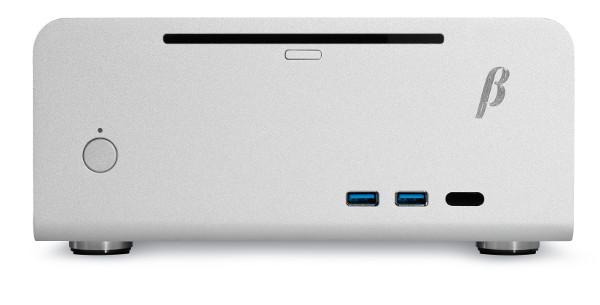 PRICE
$2,995
AT A GLANCE
Plus
Handpicked parts and proprietary audiophile touches
Nearly plug and play
Supports all high-resolution formats
Reference level audio and video quality
Minus
Needs a tablet for easiest interface
Still only as good as what you plug it into
THE VERDICT
A no brainer if you seek audiophile performance from a media server without a lot of homework and trial and error. Customer support is exceptional and takes the IT guesswork out of the equation.
We have recently come to an enormous crossroad in entertainment. Physical media as a whole is withering on the vine and everything is moving to either streaming playback or file downloads. While I'm all about the convenience that this offers I hate the idea (and reality) of the compromise this situation can create in the quality of the content. We've already seen the music industry destroy the quality of music recordings to appease the iPod generation, and regardless of the convenience provided by Netflix and a host of other video streaming services, they cannot match the quality of Blu-ray video playback. So what do you do if you want to enjoy instantaneous access to your media but don't want to compromise the quality of the material? Baetis Audio may have a few answers for you.
The Revolution II
Based out of Montana, Baetis Audio is a small family run business whose only goal is to create the best possible audio presentation you can achieve from a PC. Every component that makes up their line of computers is handpicked after exhaustive listening and bench tests, with the end goal eliminating any compromise in playback. For this review, I received their entry-level computer, the Revolution II. While designed primarily for audiophile playback of any high-res or other digital file type available on the market today, it is also designed to provide video playback for those looking to add an audiophile product to a room with a display and multi-channel audio setup.
Many audiophile computers these days are designed around a Mac Mini and are used primarily for file playback with some kind of third party library-management software, sometimes layered on top of iTunes. The Baetis Revolution II is Windows PC-based and expands on its audiophile lineage to include playback of ripped video using the popular JRiver Media Center software that is pre-installed on their computers. Baetis does a full groom of the software complete with multiple setup presets that are tailored to the type of file and media content you're going to watch. In other words, they've done all the heavy lifting to ensure the best possible hardware and software combination for making the most of your music and movie library.
Because there are legalities at play when it comes to ripping copyrighted optical media (certainly for movie discs) they do not preload the computer with any ripping software. But they do provide some suggestions for easily downloaded, low-cost programs you can use to rip not only your CD collection but also any Blu-ray or DVD titles. They also give you procedures on how to use the software and pull the content into JRiver. The process does require a bit of work on the end users part, but I found it extremely simple to follow their instructions. If you already have most of your music in digital form you can simply point JRiver to your library and it does the rest.
The Revolution II is a pretty Spartan design with a simple black case that has a power button and disc slot on the front panel along with a couple of USB ports. The case is custom made with the Baetis name engraved on the front. I was surprised how small the actual computer was overall, but this is by design. Baetis optimized their layout to reduce the effects of EMI on the components that deliver your music. There is no internal power supply and minimal built-in storage, with the intention that everything will be stored on external drives connected via a network or via one of the eight USB ports. Power is delivered via a Neutrik Powercon DC connector coming off an outboard supply. Baetis also supplied me with a UPS power back-up unit to ensure perfect voltage regulation to the computer.
The back panel looks like the back of any typical PC, with the exception of a large BNC audio output connector. The Revolution II does not rely on a sound card for its audio playback, Baetis says, because they create EMI (electromagnetic interference) that can hurt playback. The BNC is said to be a first for the industry, a galvanically-isolated BNC-SPDIF (i.e., coax) digital out that taps directly into the motherboard. (Galvanically-isolated is engineering speak to indicate steps have been taken to absolutely guarantee that no ground loops can intrude on the music.) They call this connection "ultra-short path" (USP) and Baetis makes the claim that it will actually outperform a USB connection. They do recommend pairing it with a high quality external DAC for the best possible audio playback, and loaned me an Alpha DAC from Berkeley Audio Design (though I also coupled it to my reference Anthem Statement D2V audio processor). The back panel also features dual HDMI outputs and a standard RCA SPDIF coax output.
I Don't Speak HTPC
This was my first time using a computer as a media device in my room. While I have a lot of friends that have crafted either home theater personal computers (HTPCs) for movie playback or Mac Minis for music, I've always found that the amount of effort it takes to get everything set up and the level of complication just end up being more than the end result is worth. With the Revolution II, Baetis has streamlined the entire process. I didn't need to wonder about what software to use for playback or ripping, and their clear and simple instructions made the whole system easy to get used to in a very short amount of time. Of course, if you're already a software guru you could use whatever software you prefer for just about anything you want to do, but Baetis does have some limitations for software loading if you want to keep your warranty and support intact. This makes sense—they shouldn't be held responsible for every piece of software you decide to load on your own, though they will support any software pre-loaded or recommended by them.
For Blu-ray movie ripping they recommended MakeMKV that literally takes only a few clicks to make perfect copies of your Blu-ray titles sans everything but the movie and selected audio track. While this does take away some of the functionality of the disc in terms of features and direct chapter access, you can still get all this from a standalone Blu-ray player in your system. Baetis doesn't suggest getting rid of your existing player since playback on the Revolution II is done with file playback, not direct disc playback. This wouldn't make a lot of sense for rentals or movies that you don't plan on keeping forever.
For CD ripping they suggest using DBPowerAmp, which is a piece of software I've used in the past to rip my CD collection with great results. Again, though not pre-installed, all of this software is free online and Baetis gives you exceptional instructions walking you thru setup, ripping and adding to the library. On top of that they offer a full year of telephone support that includes full remote-desktop control software. This allows them to take control of your computer while talking with them on the phone to make sure everything is setup correctly and give you an onscreen walkthrough of the software. This could breath an enormous sigh of relief into those who aren't computer savvy and may be intimidated by the idea of adding one into their entertainment system.