Pioneer Elite SC-71 AV Receiver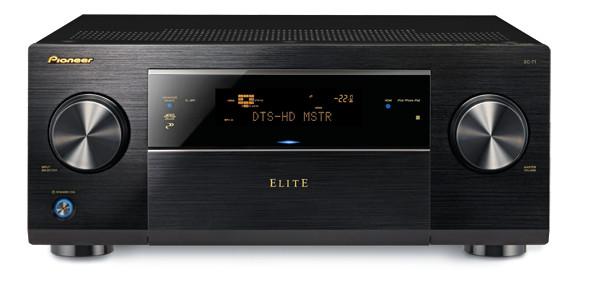 PRICE
$1,000
AT A GLANCE
Plus
Efficient D3 amplification
AirPlay and iOS savvy
Dynamic, smooth, clean sound
Minus
Labyrinthine ergonomics
No multichannel ins or outs
THE VERDICT
Pioneer is the only AVR maker replacing Class AB amps with Class D on a large scale, and the results are excellent.
Add a feature, drop a feature—usually, that's how the story goes for a new AV receiver. But features aren't the whole story, or even the part of the story most readers want to hear. We found that out when we ran a poll at our website SoundandVision.com asking, "What's your AVR deal-breaker?" The top two complaints were "not enough power" at 35 percent and "ineffective room correction" at 21 percent. "Too few features" and "too many features" got just seven points each, and trendy features like AirPlay, Bluetooth, and Wi-Fi scored in even lower single digits.
Pioneer's ongoing effort to move its receivers into Class D amplifier territory has the potential to improve performance by directly addressing the "not enough power" complaint. The "3" in the D3 nomenclature used on its Class D models refers to this being Pioneer's third generation Class D circuitry, one that was tweaked in partnership with the goldenears at London's AIR Studios. Critically, in our measurements, D3 models generally live up to their rated power specs, and tend to show less drop-off in output in our demanding "all channels driven" tests. At 120 watts x 2 and $1,000, the Pioneer Elite SC-71 moves D3 downward in rated power and price point, making it the most affordable model yet. (Those selling for three figures are still Class AB.) How will the new guy fare? Skip to the measurements if the suspense is killing you.
Custom-Friendly


The Elite SC-71 is comparable to the regular Pioneer line's SC-1223-K in features and pricing. The main difference is that the Elite model is more custom installer-friendly, accommodating AMX, Control4, Crestron, RTI, Savant, and Universal Remote Control interfaces.
Elite's familiar amber display sits above a flip-down door with the usual suspects behind it. One nicety is the iPod/iPhone/iPad button, which switches operation of those devices between their own controls and the receiver's interface. You can make the switch via remote, but if you're stepping up to the front panel to plug in the iconic white USB cable, it's convenient to have a button to press while you're there.
This is designated a 7.2-channel receiver, though it is really a 7.1-channel, meaning it has seven amp channels and two subwoofer line outputs that provide the same signal to a pair of subs. But there are nine sets of binding posts. The two extra pair might be dedicated to front height or width channels, or used for biamplifying the two main channels, or used for powering an extra pair of speakers in either the same room (B speakers) or a separate zone. With eight HDMI inputs—including a smartphone-friendly MHL-enabled one on the front—plus two outputs, as well as enough component video switching for two sources and a monitor, the receiver can feed three HD displays and accommodate plenty of HD source components.
Legacy AV or audio components are covered with four composite video and analog audio ins and two outs. That still leaves vast tracts of unused land in the middle and right-hand portions of the back panel. Pioneer isn't the only manufacturer to act on this uncluttering impulse, but I'd like a $1K receiver to offer full sets of multichannel analog ins (to accommodate older or high end disc players featuring premium DACs) and outs (to enable the receiver to serve as a preamp/processor with an outboard amp if desired).
Pioneer has covered the Apple angle with built-in AirPlay wireless connectivity and an iOS-friendly front USB input. To add Bluetooth, you'll need the AS-BT200 adapter ($99), a cigarette lighter-sized fella who plugs into a back port. For Wi-Fi, you'll need the AS-WL300 adapter ($129). HTC Connect allows streaming from that brand of phone, including uncompressed WAV files. Spotify Connect enhances access to the music streaming service by letting you pick songs on a mobile device and listen through the receiver. Other network audio attractions include Pandora and vTuner Internet radio, the Windows 7 and 8 Play To feature, and of course DLNA to access media from a variety of devices.
I haven't said much about Pioneer's remote control or GUI in a long time—and perhaps I should. The remote hasn't changed much. It offers a lot of extra functionality: There are dedicated buttons to select each zone, operate the dimmer, cycle among room-correction presets, and switch the phase control on and off. But the old-fashioned lotsa-buttons design may turn off the noobs. Likewise, the GUI, though decent, hasn't been reorganized or cosmetically updated in a long time. Pioneer should at least make parts of it (excluding the more elaborate color diagrams) transparent so that changing settings on the fly won't always obliterate onscreen content. In fact, the remote's Audio Parameters button does access a few settings in a separate interface with minimal onscreen graphics. The iControlAV2013 Android and iOS app is one of the best of its type—and that's why I'm still awarding four stars for ergonomics. Pioneer throws in an AirJam app, which allows up to four iOS devices to communally share playlists.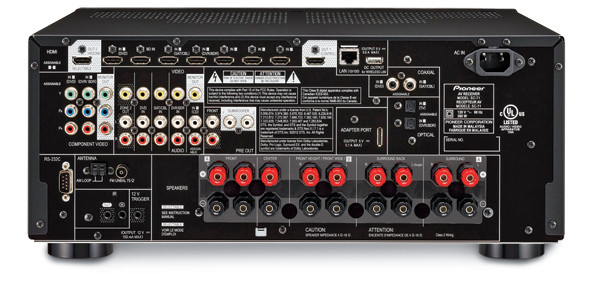 Associated equipment for this review included five Paradigm Reference Studio 20 v.4 speakers, a Paradigm Seismic 110 subwoofer, an Oppo BDP-83SE universal disc player, and a Lenovo Edge Win 7 laptop feeding a Meridian Direct USB DAC.
The D3 Difference
Dynamic is the first word that comes to mind; smoothand clean are the second and third, and power is the key to all that. This receiver has more of it than many in its price range. While not as brawny as, say, the SC-68 I reviewed a couple of years back, that model's equivalent now costs twice as much. The SC-71 kept its top end sweet, its bass substantial, and its soundfield intact during high-decibel movie apocalypses. The one complaint in my notebook was a slight blandness and opacity in the midrange. This was more noticeable with music than with movies and turned out to be a side effect of Pioneer's proprietary MCACC room correction, specifically as it interacted with my room and system (your mileage may vary). However, for polled readers who dislike "ineffective room correction," the news about MCACC wasn't all bad. It did improve imaging, tampered less with tonal balance than most other room-correction systems do, and was never grating with any content.