Home Theater To Become Sound & Vision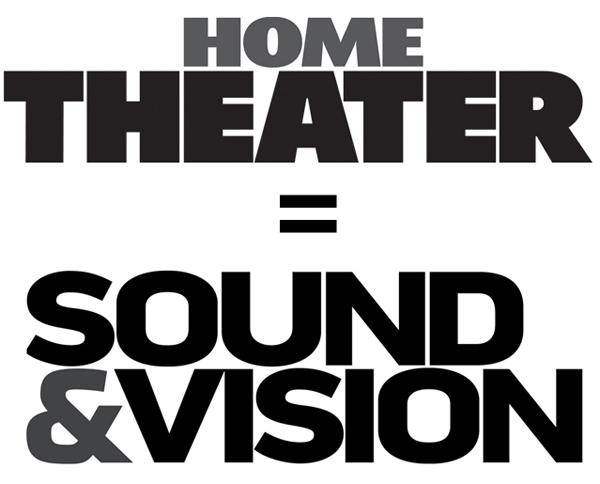 Readers who follow developments in audio/video electronics might have heard back in May that Home Theater's parent company, Source Interlink Media, acquired its chief competitor Sound & Vision. These were the two largest print magazines serving the A/V enthusiast.
It was announced on Monday that, beginning with the October issue, Home Theater and Sound & Vision will be merged, and only one magazine will go forward under the Sound & Vision brand. I'm honored to have been asked to stay on and head up what will be a revitalized S&V, and I know a lot of passionate Home Theater readers will have serious concerns about the transition and where their magazine may be headed. I'm going to address some of those concerns right now, fill in some detail about our plans, and try to put you all at ease. I'll ask our most loyal readers to keep an open mind, put aside preconceived brand loyalties, and, if nothing else, know that I take my new responsibility and commitment to the enthusiast very seriously. I don't have all the answers, and we'll continue to evolve—as all magazines and Websites must do from time to time if they hope to stay relevant to a wide audience and continue to survive and prosper. I'm anxious to see your comments and respond as best I can to any additional questions you might have. I've also included the full text of the Source Interlink press release below this FAQ. — Rob
What is the editorial direction of the new Sound & Vision?
The new Sound & Vision will continue on the path of the old Sound & Vision and Home Theater as an enthusiast magazine dedicated to the pursuit of home theater and music reproduction. We will lean toward Home Theater's general focus on core audio/video components—HDTV, front projectors and screens, A/V receivers, audio separates, multichannel speaker systems, and source components—across a wide spectrum of price points. And we will continue Home Theater and Sound & Vision's already active expansions of coverage into some new, rapidly-growing ancillary audio categories, including soundbars, computer audio products like DACs and DAC/amp combinations, powered desktop and wireless streaming speakers, and high performance headphones. I do acknowledge that this mix includes products that are not enthusiast or home theater solutions, but marketplace demand for them today is high, and as experts in this realm with the golden ears and eyes, we remain dedicated to identifying the highest performing products at different price points in each of these categories. We have already started to cover them as an adjunct to our primary coverage, and will continue to do so—as an adjunct. Our choice of the Sound & Vision brand name will ensure that we can logically pursue any path our readers and Web audience take us down as they begin to consume their content in different, non-traditional ways.
Will you be "dumbing down" the editorial to appeal to a broader audience?
While we do want the magazine and Website to be an accessible buying tool for less technical shoppers, it's my view that we can provide this kind of shopping advice without losing either the detail or technical depth/lingo of our reviews. Our reviews will remain around the same length as today's typical Home Theater review, which is presently longer than the average Sound & Vision review, and will continue to fill four pages in the magazine. But we will include additional up-front information with each review to give all readers a bit more detail about our findings in advance of reading the full review, and we will carry over the 5-star/10-point rating system used in Home Theater. We will also steal from Home Theater the Top Pick designation for recommended products, essentially the equivalent of Sound & Vision's Certified & Recommended designation today; going forward, products will be deemed a "Sound & Vision Top Pick." We will continue to measure the core audio and video products, and to include a bench test box and chart with each review—though to save valuable print real estate and make room for some of the new elements, we will compress or shorten that information for the magazine compared with the current Home Theater length, and adopt Sound & Vision's practice of placing a more complete report of lab results on the Web.
Will the magazine look like the old Sound & Vision or Home Theater?
Neither, and both. Beginning with our October issue, we will relaunch Sound & Vision with a new logo (seen above) and a revised design that retains some recognizable elements of the existing Home Theater, including its slightly larger page size. We will carry over some of the current department names and departments from Sound & Vision, and introduce to Sound & Vision some of the most popular departments from Home Theater, such as our up-front Perfect Focus section populated by news and short reviews, and pictorial profiles of home theater and media room installations. Several of the popular Sound & Vision columns will be retained. Additionally, I expect to do more dedicated primer articles to equip newbies and everyday shoppers with the information they need to make sensible purchase decisions and to properly interpret the terminology in our reviews. I know from reader mail that these will be welcomed even by many of our most ardent enthusiast readers, who appreciate these up-to-date refreshers or enjoy deepening their knowledge.
What happens to my favorite writers and reviewers?
We are creating a combined editorial staff that will now include most of the best known and respected writers in the A/V industry. Our goal and approach with this merger has been not to cast any great talent from either staff to the wind or to force ourselves to cherry pick from among an all-star cast of players. So we're making the investments required to ramp up our test program to make use of everyone and create a magazine and Website that I hope will be unparalleled as a resource for enthusiasts and shoppers. We should noticeably increase the number of test reports we can deliver in any category over a given time period compared with what either brand was able to do independently before; I would particularly expect to see a bump in the number of video display and A/V receiver reviews we generate. Existing Sound & Vision readers will be introduced to Home Theater's expert reviewers and personalities, while former Home Theater readers will be exposed to all the great Sound & Vision contributors. So the result here is additive. That said, our total print magazine space will, for the moment, continue to remain a limiting factor, and will by necessity have to be divvied up among our talented staff. This means that readers of either print magazine may find fewer contributions from any single reviewer in a given issue of the print magazine than they might be used to seeing. The overflow will go to the Web, which will feature many more exclusive Web-only reviews.
What happens to the SoundandVisionmag.com and HomeTheater.com Websites?
We are finalizing our web strategy for the merger and an announcement will be made in the next few weeks. For now, both Websites will remain active with the same contributors and content you've come to expect.
What happens to my Sound & Vision or Home Theater subscription?
All issues paid for with a subscription to either Sound & Vision or Home Theater will be fulfilled with future Sound & Vision issues. Home Theater subscribers who do not currently subscribe to Sound & Vision will see their remaining issues converted to Sound & Vision. Home Theater subscribers who already subscribe to Sound & Vision will see their Sound & Vision subscriptions extended by the number of Home Theater issues owed to them.
Below is the press release issued by Source Interlink Media regarding the merger of Sound & Vision and Home Theater.
Source Interlink Media merges Sound & Vision and Home Theater
Combining two leading brands to form an electronic entertainment powerhouse
EL SEGUNDO, California (July 19, 2013) – Source Interlink Media (SIM) today announced it will combine the two most powerful print/online media brands in the home technology space, Home Theater and Sound & Vision, to create one powerhouse consumer brand dedicated to the full universe of electronic entertainment equipment.
The new combined print magazine will retain the auspicious Sound & Vision name, and will be published ten times a year, following the original publication schedule for Home Theater. In explaining the decision behind joining the brands under the Sound & Vision banner, SIM Executives cited the recent evolution of the home and portable electronics categories in which sales of non-traditional audio/video products, including soundbars, wireless streaming speakers, high performance headphones, and computer audio gear have exploded and joined traditional A/V components in a vibrant, new marketplace. "Utilizing the all-encompassing Sound & Vision name allows us to more easily address the new ways in which people are consuming their entertainment" stated Keith Pray, Publisher, Sound & Vision.
Additionally, Pray noted that advertisers will enjoy benefits as a result of the combined brand, among them a strong print circulation and a growing digital, interactive version of the magazine.
Rob Sabin, currently Editor-In-Chief of Home Theater, and a former Sound & Vision Executive Editor, will guide the revamped Sound & Vision starting with the October 2013 issue. The issue will boast an exciting, modern redesign; new features; and a line-up that preserves the best elements of both magazines. "Bringing these two entities together now has the effect of putting virtually all of the industry's most noted experts in one place," Sabin said. "We will be ramping up our product review program to cover more gear across a wider range of categories, and under the Sound & Vision name we can broaden our audience while we continue to support the serious audio/video enthusiast with the depth of coverage they've come to expect from Home Theater."
# # # About Source Interlink Media:
Source Interlink Media, LLC is the premier source of special interest media in the United States. With more than 75 publications, 100 Web sites, 800 branded products, 50+ events, and TV and radio programs, SIM is the largest provider of content to enthusiast communities interested in automotive, action sports, home theater and other niche activities. The division's strategy is to wholly focus on targeted audiences by leveraging and expanding upon its core market-leading brands through a multiplatform media approach.