Axiom Epic Midi 125 Speaker System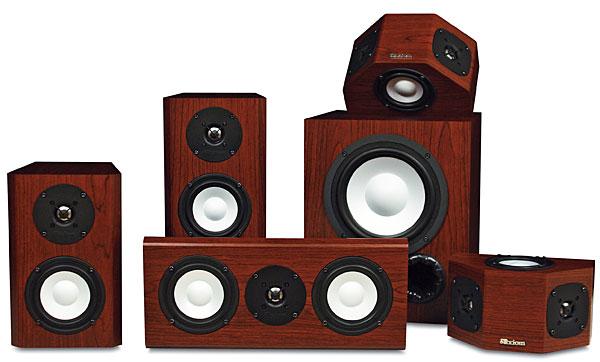 Price
: $1,786 (updated 1/28/15)
At A Glance
: Distinctive cabinet shapes • Revealing voicing • Sold factory direct
Merriam-Webster.com defines a cabal as "the artifices and intrigues of a group of persons secretly united in a plot (as to overturn a government)," or "a group engaged in such artifices and intrigues." For the past 30 years, Axiom Audio has been part of a Canadian cabal of loudspeaker manufacturers secretly united in a plot to overturn bad sound—ironically, with government support. The Ontario-based company is one of several brands that sprouted from Ottawa's National Research Council facilities where Axiom founder and president Ian Colquhoun learned the art and science of speaker design under the legendary Dr. Floyd Toole.
Why do we say "secretly united"? Axiom is one of those well-kept secrets of the audio world, and that's partly our fault. The company has been designing and manufacturing its products in Canada, right under our North American noses, yet this is the first review we've done on an Axiom product in about 20 years, despite the accolades the brand has attracted in the interim. So we're playing catch-up with this review of Axiom's Epic Midi 125 5.1-channel speaker package, which includes two monitors and a center in the front, dedicated diffuse surrounds, and a subwoofer. Let's just say the secret is out.
I've Looked at Life From Eight Sides Now
Axiom covers most of the major loudspeaker genres, including tower, monitor, center, surround, outdoor, multimedia, hybrid in-wall/on-wall models, and 5.1-channel packages. Most are quite affordable, with the largest tower selling for just $1,500/pair (U.S. dollars). Noteworthy, though not reviewed here, are a couple of subs with tower-shaped enclosures, one of which is rated down to 13 hertz. Axiom sells to consumers in hundreds of nations in 11 currencies but not through brick-and-mortar dealers. Factory-direct sales skirt the usual retail markup in an effort to save you money.
The Axiom Epic Midi 125 sells for $1,418, with a 30-day money-back guarantee, and for U.S. customers, that comes with no extra charge for shipping, duty, or tax. They're certainly affordable. But are they special?
Look at the M2 v3 monitor from the front, and you won't notice anything out of the ordinary. Sneak around to the side, though, and you'll see extra angles where the front corners of the box are chamfered, turning what would normally be a six-sided rectangular solid into a more geometrically interesting eight-sided enclosure. The VP100 v3 horizontal center is also unusually shaped, with a 90-degree angle joining the front and bottom surfaces but a less than 90-degree angle joining the front and top. This is part of Axiom's ASW (Anti Standing Wave) design, which aims to reduce the undesirable acoustic effects of sound waves bouncing internally between parallel cabinet walls.
Axiom designs and builds its own drivers, with each one "designed specifically for the job we want it to do," Colquhoun says. The monitor shares variants of its 1-inch titanium-domed tweeter and 5.25-inch aluminum-coned woofer with the horizontal center, the latter doubling the woofer. A die-cast (as opposed to stamped) metal basket is available as an option for $15 extra, theoretically providing greater rigidity, though Axiom says, "Our testing shows it is not required with that driver."
The QS4 v3 surround is a slightly different animal, with two tweeters and two 4-inch woofers, each on different surfaces of an eight-sided enclosure. The tweeters are angled at 45 degrees while the woofers are on the top and bottom surfaces. Axiom's name for this variation on multi-pole speaker design—with each pair of drivers operating in phase with the other—is Quadpolar. Would the speaker require a wall mount to avoid blocking that bottom woofer? Not necessarily. Axiom does offer an optional FMS QS dual-column metal stand ($298/pair) that will provide support while allowing both woofers clearance to do their woofing. If you would prefer a swiveling and tilting wall mount, another option is the Full Metal Bracket ($44/each). But if you don't need the swiveling and tilting, just connect the cables to the supplied T-shaped bracket and pop it on the wall.
This speaker system uses a combination of sealed and ported enclosure designs. While the center and surrounds have sealed acoustic suspension enclosures, the monitor and subwoofer have vented enclosures that utilize Axiom's distinctively curved and ribbed vortex ports, said to reduce port noise when compared with a conventional straight-walled port. The monitor, center, and surround are efficient, with a claimed 1-watt/1-meter anechoic sensitivity of 90 decibels and "in-room" sensitivity of 94 dB. As usual, you'll want to compare that to our measured sensitivity.
The EP125 v3 subwoofer, with its front-firing 8-inch aluminum-coned driver and dual front ports, has some unusual features on the back panel. The line-level input and output are not the usual RCA-type jacks but XLR. Why XLR? The company uses the same input board on its higher-end models—which are more likely to be used with a higher-end XLR-equipped pre/pro—and repurposes the board for lower-end models. This is likely to change in the forthcoming v4 generation. The XLR input can also accept a quarter-inch phone plug through a jack within the jack. If you need to plug in an RCA-terminated cable, and you probably will, a supplied adapter (RCA jack to quarter-inch phone plug) will bridge the gap. Why this unusual arrangement? Axiom explains that if you step on your sub cable, you could easily break an RCA jack; but if you step on the cable with this arrangement, it's the adapter that breaks (and it can be replaced).
Actually—as I found when clumsily shoving the sub up against a table leg—the adapter doesn't so much break as bend, and it can be bent back. I heard a slight hum when I first plugged in the sub, but a quick wiggle of the adapter fixed the problem. A chassis ground screw is also provided—its removal may defeat ground-loop-induced hum, which might occur when the sub is powered by a different mains circuit than the rest of the system (not the case in mine). The sub also has speaker-level inputs.
In lieu of a crossover dial, the sub has a crossover toggle with two positions: 80 Hz and 150 Hz. The latter setting, if it took precedence over the crossover setting in a receiver or surround processor, would allocate a much larger part of upper bass reproduction to the sub. However, Axiom explains:
"We were trying to keep it simple on our three smaller subs (EP125, EP175, EP350). The thinking was that if you were using bass management in the receiver, you would set the switch to 150 Hz"—which would effectively neutralize the sub's internal crossover. "If you were doing a stereo sat/sub set with our M2 or M22 [both monitors], you would use the speaker-level input and set the crossover switch to 80 Hz, which matches nicely with the natural rolloff of the speaker. Our larger subs (EP400, EP500, EP600, EP800) all have five crossover settings." I set 150 Hz in the sub and 80 Hz in the receiver, and the sub and speakers dovetailed neatly.