Sherbourn PT-7030 Surround Processor & PA 7-350 Amplifier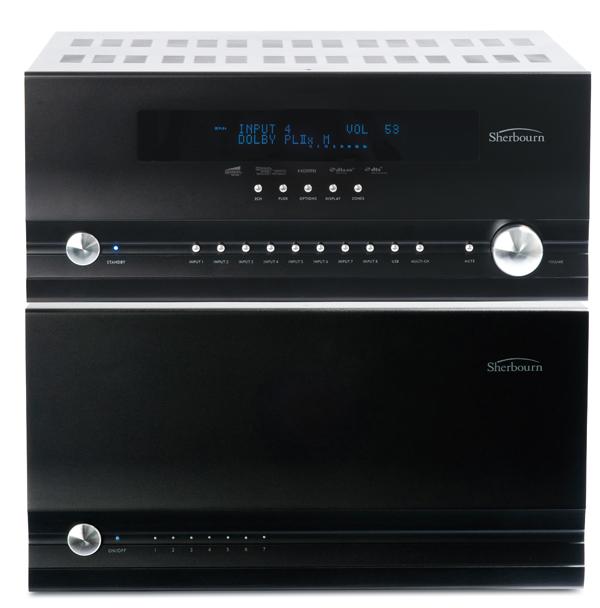 Price
: PT-7030, $1,799; PA 7-350, $2,799
(Editor's note: Sherbourn is offering a 10% discount through the end of April.)

At A Glance
: Audiophile focus • Great dynamics • Lacks some bells and whistles
We've all heard the old saying, "less is more", but that doesn't always translate well to audio surround processors. While audiophile processors of yesteryear concentrated more on core components for the best possible sound quality and less on crazy surround modes and other digital processing, today's market seems to demand these features. But while there are some clearly tangible (and potentially quite audible) benefits to some of today's great digital processing features, these sometimes come at the expense of higher-quality audio design and a sacrifice in resolution. Sherbourn seems to be taking the first tack in its newest digital preamp/processor, the PT-7030. With a line that's been recently repositioned as a premium brand sold Web-direct to custom installers and DIY "prosumers," the company has gone the high-quality, no-frills route we've seen recently in pre/pros from the likes of high-end brands like Cary Audio and Bryston. This model eschews automatic room correction, built-in streaming apps, dynamic volume modes, and some of the other high-tech wizardry we've come to associate with today's full-featured digital pre/pros. Instead you have a nicely crafted processor that covers the major surround formats and focuses on the performance of the analog side. Couple that with an absolute monster of an amp in the matching PA 7-350, and you have a solid audiophile surround system at attractive pricing. Oh, and did I mention a five-year warranty, too (10 for the amp)? Talk about confidence in design.
Less Is More?
The PT-7030 is almost an exercise in Spartan design. The chassis is definitely on the large side and has nice lines with very subtle design features. The front panel features a clean aesthetic with two rows of small buttons for source selection and surround modes. There aren't many of the NASCAR-style logos we typically see on surround processors, with just a few to highlight the processor's Dolby and DTS offerings. What you will find is a big, easy-to-read display that provides all the info you need about the selected source and processing modes engaged. The PT-7030 covers all the latest audio flavors, including full support for lossless Dolby TrueHD and DTS-HD Master Audio. It also includes Dolby Pro Logic IIz, which gives you the ability to do height channels if desired. Since this is only a 7.1-channel preamp, you can't run height and back surround channels simultaneously and must pick one or the other. I don't have either height channels or rear surrounds in my home theater setup, so I didn't get the chance to evaluate either during my time with the combo.
The back panel offers all the latest hookups. You'll find no less than six HDMI 1.4a inputs (with support for 3D) and two HDMI 1.4a outputs that work simultaneously, allowing for multiple displays running at the same time. Legacy analog video inputs are a bit sparse, with two each for component and composite sources, but this may not be a concern considering the preponderance of HDMI sources today.
All analog video inputs can be upscaled and converted to digital to take advantage of the HDMI output. This is done using the latest Genesis Torino video-processing chip, which uses DCDi processing. DCDi is commonly associated with Faroudja, which Genesis acquired a while back. The HDMI inputs are passthrough only and cannot be upscaled, so what goes in is exactly what comes out. Our bench tests show that HDMI signals pass through unadulterated, but unfortunately, the analog video conversion to HDMI and scaling left a lot to be desired. Sherbourn says it's working on a fix; you can read more about this in our Video Test Bench section.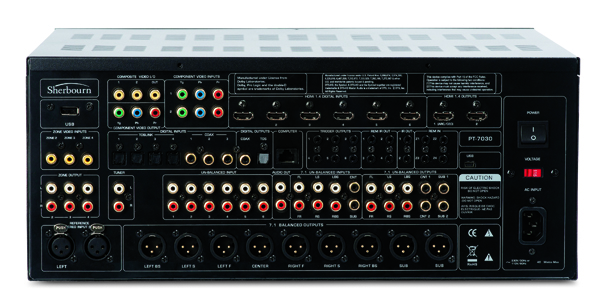 On the audio side, there is a nice complement of digital input options and a USB port that can be connected to a portable hard drive or USB stick for music file playback. You can also use the included Bluetooth dongle and stream from a Bluetooth-enabled audio device like a smartphone or portable media player to gain access to your favorite music services. The PT-7030 offers nine line-level channel outputs with both XLR and standard RCA jacks. Two of these are mirrored subwoofer outputs that can't be adjusted individually, but they simplify connection of multiple subs. The PT-7030 also supports three more stereo zones with RCA outs.
For the custom installer, the PT-7030 has support for all the popular control systems on the market, including Control4 and Crestron automation systems. There is also an RJ-45 connection for software updates.
As I mentioned earlier, the PT-7030 lacks a few of the more popular features we've been seeing from mainstream processors and receivers. The most obvious omission is an automatic setup and room correction system. Most processors offer the popular Audyssey solutions or some kind of proprietary option. The PT-7030 goes a different route and offers full parametric EQ for each of its channels. This requires a bit more work from the end user, but with the right equipment and a little elbow grease, parametric EQs can offer fantastic performance for getting the most out of your setup. The included EQ offers a substantial number of adjustment filters that can be applied globally across all channels or on a per-channel basis. You can also turn the EQ on or off on any input.
Another noticeable absence was any kind of dynamic volume or other night listening modes that might come in handy for keeping dialogue legible and sound effects tamed at lower listening levels. Given the PT-7030's support of the latest Dolby formats, I was surprised Sherbourn didn't include the Dolby Volume solution. While I rarely if ever use this type of feature, I have friends with kids who swear by it.
While the PT-7030 may skip a few features, the PA 7-350 amp Sherbourn sent me to mate with it does just the opposite. This is an absolute beast, weighing in at nearly 100 pounds. The seven-channel amp has a similar Spartan yet elegant design, with a nicely machined front plate and a clean back panel. Each channel offers both XLR and RCA inputs along with two sets of five-way speaker binding posts for biwiring. This is something I'm not used to seeing from multichannel amps. With so many binding posts, they can be a little cramped, so those with garden-hose speaker cables may find it a bit tight back there. But they do accept just about any cable termination available for speakers. Sherbourn also won big points from me with its lighting selector switch that keeps the bright LEDs from illuminating my home theater room when I don't want them to. This is a sensible feature that is sorely missed on my reference Parasound Halo amplifiers.
Easy Breezy
Setup was a snap for this combo. In fact, I don't remember the last time I set up a preamp/amplifier combination that was this easy. The onscreen menus for the PT-7030 are as straightforward as they come; they're very cleanly laid out and make navigation a snap.
Each input can be set up in different ways, with custom labels and default settings. Speaker setup was also very flexible, with plenty of crossover settings available and individual channel level adjustments in 0.5-decibel increments. You can tailor your sub volume for each type of sound format, a feature I'm always happy to see in processors. I like to run my subs a bit higher for music playback compared with calibrated levels for movie playback.