In2Technologies Unity Theater System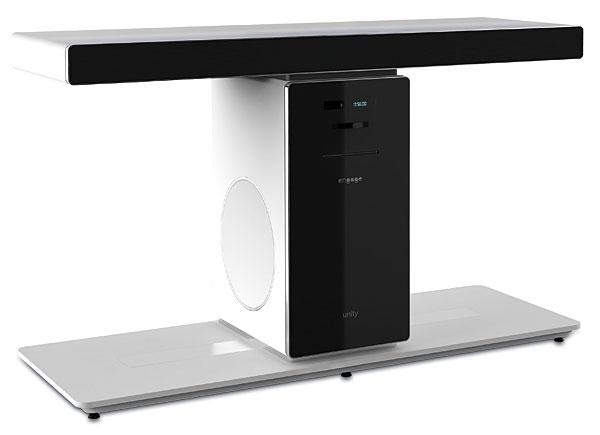 You finally bought a big flat panel, but now what?
This T-shaped table might be your answer. It offers simple installation—no drilling holes, hiding wires, or stuffing a bulky subwoofer somewhere—and easy operation with just one remote. But even better, this home theater system is said to deliver the kind of sound quality you'd get from higher-end components bought separately.
Unity—with its tagline "Zero to 5.1 surround sound in 15 minutes"—is the first product from In2Technologies, a San Jose–based company whose founders include audio engineer and Apple alumni Todd Beauchamp, who worked in product development on the iPhone, iPod, and iPad. Setup is really more like 5 minutes from start to finish, claims Beauchamp. "I can do it in just 4 minutes, but we wanted to add the extra 10-minute cushion just to be sure." In fact, there is just one cable (HDM1 1.4a) that hooks up your flat screen to the system, and you're done.
Once connected, Unity is claimed to offer serious sound. The horizontal part of the stand has three, front-firing 2-inch midrange/tweeter drivers inside for left-, center-, and right-channel duties. There are two down-firing, 5.25-inch, midbass drivers on the underside of the same piece.
The central tower sports two 10-inch woofers—one on each side—while two wireless surround speakers placed across the room fill out the 5.1 system, which is specified to pump out 100 watts per channel. The central tower also houses a 3D Blu-ray player and surround sound processor that support Dolby and DTS decoding. Connections will include USB and Ethernet ports, and there's an integrated iPod/iPhone dock.
The space-saving pedestal design supports flat panels up to 60 inches in size. Shipping this fall, Unity is priced at $999 and will be in stores in time for the holidays.
Beauchamp says the device was ultimately designed to deliver peace of mind so anyone who buys it isn't intimidated. "That's why we call this a lifestyle product," he says. "It's very simple. Whoever loves music and movies and wants the complete A/V experience is someone who would want this product."
While Unity One, as this first version is known, has yet to hit the market, Beauchamp is already thinking about a Wi-Fi-enabled model for Unity Two. Product development, he says, is about an 18-month cycle. "We'll start bringing in our software expertise—great video, audio, and media management. It will be the full package. We see this as the Trojan horse into the living room."
In2Technologies • (408) 454-8155 • in2technologies.com