Sharp XV-Z17000 3D DLP Projector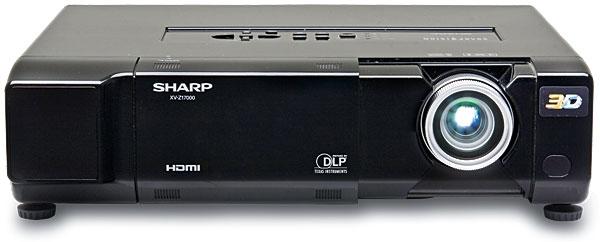 Price
: $5,500
At A Glance
: Bright, punchy images • Good (though not highly accurate) color • Middling black level and contrast
Many of us here at Home Theater are big on 3D, but a lot of front-projection fans have been holding off. Until recently, their only options in the $5,000 3D projector market were two identical JVC models (sold either through that company's pro or consumer distribution channels).
Now more budget 3D choices are starting to appear. One of the first is the Sharp XV-Z17000, which was announced at CEDIA 2010 but finally came to market last spring.
Description
Sharp has been a force in home theater projectors for years, and its last few generations, culminating in the XV-Z20000, were among the best single-chip DLP designs ever made.
The new XV-Z17000 is very different in appearance. It's smaller and looks to be a 3D adaptation of Sharp's recent 2D offering, the XV-Z15000. Both appear to have sprung from Sharp's business projector roots but have been heavily modified for home theater.
You can see the business projector DNA in this design through its quirky (for home theater) setup features. The focus and zoom are both manual. There's no lens shift. There's an image shift control, but this isn't the same thing (image shift moves the image electronically within the borders of the DLP chip, a feature of little use in home theater). A Bright Boost control, which is useful if you're doing a PowerPoint presentation in a bright conference room, is best left off for home video. And there are controls that let you correct for projection onto a concave, convex, or even spherical surface.

The zoom range is short. For a 100-inch (diagonal, 16:9) screen, the possible lens-to-screen throw distance ranges from 10 feet, 4 inches to 11 feet, 11 inches. The Sharp also has an unusually large vertical offset. With no lens shift, you must mount the projector either very high or very low to center the image on the screen. While this offset might be useful for a ceiling mount, it can be problematic for a tabletop setup.
If you have to tilt the projector significantly, you'll get a keystoned (non-rectangular, trapezoidal) image. The projector's Keystone controls can correct for this, but we strongly advise against using it; keystone correction reduces resolution.
The projector refreshes 2D images at a rate of 60 hertz and 3D images at 120 Hz (60 Hz for each eye in 3D). The Sharp first converts 24-fps 2D sources to 60 Hz, and 24-fps 3D sources to 120 Hz, by adding 3:2 pulldown. This isn't the best approach, but since the Sharp lacks a refresh rate that's an even multiple of 24 Hz, it's the only workable alternative.
There are six picture modes. Of those, the Natural mode (with adjustments) worked best for me in 2D. A color temperature (CLR Temp) control provides overall white-balance adjustment. The fine adjustments are limited to single red and blue controls. There's no green and no high and low options.
There are two iris controls. Iris1 (manual) offers two settings: High Brightness and High Contrast. Iris2 (auto) is a dynamic iris that closes down on darker scenes to enhance blacks. Sharp calls its lamp brightness control Eco+Quiet. When it's on, the projector's lamp is on low, and fan noise is nearly inaudible. When it's off, the lamp is on high, and you can hear it clearly in a quiet room. But it's not intrusive, and it's effectively masked when you turn the source audio up to any reasonable level.
Sharp claims a lamp life expectancy of 3,000 hours in low lamp mode and 2,000 hours in high. In our experience, light loss with age is progressive (on projectors in general). For the best performance, a critical viewer should plan on replacing the lamp much sooner than that. A replacement lamp for the Sharp, if purchased today, will set you back a rather steep $500 (list price)—an amount nearly 10 percent of the cost of the projector.
Two so-called C.M.S. (Color Management System) controls promise much but deliver little. Each controls only one color of the user's choosing. When I tried to use them to correct green and red (which deviated the most from the standard HD color gamut), they didn't have enough range to be of any use. In the end, I left both of these C.M.S. controls off.
Detail Enhance acts in a more subtle way than the Sharpness control. Used moderately (below its midpoint), it can add a bit of snap without obvious edge enhancement or unnatural sharpening. The Gamma control was very useful. The mid setting (0) worked best for most sources in 2D (+1 for 3D), but the –1 and +1 settings were better for some program material. When gamma is mismatched to the source, it's a significant contributor (along with black level) to images not looking quite right—either slightly washed out (gamma too low) or plugged-up and contrasty (gamma too high).
A separate 3D menu offers controls to turn 3D off or on (although in most cases, it will come on automatically when the projector senses a 3D source). It also selects the appropriate 3D mode when necessary and enhances or subdues the 3D effect. An IR Emitter Level control offers output levels suitable for viewing positions up to approximately 12.3 feet from the screen (Normal) or 18.3 feet (High). There's no 2D-to-3D conversion mode, nor is there any provision for separate 2D and 3D Picture settings in the same Picture mode.
The remote, while small and not backlit, can directly access each of the projector's six inputs (including two HDMI). It also selects or deselects the two iris modes, changes the lamp setting, cycles through the picture modes, calls up the menus, and more.
Sharp supplies two pair of IR active shutter glasses with the XV-Z17000. They weren't the most comfortable I've used; none of the included, interchangeable nose pads do anything to soften the hard plastic of the nose bridge. But the glasses offer one unique feature: You can switch them from 3D to 2D. This could be useful if some viewers in a group prefer to watch in 2D or just want to take a short break from 3D without taking off the glasses (the removal of which results in the viewer seeing a too-bright picture with double images). Additional menus offer a wide variety of housekeeping chores. For the most part, I left them in their factory default positions.
2D Performance
I did all of my testing and viewing with 100 to 150 hours on the Sharp's projection lamp. The projector's HD video processing was good, apart from a slightly pink tint to the brightest whites in the clipping test (not noticeable with normal program material). In standard-definition upconversion tests (480i to 1080p, not shown in the Video Test Bench chart), it was borderline for 3:2 SD and failed 2:2 SD (the latter failure is common).
Early testing on my resident Stewart StudioTek 130 screen (circa 2000, gain 1.3, 78 inches wide) indicated that the Sharp was capable of producing an exceptionally bright image. Since I had just received a 101-inch-wide, 2.35:1 screen from Elite Screens for a separate review (see page 48), I couldn't resist using it for the Sharp evaluation. If it didn't work out, I was ready to fall back to the smaller screen. I never did.