Monitor Audio Gold GX50 Speaker System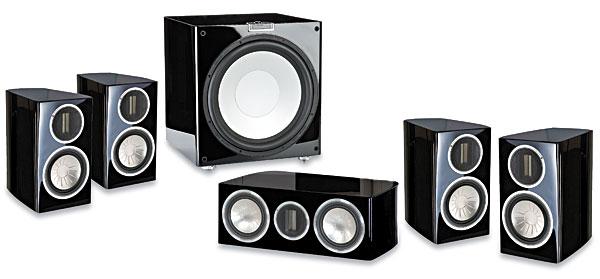 Price
: $7,480
At A Glance
: Two-way monitors with ribbon tweeters • High-quality parts including silver cabling • Three veneer and two lacquer finishes
No home theater system is complete without both a big screen and surround sound. But it's no secret that the former is more popular than the latter. Surround's Achilles' heel is the audio/video receiver, with its peculiarly named features and labyrinthine menus. On the other hand, speakers are fairly straightforward. They usually have no controls aside from a few on the sub. Cable connection is red to red, black to black. Placement is key to performance but as much a matter of simple experimentation as knowledge. You don't need to be a nuclear physicist to hear bass get louder when you shove a speaker toward a corner.
Perhaps the folks who sell specialty home theater gear for a living should focus more on speakers like the Monitor Audio Gold GX: on their seductive curves, on their quality of construction, on the startling clarity of their ribbon tweeters. Consumers have become more open to persuasion, according to a MarketSource survey, which found that 39 percent of respondents were interested in buying audio components over the next year, as opposed to 35 percent a year before. Get them interested in speakers, and maybe then they'll consider the A/V receiver (or surround processor and power amp).
Over There
Born in Essex, in the United Kingdom, Monitor Audio has been a well-regarded brand since its inception in 1972. Although its manufacturing has gone global, it remains very much a British company. All R&D—including the use of an anechoic chamber, nirvana for serious speaker designers—takes place in Essex. The company has its own Chinese plant for assembly and crossover manufacturing. Drive units and cabinets are also built in China.
One of its early floorstanding models was among the first speakers to include a metal-dome tweeter. Today's successor is the C-CAM alloy used for both tweeters and woofers. Its ceramic powder-coated aluminum and magnesium hails from the aerospace industry—it's the stuff of jet engines. Monitor says its "higher resistance to bending stress" fosters fidelity from top to bottom.
The Gold GX is the newest of Monitor's many speaker lines, which include conventional, on-wall, in-wall, and outdoor speakers. It's one of only two lines to include some form of ribbon tweeter, in addition to the Platinum Series. The Gold GX line includes two monitors, two towers, two horizontal center speakers, a dipole surround, and a subwoofer. Reviewed here are the GX50 monitor, GXC150 center, and GXW-15 sub.
Available in three veneer and two lacquer finishes, these speakers are easy to fall in love with as the A/V specialty salesperson hovers expectantly. My review samples came in Bubinga veneer, whose dark wine-red satin finish would stand up to close inspection in a bright, fastidiously decorated room. At these prices—the 5.1-channel review configuration weighs in at more than seven thousand dollars—you expect your speakers to look like hot stuff. And they do.
Both the monitor and the center speaker have fairly thick enclosures, 0.79 inches of medium-density fiberboard, with both radial and cross bracing for greater rigidity. Coned drivers are attached with a single bolt through the rear of the cabinet, which is claimed to further improve rigidity and aid in decoupling the drivers from the baffle. Speaker terminals are metal-nut binding posts set into a shiny die-cast metal plate proudly bearing Monitor's M logo. A feature that's unseen is the internal silver wiring.
Behind the GX50's magnetically attached metal grille are two C-CAM drivers, including a ribbon tweeter measuring 0.75 inches wide by 2 inches high and a 5.5-inch RST woofer. RST stands for Rigid Surface Technology: The woofer's radial dimples improve rigidity, allowing the use of a lighter cone that's said to be more responsive.
Tie a C-CAM Ribbon
The Gold Series ribbon tweeter is a thicker variation of the one used in the bleeding-edge Platinum Series. It may look the same, but in fact it's slightly thicker because it has to work with a lower crossover (2.3 kilohertz for Gold, 2.8 kHz for Platinum). Whereas ordinary tweeters have a dome driven by a separate voice coil, Monitor's ribbon serves both functions. Elimination of the separate voice coil (and the mass it brings with it) is claimed to result in "lightning-fast response," as my contact said, "communicating a sense of space, air, and involvement, particularly in the tone and texture of the leading edge of instruments."
Monitor specifies the ribbon's high-frequency extension up to 60 kHz. Although your cat might enjoy it, human hearing doesn't go anywhere near that high. In theory, some say, what you can't hear and what you can hear are both part of the same harmonic structure, and it's desirable to keep it whole to the extent possible.
As you'd expect, the GXC150 center speaker has two of the woofers in a larger enclosure that echoes the monitor's curved sides. However, in contrast to the back-ported monitor, the center has a sealed enclosure. When I asked them why, the Monitor people offered some unexpected insight into their design process and attention to detail: Unlike the monitor, which some may use in a two-channel configuration, the center will usually function in a subwoofer-equipped system and therefore doesn't have to play as low. The designers also wanted to avoid possible port noise.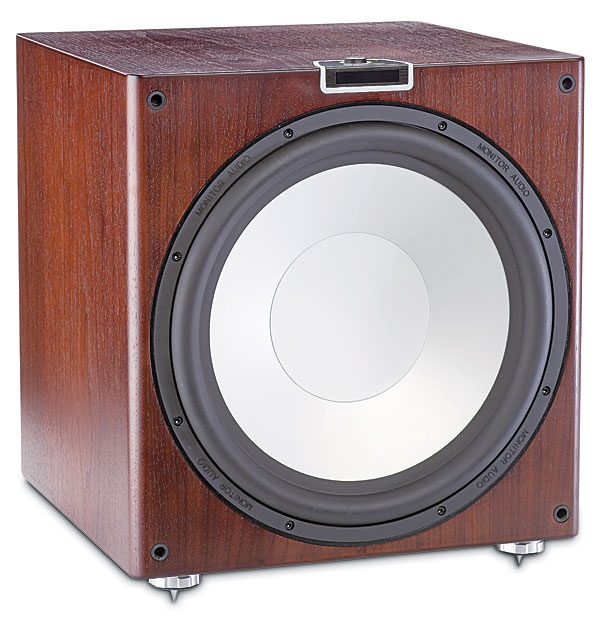 As impressive as the monitor and center are, it's the sub that takes your breath away. It comes in the same gorgeous finishes with an even thicker 0.98-inch sealed enclosure, and with a 650watt RMS-rated amplifier driving a 15-inch C-CAM woofer backed with a 3-inch voice coil and double motor assembly. It's among the few subs with onboard room correction, D2Audio's LEO, the setup of which is a simple process involving a supplied microphone.
Using either the remote control or a push-turn button on the sub itself, you can turn the room EQ on and off, pick from a generous selection of phase settings (0, 90, 180, and 210 degrees), or select from three memory settings per input (the sub has both LFE and line-level inputs and outputs). There are three preset EQ curves: Music, Movie, and Impact (plus Off). The manual includes a graph that explicitly illustrates the curves. Music gets more of a low-bass boost than the others, while Movie is said to be flat down to 30 hertz. Impact offers a more aggressive midbass.