Ab Fab Prefab
Technology and green living converge in the LivingHome.
Do you drive a Prius? Shop at Whole Foods Market? Donate to the Natural Resources Defense Council? If so, I have some bad news: You've been labeled. Like the soccer moms and NASCAR dads of yesteryear, you're no longer an individual but a target demographic. From here on out, you shall be known as a "cultural creative"—someone who values products and services that promote design, health, and ecological sustainability.
The good news is, as labels go, "cultural creative" has a pretty nice ring to it. Even better, Steve Glenn has a home for you. . .literally. His company, LivingHomes, builds prefabricated homes that blend green living with good design and value. "We're designing homes for people who care deeply about design and who care deeply about the health and sustainability of the products they buy—but who currently can't buy homes that reflect those values," says Glenn. "Our goal is to create homes that strive to achieve zero energy, zero water, zero carbon, and zero emissions." The company recently opened the doors of their first model home in Santa Monica, California—a project that earned the highest LEED (Leadership in Energy and Environmental Design) rating from the United States Green Building Council. The LivingHomes model home is the first and only residential project to date to receive a Platinum rating.
A New Breed
For many, the notion of green living still conjures images of nature communes, hemp clothing, and outhouses—a world devoid of TVs, DVRs, and MP3 players. I love the environment, but I also love watching Lost in HD. Must these two loves remain at odds? Not if Glenn and other environmentally minded entrepreneurs have anything to say about it. This new breed of activist embraces technology and innovation as a way to help, not hurt, the environment, and the LivingHome is an excellent example of how their ingenuity can move us forward.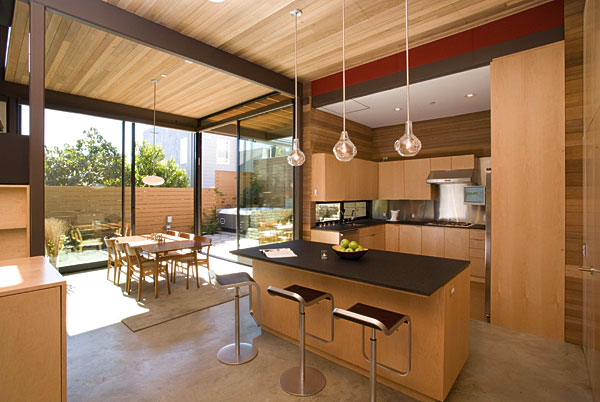 Award-winning architect Ray Kappe designed the first line of LivingHomes, taking a modernist approach with lots of clean lines, natural light, and built-in furniture. To achieve zero energy, the LivingHomes' model house produces the energy it consumes via photovoltaic cells located on the roof, where you'll also find a solar-energy system that heats water. The home's heating comes from a radiant (water) system embedded in the floors, and the double-paned glass and Polygal that make up 70 percent of the home's shell have three times the thermal properties of regular glass.
To reduce water consumption, a gray water system recycles water from the home's appliances, and a water-management system collects rainwater to irrigate the grass-free, native, drought-tolerant landscaping. The design team selected appliances that are highly water-efficient and Energy Star–certified, including a Bosch washing machine, dryer, dishwasher, oven, microwave, and refrigerator.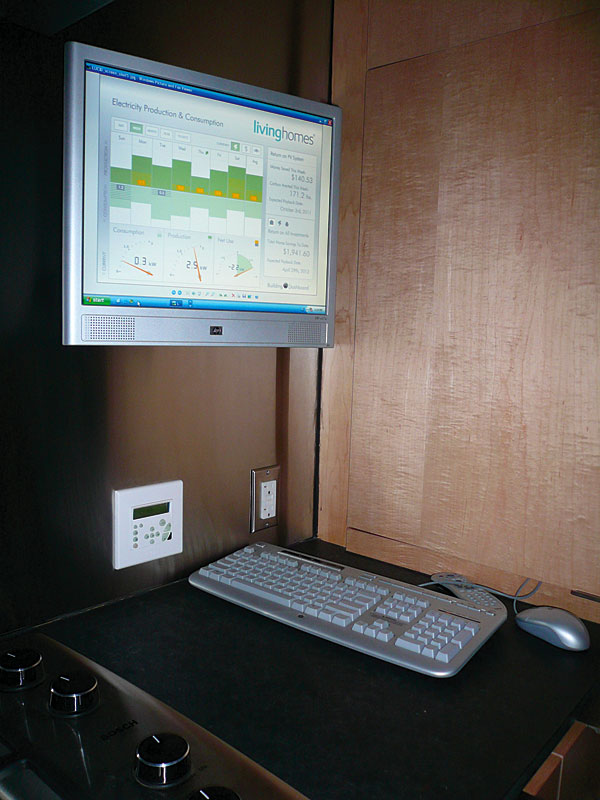 I could devote pages to describing the LivingHome's many green features—from the recycled-glass countertops, to the use of FSC-certified wood, to the automatic composter in the kitchen—but one particular characteristic piqued my curiosity. Could a truly green home still allow for a high-end home theater and automation system? Is there really such a thing as a green theater?
Green Technology
"Our target market is technically literate," Glenn explains. "They absolutely want comprehensive home automation and a complete A/V system." Add the optional A/V package to your LivingHome purchase, and the company will deliver a home with a built-in wholehouse A/V system. For help with gear selection and installation, Glenn looked to Best Buy For Business and Exceptional Innovations (EI), whose life|ware software integrates with a Media Center PC to allow for control of A/V electronics, lighting, temperature, security, and shades. EI's primary partner at the time of the install was Hewlett-Packard; as such, the media room, den, and bedroom receive HDTV and DVD via three HP Media Center PCs, complemented by two Runco plasmas, a Runco projector and Stewart screen, and an assortment of Klipsch on- and in-wall speakers. The wholehouse setup includes a Russound audio system, Insteon lighting control, GE security cameras and controls, and Verizon broadband Internet.
"We're trying to give people the quality and design of a custom home, just not at a custom price," Glenn explains. "The goal wasn't to offer a top-of-the-line A/V system with all the bells and whistles, but to offer great functionality at a much better value." The system certainly fits the design attributes associated with the "cultural creative" label, but what about the green angle? Was there something about this particular gear that made it an ideal environmental choice?
This question draws a sheepish grin from Glenn. "To be honest, we probably missed the mark on that. Right now, the system is consuming more power than I'd like." That doesn't mean the team didn't make green-conscious decisions. They went with LED lighting, which uses one-tenth of the power of incandescent lighting, and Energy Star–compliant electronics; they even submitted the home itself for Energy Star certification. To be certified, a home must have a HERS (Home Energy Rating System) of 85; the LivingHome earned an even better rating of 95.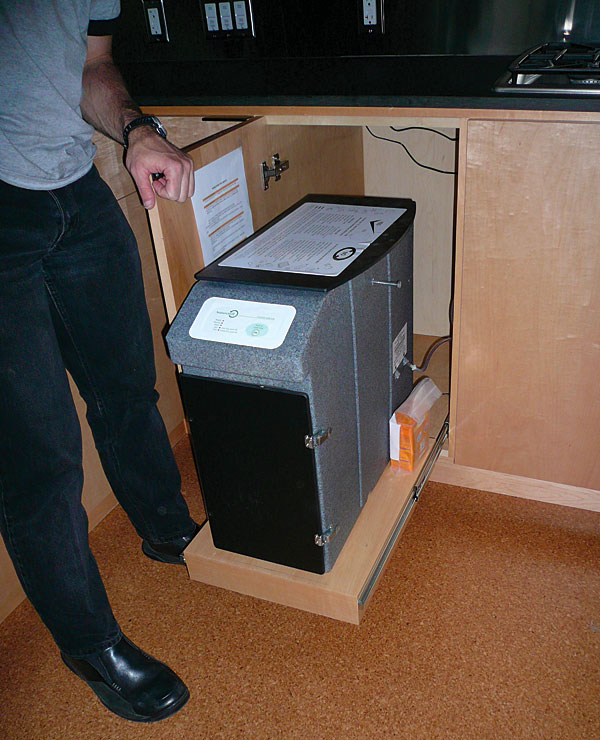 Klipsch claims that, because their speakers are so efficient, it takes less than half the energy to play them at the same volume as other speakers. In selecting a flat-panel technology, the team ultimately chose large-screen plasmas because they represent a better value, despite the widespread belief that LCDs consume less power—a point that, like the Klipsch claim, comes with caveats attached. Therein lies the problem with trying to select gear for a green theater. Beyond Energy Star, which measures standby power consumption, our industry lacks an objective certification for power consumption and other environmental issues. Those who want to make informed decisions will have difficulty doing so. "I'm not convinced there are a lot of good options yet in this space, in contrast to other product categories," Glenn says. "I think it's a great product opportunity for manufacturers." In partnership with Best Buy For Business, Glenn promises to keep tweaking the optional A/V package until it meets his exacting standards.
"If you've ever traveled behind a Prius driver in the carpool lane, you know how much they love to monitor the car's gas-consumption dials. The LivingHome has a similar feature: The environmental-dashboard software program provides continuous feedback about the home's energy consumption, water consumption, financial savings, and even how much carbon you've averted. The program was designed especially for LivingHomes, but EI is considering adding similar software to a future version of life|ware. One of the primary benefits of automation, says EI's Mike Seamons, is its ability to "help people proactively make decisions about their power usage."
As with buying organic food or hybrid technology, you will pay more for the LivingHome. "These aren't inexpensive homes," Steve reminds us. "They average about $300 per square foot. But compare that to the $400 or $500 per square foot that a leading architect would charge for a similar steel-frame design, and you can see the value." Cultural creatives have demonstrated that they're willing to pay more for statement products, and the LivingHome has plenty to say, beckoning environmentalists out of the woods and into a 21st century where "green technology" doesn't have to be an oxymoron.
How it works for you
• Buy Energy Star appliances and electronics. You can find a list at www.energystar.gov.
• Use LED or compact fluorescent lighting.
• Program your home-automation system to regulate your home's temperature and turn off unnecessary lights.
• Remember the four Rs: reduce, reclaim, reuse, recycle.