Yes Man (Blu-ray)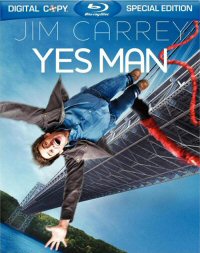 Three years after his divorce, Carl Allen (Jim Carrey) still has the blues and dreads going to work at his dead-end job as a loan officer. In order to get a new outlook on life, he attends a self-help seminar led by Terrence Bundley (Terence Stamp), who challenges people to say "yes" to everything. Miraculously, when Carl embraces this philosophy, events lead him to Allison (Zooey Deschanel), and his life takes a turn in the right direction.
How different would my life be if I said yes to everything? For one thing, my kids would like me more, but would they be better off? Regardless, Yes Man shows how one act of kindness can lead to a pleasing outcome, and the message of embracing life is a good one. Carrey blends his over-the-top comedy with some of his better dramatic chops—where I think he excels as an actor—and has great chemistry with the ever-cute Zooey Deschanel.
The VC-1 encode is an improvement from Warner over their ills of the past—too much DNR (digital noise reduction) and a low bitrate. Faces show real-life wrinkles and pores, much to the chagrin of an aging Jim Carrey, resulting in a lifelike and pleasing picture with the high-bitrate encode. Color saturation is accurate, and close-ups are razor-sharp, but some longer shots lack clarity and are even a bit blurry. Black levels are solid and stable with a pristine print, as one would expect from a day-and-date release.
The Dolby TrueHD 5.1 soundtrack is very front-loaded with the surround channels delivering only low-level ambient effects. Dialog is crisp and clear, and the imaging across the front is acceptable. The music is the most dynamic aspect of the audio with the likes of Journey and Munchausen by Proxy, featuring the voice talents of Zooey Deschanel and Von Iva.
The two-disc set includes a slew of supplements—all in HD—with five behind-the-scenes featurettes, a gag reel, deleted scenes, and five exclusive Munchausen by Proxy music videos. The disc is also BD-Live capable, but after waiting nearly five minutes for the features to load, I gave up the attempt. The second disc contains a digital copy of the film for iTunes or a Windows PC.
I'm generally not a big fan of Carrey as a comedic actor, and I quickly tire of his humor, but he keeps himself in check in Yes Man, and I found myself laughing on many occasions, especially when Carl's elderly neighbor asks him for a favor and he can't refuse—it's crude, but hilarious. Warner cranked up the bitrate and included lossless audio, which is always welcomed. Recommended.
Release Date: April 7, 2009
Studio: Warner
Movie: 7/10
Picture: 8/10
Sound: 8/10

Review System
Source
Oppo BDP-83 Blu-ray player

Display
JVC DLA-RS1 projector
Stewart FireHawk screen (76.5" wide, 16:9)
Electronics
Onkyo Pro PR-SC885 pre/pro
Anthem PVA-7 power amplifier
Belkin PF60 power conditioner
Speakers
M&K S-150s (L, C, R)
M&K SS-150s (LS, RS, SBL, SBR)
SVS PC-Ultra subwoofer
Cables
Monoprice HDMI cables (source to pre/pro)
Best Deal analog-audio cables
PureLink HDC Fiber Optic HDMI Cable System (15 meters) from pre/pro to projector

Acoustical treatments from GIK Acoustics
<!- ----------------------- Tech Center Ads ----------------------------->

SPONSORED TECH CENTER
<!- ---------------------336x280 ADS------------------------------->
<!- ---------------------FIXED AD------------------------------->
<!- ---------------------336x80 ADS------------------------------->
<!- --------------------Sponsored Link Ads-------------------------------->
<!- ------------------------Bottom Ads---------------------------->