Wireless CES Wandering
Sometimes, as you wander the aisles and hallways of CES, a pattern or theme appears among the various demonstrations you see. In some cases, this is by design (if you were a real journalist and carefully planned out your day ahead of time). More often than not, however, it's from sheer dumb luck or an unavoidable preponderance of manufacturers chasing a particular, small segment of the market.
And, of course, it can also happen thanks to all of the above. Thus one of the main themes of CES Day 2 for me turned out to be the wonders of being wireless.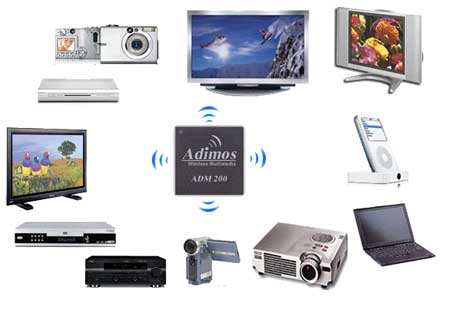 Adimos Wireless Multimedia sells its products to the manufacturers who eventually sell their products to you, so it's unlikely you'll ever see a gadget with their name on it sitting on a retail shelf. But I certainly hope we do see finished versions of some of the prototypes Adimos showed me today. (Adimos' CEO & Chairman of the Board, George Haber, told me what they had inside the room was so good we'd have to put them on the front cover of Home Theater. He wasn't stretching the truth too much.) The first prototype he demonstrated was a docking station (battery or AC powered) for an iPod Video that wirelessly sent audio and video to a soon-to-be-available LCD TV with an integral Adimos wireless transceiver. Standing in the hallway to show how the robust signal could travel through several walls without detriment, Haber further explained that the system was two-way - meaning it could also be used to wirelessly synch your iPod with your computer. Afterwards, he showed a modified Yamaha A/V receiver (Yamaha had nothing to do with the demo - and probably didn't even know their receiver was involved) that could be operated by sending the receiver's remote control commands from the IR eye in the same Adimos-integrated LCD TV to an Adimos transceiver/IR blaster connected to the Yamaha. The audio and video outputs of the Yamaha were them fed back to the LCD TV through the Adimos transceiver. It was an exciting demonstration, made more so by the fact that there were four or five different wireless streams going on in the room - all without interference. Oh, yeah, did I mention another demonstration in the Adimos suite showing wireless HDTV transmission?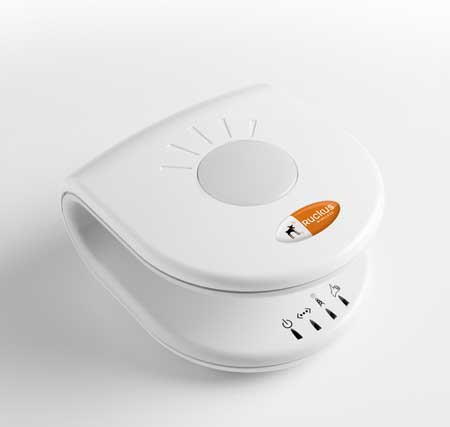 Later I met with Ruckus Wireless and saw a demonstration of multiple HDTV, DTV and IPTV streams over a standard in-home 802.11g Wi-Fi network. Unlike other Wi-Fi systems on the market, the Ruckus system uses multiple antennae and constantly monitors the wireless environment as it steers the RF signals to avoid interference and prioritizes different types of traffic for transmission. Like Adimos, Ruckus' main intent is to sell their gear to service providers who will incorporate the technology into new products.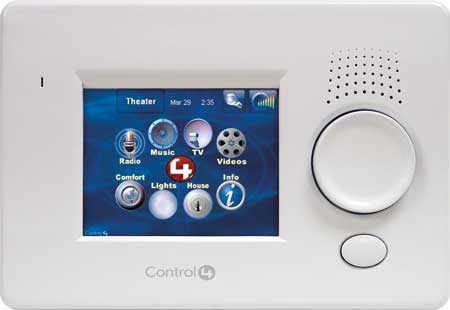 Near the end of the day, I dropped by the jam-packed Control4 booth where they were happy to tell me they are now shipping both their Speaker Point (a 50-watt per channel digital amplifier that receives digital audio wirelessly from the main Control4 Controller) and Mini Touch Screen (a small touch screen with an audio decoder that communicates wirelessly with the Control4 Controller and provides system control and analog audio outputs for a local zone). If you're into wireless home theater control and home automation and you haven't yet heard of Control4, you need to stop listening to that 1940s music channel on XM and tune into something a little more current. If you have heard of Control4, the good news is that more of the smaller component parts used to extend system control around the house are going to be coming out soon.
If any of these guys have their way, wires will soon be a thing of the past. (Well, maybe not yet...)
<!- ----------------------- Tech Center Ads ----------------------------->

SPONSORED TECH CENTER
<!- ---------------------336x280 ADS------------------------------->
<!- ---------------------FIXED AD------------------------------->
<!- ---------------------336x80 ADS------------------------------->
<!- --------------------Sponsored Link Ads-------------------------------->
<!- ------------------------Bottom Ads---------------------------->