Vizio VP505XVT Plasma HDTV Page 2
I really like the Vizio's menu system—it's simple, straightforward, and well organized. Each menu's main controls are in the topmost level. The menu disappears when you select a picture parameter to adjust, but the control doesn't drop to the bottom of the screen. Instead, it's about 25 percent of the way up from the bottom, which can obscure some important areas that you're trying to tweak. Also, when the control times out after 30 seconds of inactivity, the entire menu does not return, so you have to re-enter the menu if you're not done.

The aspect-ratio control—called Wide mode—and the Overscan control are separately adjustable, which is an arrangement I like. However, the Wide mode is fixed at 16:9 with high-def HDMI or component signals. This is also true with DTV channels from the HDTV's internal tuner, or with external, standard-definition sources that are upconverted to 1080i, 1080p, or 720p before they reach the set. The Wide mode can be adjusted with 480i/p signals via HDMI and component as well as analog channels from the tuner. This shouldn't pose a problem as long as any 4:3 material on Blu-ray or a DTV channel is properly formatted at the source. However, I've seen examples of stretched 4:3 in broadcast DTV, and in this case, you're stuck with it.
Setup and Tests
The Normal color-temperature preset was closest to correct, which is much rarer than it should be, while Warm was too red. The set offers a full complement of calibration controls in the user menu (high and low adjustments for red, green, and blue), and calibration was easy. However, as always, don't attempt this without the requisite tools and training. Calibration certainly improved the picture quality, but it wasn't all that far off to begin with in the Normal color-temperature preset.
This might lead you to forgo a professional calibration, which can cost several hundred dollars—although the Vizio would probably be at the low end of a tech's fee scale because it's so easy to work on. Although I agree that a full calibration is not critical in this case, it does make a noticeable improvement in the picture quality. Even with a full calibration, this set still costs less than comparable models without a calibration.
Green was somewhat oversaturated, as were red, yellow, and cyan to a lesser extent (see HT Labs Measures). Unfortunately, the Vizio doesn't offer a color-management system to correct them, but that's a feature I wouldn't expect at this price point. On real-world material, it didn't seem to matter much anyway.
I started my testing with the HQV Benchmark DVD via component at 480i. There was some slight banding in the high-frequency vertical burst, and the high-frequency horizontal burst was pretty rolled off. Jaggies were very minor, as I expected from the HQV processor, and detail was a little better than many sets can manage with standard definition. The temporal noise reduction was very effective without softening the picture, and the MPEG NR worked better than most I've seen. However, it did soften the picture a bit and made it look quite flat. Both 3:2 film and 2:2 video looked very solid.
On the HQV Benchmark HD DVD at 1080i via HDMI, the video resolution-loss test was solid as a rock. On the other hand, the film resolution-loss test exhibited some pronounced, continuous shimmering in most of the bursts in the moving monoscope. The pan across the stadium seats was pretty juddery, but the Vizio lost less detail than most LCDs do. Jaggies were invisible.
Motion detail was very good. In fact, it was better than all 60-hertz LCDs and at least as good as 120-Hz LCDs. There were no frame-interpolation artifacts to worry about. There was still a bit of blurring in moving objects on the most difficult, specialized test material I had on hand, but not nearly as much as you see from LCDs without frame interpolation. A 0–100 brightness ramp was very smooth with only slight banding. A 0–25 ramp had a bit more banding, which is very hard to avoid completely. The differentiation between shades of black and white in the mostly black and mostly white shots was excellent.
These gradation tests also provide a great torture test of off-axis performance, which is something that LCDs always struggle with. On the other hand, plasmas excel at this particular criterion, including the Vizio. I did notice one weird thing on a test that shows a string of dominos that run diagonally across the screen against a black background. At an extreme off-axis angle, I saw a double image of the white dominos, as if a mirror were reflecting the image on the screen surface. This was not a problem at normal viewing angles.
Real-World Performance
I was a little surprised to find that the pan across the stairs that starts chapter 8 of Mission: Impossible III (1080i) pulsed with moderate moiré. Given this set's HQV processing, I expected less of that. On the plus side, shadow detail in the catacombs was excellent, and colors were very good overall.
I've seen the star field that opens the Stargate: Continuum Blu-ray on many LCD TVs lately, so I had to check it out on this plasma. I saw many more stars than any LCD reveals, and the black of space was nice and deep. As I watched the movie unfold, I was immediately struck by how enjoyable the picture was. Detail was sharp and crisp, colors were natural, and shadow detail aboard the Achilles as it steams across the Atlantic was better than I've seen from most LCDs.
The same was true of I, Robot on Blu-ray. The futuristic Chicago skyline, facial pores and stubble, and scraped paint on a garbage truck showed exceptional detail. Colors were likewise gorgeous, with natural skintones and blue sky. The picture really popped, and the letterbox bars were completely unobtrusive.
Since the measurements indicated oversaturated greens, I spun up the "Jungles" episode of Planet Earth on Blu-ray. Foliage in every shade of green was surprisingly natural looking—perhaps a bit overdone, but not nearly as much as I expected. Detail in the feathers, hair, tree bark, and shots from space was breathtaking, and the black of space was rich and deep. I didn't see any solarization in shots of the sun with the subtle gradations of light emanating from it.
Turning to DVD, I took a look at Star Trek: Insurrection. Detail was OK but not the best I've seen a DVD look. Also, the pan across the village at the beginning was quite juddery. Colors (even the green foliage) looked beautiful and natural, and shadow detail in the duck-blind observation post was very good. As before, the black of space was rich and deep, and the letterbox bars were easy to ignore except with the darkest scenes.
The Vizio's onboard audio sounded pretty good—for TV sound, that is. Dialogue intelligibility was better than what many TVs offer. However, the level was fairly low, so I had to crank the volume most of the way up. Even then, it still sounded somewhat closed in. As usual, I recommend that you pair this TV with a good surround sound system.
Comparisons and Conclusion
I don't have direct experience with any plasmas that can compete with the VP505XVT in terms of its price/performance ratio. Tom Norton reviewed the $2,200 Panasonic TH-50PZ85U (HT, October 2008) and liked it very much, but it's $700 more than the Vizio. He also reviewed the Samsung PN50A550 (HT, August 2008), but it's $2,000, its black level is substantially higher, and it didn't calibrate nearly as well as the Vizio.
Just for grins, I used an HDMI splitter to feed the same signal to the Vizio and the Pioneer Elite PRO-101FD 50-inch plasma monitor ($4,500). Of course, the Pioneer beat the Vizio, with much lower blacks and an even punchier picture. Still, I was shocked to see that the difference was not all that pronounced, at least in relatively bright scenes. If money were no object, I'd choose the Pioneer Elite, but the Vizio gives you 80 percent of the picture quality for a third of the price—and this Pioneer Elite model is a monitor without a tuner or onboard audio.
As you can no doubt tell by now, I'm very impressed by the Vizio VP505XVT. I rarely wax rhapsodic, but this is the flat-out best flat-panel value I've ever seen. Its detail is superb, its color is excellent despite what the measurements say, its shadow detail is great, and its blacks are as good as anything in its class. It offers a simple, straightforward user interface, and it calibrates very well. What more could you possibly want for $1,500?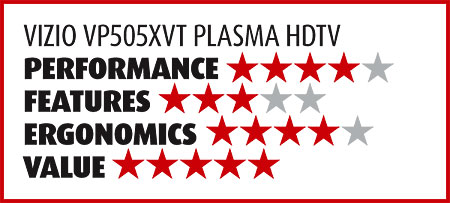 <!- ----------------------- Tech Center Ads ----------------------------->

SPONSORED TECH CENTER
<!- ---------------------336x280 ADS------------------------------->
<!- ---------------------FIXED AD------------------------------->
<!- ---------------------336x80 ADS------------------------------->
<!- --------------------Sponsored Link Ads-------------------------------->
<!- ------------------------Bottom Ads---------------------------->