Vizio VHT215 Soundbar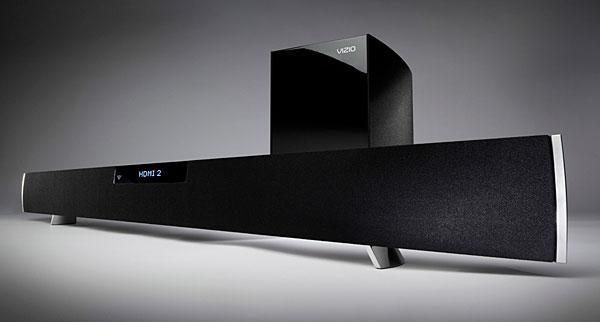 Price:
$320
At A Glance:
2.1 channels with effective virtual surround • Wireless subwoofer • HDMI 1.4a connectors • Easy to set up and install
If Star Trek's Lt. Cmdr. Montgomery "Scotty" Scott was handed one of today's ultra-thin flat-panel HDTVs and warned, "You have eight minutes to get decent sound quality out this thing or the Enterprise is going to burn up in the atmosphere!," he might take one look at it and once again utter those immortal words: "I canna change the laws of physics!"
Unfortunately for Scotty—and for us—while a TV's cabinet can be made ever thinner and sleeker thanks to advances in digital electronics, loudspeakers remain analog devices ruled by the unyielding laws of physics. And at least for those of us living in the 21st century, high-fidelity sound reproduction still requires drivers of sufficient diameter mounted in chambers of sufficient volume, preferably radiating directly forward into the room, not downward through tiny slots. Not even a Star Fleet engineer could make that sound good.
I'm not sure what Scotty would have cobbled together to save the day in the 23rd century, but it's not too off the mark to think that it might be something that would look a lot like the Vizio VHT215 soundbar.
Features
The VHT215 is the largest of Vizio's "2.1-channel" soundbar models, which in this case means it consists of three drivers mounted at each end of a single elongated cabinet, accompanied by a separate subwoofer. The sub features Vizio's Wireless HD Audio 2.4 GHz system, and the company claims it can be placed anywhere in the room up to 60 feet away from the soundbar as long as line of sight is maintained.
Virtual-surround circuitry is employed to create the illusion of surround sound, or at least to psychoacoustically expand the soundfield beyond the 40-inch width of the speaker cabinet. Vizio licenses virtual-surround circuitry from SRS, and the VHT215 includes two modes: SRS TruSurround HD (for multichannel material like movies) and SRS WOW HD (for 2-channel music). Also onboard is SRS TruVolume, which is intended to keep those pesky commercials from blasting you like a phaser set to stun.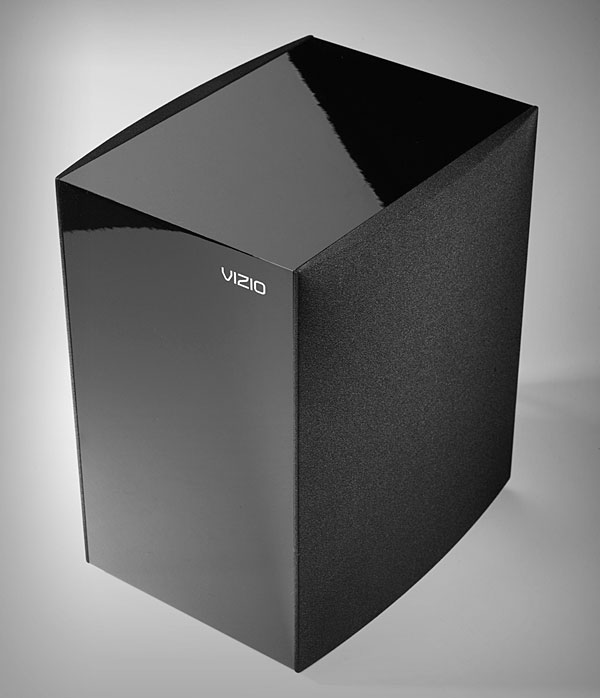 Although Vizio recommends the VHT215 for use with TVs measuring 40 inches or wider, it looked great mounted on the wall a few inches below the 37-inch LCD in our large master bedroom. When the included table-stand feet are removed for wall mounting, the cabinet is only 3.3 inches high and 1.9 inches deep.
The molded plastic cabinet is sleek and attractive, with elegantly curved ends accented by silver trim. The sub is nicely finished in gloss black, with gently curved black-cloth grilles on two sides.
Each of the L/R channels is delivered by a pair of 2.75-inch midrange drivers and a single 0.75-inch tweeter. The subwoofer employs a single 6.5-inch long-throw driver in a ported cabinet. Vizio claims a peak system power of 330 watts, which is a meaninglessly vague spec, but there you go. Specified frequency response is 100Hz to 20kHz for the bar, and 40Hz to 110Hz for the sub, but again this is not a full specification. We'll have to wait and see what Mark Peterson's measurements have to say.
In addition to optical, coaxial, and 3.5mm analog stereo audio inputs, the VHT215 has two HDMI inputs and an HDMI output, which allows it to be used as a switching hub for systems with HD cable box and Blu-ray player. The HDMI inputs will pass 3D video, and the Vizio offers HDMI Audio Return Channel (ARC), which, when used with a compatible TV, would send the audio from programs streamed by the TV from the Internet back to the soundbar. For this review, I used the coaxial digital output from my Verizon FiOS set-top box to the Vizio and had a separate HDMI cable to the TV for video.
Ergonomics
The blue-fluorescent front-panel display is fairly small, but it can usually be read from across the room. It only illuminates when you are changing a setting and then quickly turns off, leaving only a tiny blue LED in one corner to indicate power.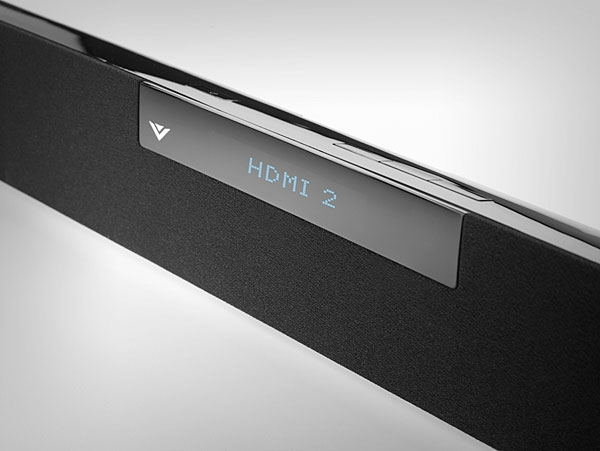 Vizio elected to put the "front-panel" controls on the top of the cabinet, where they are somewhat hidden below the line of sight by the reverse slope of the top panel. Buttons are provided for Power, Volume Up/Down, and Input. These controls are rather difficult to see and manipulate when the soundbar is wall-mounted only a few inches below the TV, especially if the TV has to be mounted relatively high on the wall, as it was in my installation.
The remote resembles a slightly overweight black iPod, with a few additional controls on a drawer that slides out from the bottom. It's easy enough to use, but the question is, why should you need to use it? As an appendage of the TV, the basic soundbar functions (volume and mute) should be controllable from the user's familiar TV or set-top box remote; you should definitely not need to pick up the Vizio remote every time you want to mute a commercial or tweak system volume. But more on that in the next section.
Setup
Setting up the VHT215 is simplicity itself, especially if you will be placing the soundbar on a shelf or stand. Wall mounting is also quick and easy. A full-size paper template is provided to help you precisely locate and drill holes for the two simple wall-mount brackets, and since the soundbar doesn't weight much, heavy-duty hardware is not really necessary. I securely mounted the brackets using simple plastic hollow-wall anchors. After removing the stand-mount brackets and connecting power and a single audio cable of your choice, the soundbar simply drops onto the brackets.
At least in theory, the subwoofer can be placed anywhere in the room, though you generally want to locate it near the front wall as close to the soundbar as feasible. The wireless sub automatically "pairs" with the soundbar on power up.
<!- ----------------------- Tech Center Ads ----------------------------->

SPONSORED TECH CENTER
<!- ---------------------336x280 ADS------------------------------->
<!- ---------------------FIXED AD------------------------------->
<!- ---------------------336x80 ADS------------------------------->
<!- --------------------Sponsored Link Ads-------------------------------->
<!- ------------------------Bottom Ads---------------------------->