VHS Savior!
The Lite-On LVC-9006 DVD+VHS Recorder meets consumer need to record TV directly to DVD and to backup VHS to disc, all in a single chassis and compatible with a wide variety of blank media.
The duplication of VHS onto DVD is nothing new, but a single-component solution is clearly the way to go, and the aggressive pricing we've seen over the past year surely helps as well. While upon close inspection the Lite-On LVC-9006 does appear more streamlined than the Lite-On LVW-5005 DVD Recorder I reviewed in the December 2004 issue of Home Theater—the front-panel inputs (digital video, composite video, analog stereo) are now exposed, and the optical audio output is gone altogether—I cannot overlook the obvious, namely the addition of an excellent four-head Hi-Fi stereo VHS VCR. Yes, it might finally be time to retire your old VCR to Miami (or at least the kids' room), or take it put back behind the woodshed and put a bullet between its fast-forward and rewind buttons. Chief among the LVC-9006's strengths remains the "All-Write" technology which enables it to recognize and record onto most popular blank media types: DVD+/-R, rewritable DVD+/-RW, and even more affordable CD-R/RW. Choose whatever works best for you, if you know for example that a friend's DVD player doesn't support DVD+RW. It is that compatibility, combined with the Easy Guider menus (now seamlessly enhanced for its increased functionality) which virtually hold our hand every step of the way, that make Lite-On recorders such a particular pleasure to use.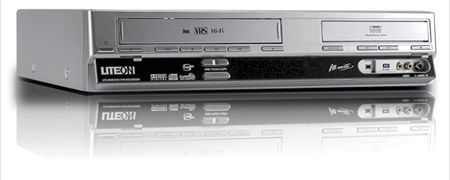 The LVC-9006 also supports two-way dubbing between its twin formats, either VHS-to-DVD or DVD-to-VHS, copy protection permitting of course. The DV input further allows for direct dubbing of digital camcorder video to either VHS or DVD, to easily share home movies with the family. We can also play back MP3 music and display JPEG photos, and around back we will find RF in/out, composite video/analog stereo in/out, S-video in/out, digital coaxial audio out, and 480i/480p component video out. As I recall, my primary grouse in the LVW-5005 review was the lack of a program guide, which Lite-On has addressed with the addition of Gemstar's VCR Plus+ system, an interesting compromise that simplifies the timer recording process via the use of a specific code number available for each television program. This approach will however seem a tad clunky to anyone who routinely uses the interactive program guides of the popular hard-drive-based personal video recorders. While the internal TV tuner works well with a basic cable/antenna feed, there is no way for the recorder to switch between channels on an external cable box or satellite receiver, both of which would therefore need to be left powered on and adjusted manually.
But again, the real allure here is the power to move content from disc to tape, tape to disc, in real time and without any real stress. Onscreen icons help us select the proper recording time and quality, and adding DVD chapter stops is remarkably easy. (I'm a big fan of the automatic "one-chapter-every-five minutes" method myself.) With less gear and fewer cables, the LVC-9006 actually allows us to do more with our home movies and old videocassettes, with a painlessness that even carries over to the $299 pricetag.
<!- ----------------------- Tech Center Ads ----------------------------->

SPONSORED TECH CENTER
<!- ---------------------336x280 ADS------------------------------->
<!- ---------------------FIXED AD------------------------------->
<!- ---------------------336x80 ADS------------------------------->
<!- --------------------Sponsored Link Ads-------------------------------->
<!- ------------------------Bottom Ads---------------------------->