TV Setup, 7.1 on 5.1 System, Ethernet Extension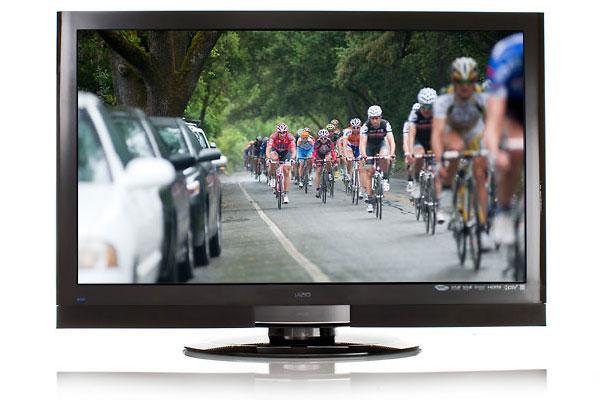 Setup Prep
I just bought a Vizio XVT473SV LED LCD TV and the Proximus High Definition TV and Audio Calibration Toolkit. I want to have the best experience possible, but I don't know what to turn off before I start setting the picture controls. The TV doesn't have a Dynamic Contrast feature. It does have a Movie mode, and I selected that as you suggested on Leo Laporte's radio show. I was hoping you might be able to give me some specific tips for this TV.
Jack Wood
The XVT473SV uses full-array LED backlighting with local dimming, the best type of LED illumination. I hadn't heard of the Proximus setup Blu-ray before, but from what I can see online, it seems to have what you need to set the basic picture controls.
In the TV's Picture menu, you were right to select the Movie picture mode, which is probably the most accurate place to start. There's also a submenu called Advanced Picture, which is where the automatic settings are located. In fact, this TV has three separate dynamic-lighting controls—Adaptive Luma, Smart Dimming, and Ambient Light Sensor. Adaptive Luma adjusts the overall brightness according to average picture level (APL), a measure of an image's average brightness, while Smart Dimming dims the LEDs behind dark parts of the image and brightens the LEDs behind bright parts. Ambient Light Sensor adjusts the overall brightness according to how much ambient light it senses in the room.
Turn off all three of these controls before setting the basic picture controls. Also, turn off Color Enhancement, Noise Reduction, Smooth Motion Effect, Real Cinema Mode, and Film Mode. (The last three affect displayed motion, so they aren't relevant for setting brightness, contrast, color, tint, and sharpness, but I turn everything off when setting those controls anyway.) Then, follow the instructions provided by the Proximus setup disc to set the brightness, contrast, color, tint, and sharpness controls.
After you've set the basic picture controls, the only dynamic-lighting feature I would enable is Smart Dimming. I generally don't like the variable brightness of a feature such as Adaptive Luma, and I would manually adjust the backlight level according to the amount of ambient light in the room instead of letting the TV do it with Ambient Light Sensor.
Color Enhancement might or might not improve the color of the picture. Try its various settings to see if you like any of them better than turning it off. I would expect to prefer it turned off, but that depends on how well the TV reproduces color without it. Also, I'd leave Noise Reduction off unless it happens to clean up a particularly noisy channel; you shouldn't need it for Blu-rays and DVDs.
Set Film Mode to Auto, which lets the TV respond to 24fps film or 60fps video most appropriately. Smooth Motion Effect is Vizio's name for frame interpolation, which sharpens onscreen motion, but it also introduces an artifact called the "soap-opera effect," making movies look like they were shot on video. Some people like the sharper motion, but others hate the soap-opera effect, so set this control according to your own taste. If you enable it, try the different settings of Real Cinema Mode to see which one you like best.
Downmixing
What happens if you play a 7.1 Blu-ray on a 5.1 surround system? Do you get 5.1 surround?
Matt Schultz
Generally speaking, you will get 5.1 surround if you play a 7.1 title on a 5.1 system. Most A/V receivers and pre/pros will mix the left and right rear-surround channels into the left and right side surrounds, respectively. However, if the AVR or pre/pro is 7.1-capable but you have only 5.1 speakers, be sure to set up the unit so it knows there are no rear-surround speakers connected.
Alternatively, most 7.1 Blu-rays have an optional 5.1 soundtrack that you can select, but in some cases, it might be available only in a lossy codec like basic Dolby Digital or DTS. In any case, try it both ways to see which one you prefer. Also, keep in mind that the rear-surround channels on many 7.1 Blu-rays are actually synthesized and not part of the original soundtrack.
Extend Yourself
My 35-foot Ethernet cable is 15 feet too short. Will I lose any signal if I connect two cables (35 and 15 feet) with a female-female adaptor?
Eddie Joseph
I seriously doubt this will cause a problem. Ethernet cables can be hundreds of feet long, so even if you do lose a little signal amplitude through the adaptor, I don't think it will be enough to affect the integrity of the data. And it's easy enough to try, so I say go for it!
The e-mail address to send questions for Ask Home Theater has changed; please send your home-theater questions to askscottwilkinson@gmail.com.
<!- ----------------------- Tech Center Ads ----------------------------->

SPONSORED TECH CENTER
<!- ---------------------336x280 ADS------------------------------->
<!- ---------------------FIXED AD------------------------------->
<!- ---------------------336x80 ADS------------------------------->
<!- --------------------Sponsored Link Ads-------------------------------->
<!- ------------------------Bottom Ads---------------------------->