True Blood - The Complete First Season (Blu-ray)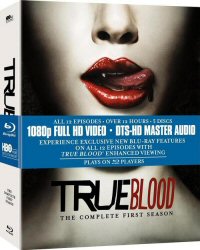 Sookie Stackhouse (Anna Paquin) is a sweet and innocent waitress in Bon Temps, Louisiana, who has the ability to read minds. When we first meet her, she has difficulty tuning out her various customers and their crude thoughts, but when Bill Compton enters the restaurant one night, she's instantly attracted to him for one reason—she can't hear his thoughts because he's a vampire, and for once in her life, she can get through a date without knowing how badly the guy wants to sleep with her.
My wife hated this show within the first 15 minutes of the premiere episode because of the crude dialog and what she considered uncreative writing— every other word was f**k. I have to agree with her. Another complaint I have is the overabundance of sex. I realize it's a cable show and can be a lot more risqu, but it's a little too over-the-top, and I don't buy the premise that vampires are sex fiends given the notion they are undead. On a positive note, I think the show is well cast, and the dramatic elements are thought provoking, especially when it comes to "vampire rights" and how they're accepted into general society.
The 12 first-season episodes are spread out over five discs, and the video quality is solid but not remarkable. The image is consistently softer than the best HD presentations, but colors are rich and bold, especially the green Louisiana foliage and garish depictions of blood. Black levels are generally solid and deep, although low-light scenes are very grainy with decent shadow detail.
Although the entertainment value is middling, the DTS-HD MA 5.1 soundtrack is anything but, especially for a TV show. The robust musical score has ample midrange and impressive bass, and the dynamic range is amazing. The quietest dialog scenes are easily intelligible, yet the action scenes aren't overbearing. The sound design is very creative with the surround speakers, especially when Sookie hears others' thoughts—it creates the illusion of being inside her head.
The bonus features are informative, but whoever designed them should be taken out and beaten silly. Each feature, with the exception of six audio commentaries, is only available through Bonus View PIP. So in order to watch the faux ads for "Tru Blood" (a drink enjoyed by the vampires) or the mocumentary "Vampires in America," you have to sit through an episode a second time to see a 10-minute featurette instead of choosing to watch it as a stand-alone entity. Needless to say, this was a frustrating experience.
I have mixed feelings about True Blood. The production value is top-notch, but there are certain aspects of the show that turned me off. If you're into vampire lore, you'll probably want to give it a rent for no other reason than to experience the reference-quality soundtrack.
Release Date: May 19, 2009
Studio: HBO
Movie: 6/10
Picture: 8/10
Sound: 10/10

Review System
Source
Oppo BDP-83 Blu-ray player

Display
JVC DLA-RS1 projector
Stewart FireHawk screen (76.5" wide, 16:9)
Electronics
Onkyo Pro PR-SC885 pre/pro
Anthem PVA-7 power amplifier
Belkin PF60 power conditioner
Speakers
M&K S-150s (L, C, R)
M&K SS-150s (LS, RS, SBL, SBR)
SVS PC-Ultra subwoofer
Cables
Monoprice HDMI cables (source to pre/pro)
Best Deal analog-audio cables
PureLink HDC Fiber Optic HDMI Cable System (15 meters) from pre/pro to projector

Acoustical treatments from GIK Acoustics
<!- ----------------------- Tech Center Ads ----------------------------->

SPONSORED TECH CENTER
<!- ---------------------336x280 ADS------------------------------->
<!- ---------------------FIXED AD------------------------------->
<!- ---------------------336x80 ADS------------------------------->
<!- --------------------Sponsored Link Ads-------------------------------->
<!- ------------------------Bottom Ads---------------------------->