Triad InRoom Platinum Speaker System Page 2
Designed to handle up to a 9,000 Cubic foot space, the InRoom Platinum system was far more speaker than any sane person would use in my smallish upstairs home theater. But since moving my 530 lb. Dunlavy SC-VI speakers out of my large downstairs home theater was not an option, the Triad system called the small room home.
(Just to put this in perspective, Steven's "small room" is nevertheless larger in total volume, by my estimate, than my own 3,200 cubic foot home theater studio, though the area of his room dedicated exclusively to home theater use is smaller. —TJN)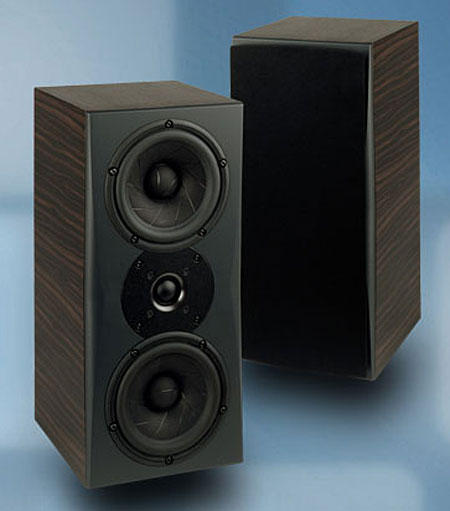 Since the LCR speakers are not quite tall enough to qualify as floor-standing speakers, Triad makes bolt-on pedestal stands for them. These can be made in any height, so regardless of your listening location the LCR tweeters can be positioned so they're at ear level. In my room I employed 18 " pedestals. Triad also built a pedestal stand for the center speaker, which because of the way Triad builds stuff weighed nearly as much as the speaker itself.
The toughest part of installing any surround speaker system is integrating the parts into a harmonious whole. I experimented with the crossover points between the LCR and Power Subs for several weeks before I settled on 70Hz from my Lexicon MC-12B HD surround processor to the two subs, which were run in stereo instead of mono mode. I chose 80Hz crossovers for the InRoom Silver Monitors. For most installations these crossover points will be ideal.
Speakers For the Dynamically Inclined
Triad's InRoom Platinum speaker system ranks as one of the more expensive systems I've reviewed. But instead of mere luxury, the Triad system also delivers performance. I've rarely experienced a system more capable of dredging every last bit of detail and nuance from music and movie soundtracks. Unlike many fine systems, which can produce accurate harmonic balance only up to medium SPL levels, the InRoom Platinum LCR speakers were designed so their harmonic character will not change whether they deliver 85, 95, or even 105dB sound pressure levels.
Given their size and weight, you would think the InRoom Platinum LCR would be a full-range speaker, but it is not. 60Hz is its lowest recommended frequency. By limiting low frequency extension Triad was able to gain efficiency and sensitivity. Instead of attaining sensitivity of only 91dB at one watt, the InRoom Platinum is specified at 94.5dB. That 3dB+ may not look like much on paper, but it equates to requiring only half as much amplifier power for a given volume level. I once knew an audiophile who regularly either blew up amplifiers or fried drivers in his quest to play rock and roll at stadium volume levels. Too bad he didn't try Triad's InRoom Platinum speaker system. It can make even the most hardcore volume fanatic cry uncle.
As someone who rarely plays his system above 95dB peak levels, you would think the charms of the Triad InRoom Platinum speaker system might be lost on me. But, au contraire, even a volume wuss can benefit from the InRoom Platinum's dynamic abilities. These speakers preserve dynamic contrasts even at lower volume levels, which give them a startlingly real "jump factor." Their clarity and dynamic agility can easily fool you into believing that stuff on the soundtrack isn't really on the soundtrack, but in your home. I can't tell you how many times ringing phones on movie soundtracks had me reaching for my own phone!
Because the Triad system uses less amplifier power, you can expect your amps to play louder with greater clarity since they don't have to work as hard. The same can be said for the Triad speaker system itself. Since these speakers were designed to handle high SPLs, under normal usage they should last for years without the slightest signs of wear or tear.
If you aren't prepared for a speaker with extreme dynamic proclivities the Triads can present a problem. What do you do when you want to listen late at night? If you turn up the system so you can hear dialog, the special effects may just wake up the sleeping members of your household. This is the first speaker system I've reviewed where I actually needed my surround processor's dynamic reduction circuits!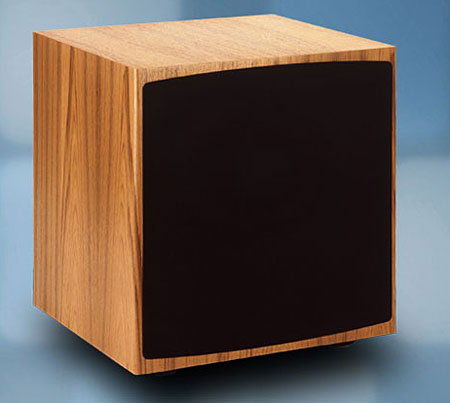 I've had quite a number of fine subwoofers in my upstairs home theater, but I've never experienced the kind of bass that a pair of 18" Triad Platinum PowerSubs can produce. It wasn't a case of merely more bass, but the quality of that bass! I've often read that smaller, long-throw drivers deliver "faster" bass response. After living with the PowerSubs I can only conclude that, "it ain't necessarily so." Even on the most difficult material, such as the soundtrack on the TV series Battlestar Galactica, the Power Subs deliver startlingly nimble and articulate bass. Mid-bass frequencies (such as the background drone of Galactica's engines) never get muddy, even when combined with low bass transients (like when a ship blows up).
The only downside of the Platinum PowerSubs has to be their physical size- they're just about 20" in every dimension. These are big boxes. For new home theaters their size won't be a deal breaker, but if you are retrofitting the Triad system into an existing home theater space you may want to consult with your installer to make sure they will fit. Fortunately because the PowerSub's amplifier is in an external rack-mount enclosure you can place the subwoofers into a wall or floor without worrying about amp access or cooling.
Since they have a relatively large footprint for stand-mount speakers you might suspect the InRoom Platinums won't image as well as smaller cabinet designs. But if you set them up properly the Triads can produce as precise a lateral image as any top echelon floor-standing speaker. When source material had depth cues the Triads passed the information on intact. My own concert recordings of the Boulder Philharmonic had all the three-dimensionality I've come to expect from a reference class speaker.
Many a fine home theater speaker system's performance has been tripped up by the lack of cohesion between the different speakers in the system. Fortunately that was not a problem with the InRoom Platinum speakers. The harmonic balance, dynamics, and resolution between the InRoom Platinum LCR and Center speakers matched beautifully. When I switched between Logic 7 music mode and straight two-channel mode on my Lexicon MC-12B HD processor the harmonic balance and imaging remained identical, as it should. Bass between the LCR and Power Subs was also cohesive and well balanced. I never sensed any holes, peaks, or valleys in the harmonic balance or output levels in the bass. When the string basses in Tchaikovsky's 1812 overture worked their way down the scale, their levels remained correct and their location didn't waver.
Compared to What?
So how does the Triad InRoom Platinum system stack up to other speaker systems I've had in my small room recently? Compared to the Genesis 7.1c system the Triads have better bass and equal low-level resolution, but a very slightly smaller soundstage. The Genesis' rear-firing tweeters, dipole design, and circular ribbon tweeters give them an airier top end and more electrostatic-like dimensional presentation. The Genesis system emphasizes depth in a way that the Triads can only allude to. Without a doubt the Genesis system has greater harmonic adaptability to different rooms, with controls for tweeter and midrange levels, but the Triad system seemed to need less tweaking, and exhibits less sensitivity to different electronics. At very high volume levels the Triads exhibit less strain and can play louder with no harmonic shifts. I was more than a little surprised by how similar the two systems were to each other. The Genesis has more top end air, but the Triads matched them when it came to midrange harmonic complexity.
Walking back and forth between my two home theater setups takes less than 15 seconds. Although I never had both systems in the same room, by using multiple copies of some reference disks I was able to do some closely volume-matched comparisons between the Triad system and my longtime reference Dunlavy Signature SC-VI system. Keep in mind, of course, that the two rooms are not identical, but I know their characteristics quite well. In terms of their dynamic capabilities and imperviousness to strain at higher volumes, the Triads matched the much larger and more expensive Dunlavy SC-VIs. Both systems use symmetrical driver arrays and both image equally well laterally, but the Dunlavys produce a slightly more convincing three-dimensional image with less sense of the speaker's actual physical dimensions. Of course, from their inception the Dunlavy SC-VI were famous for imaging like a mini-monitor. Even after 10 years of continuous use, they still do. Both speaker systems deliver a particularly satisfying "meat and potatoes" lower midrange that makes music and soundtracks involving and fun. The Dunlavys have a slightly warmer harmonic balance, due in large part to their more extensive array of bass drivers, including two 15" drivers per speaker.
Drive They Said
It's well known that audiophiles (and some videophiles) love to tweak their systems. In this regard the Triad InRoom Platinum may disappoint avid tweakers since it requires so little ongoing manipulation once it's been set up properly. It just works. Videophiles, especially those who remember endless hours adjusting convergence on their CRT projectors will appreciate Triad's plug-and-play ease.
Although no component is truly bulletproof, the Triad InRoom Platinum speaker system comes as close to that ideal as any I've seen. It can play louder than most humans can stand, and do it without showing any signs of stress. The Triad Platinum PowerSub produces low frequencies with both ease and a speed that few subwoofers can equal. When it comes to low-level resolution this system gives up little in terms of finesse when compared to more "audiophile" speakers, yet it delivers the dynamically exciting sound of large professional studio monitors.
In short, if you demand that your music and soundtracks be loud, clean, dynamic, and exciting, the Triad InRoom Platinum speaker system sure can deliver the goods.
Highs
Fine resolution
High volume capacity
Impressive bass
Lows
Designed for a big room
Heavy
<!- ----------------------- Tech Center Ads ----------------------------->

SPONSORED TECH CENTER
<!- ---------------------336x280 ADS------------------------------->
<!- ---------------------FIXED AD------------------------------->
<!- ---------------------336x80 ADS------------------------------->
<!- --------------------Sponsored Link Ads-------------------------------->
<!- ------------------------Bottom Ads---------------------------->