Toshiba Regza 42ZV650U LCD HDTV Page 2
As I mentioned in the introduction, we defeated all motion-compensating, frame-interpolating features, such as ClearScan 240, in our panel evaluation sessions. However, I did spend some time viewing them after the group sessions were complete. With most real-world program material, the action of Toshiba's ClearView 240 feature was obvious, but it was never more noticeably effective than the 120-Hz features on the other LCDs in the group. And on at least one or two tests, which offered more rapid motion, the Toshiba appeared to have more motion blur than some of the other sets.

With a 4:3 source in the 4:3 aspect ratio setting, or with a source that needs to be played in a zoom mode to fill the full width of the screen, the Toshiba can produce a geometrically correct image. That is, except in zoom mode with an SD source that's upconverted to 720p, 1080i, or 1080p before it arrives at the set. In the latter case, the image is stretched out of shape at any aspect ratio setting, even TheaterWide 2's zoom mode, which is usually the best. (Toshiba calls its zoom modes TheaterWide, and there are three of them.) This is not an issue with sources that require a full aspect ratio setting, such as native HD material and DVDs that are enhanced for widescreen.
The Nitty Gritty
It's clear from the results that, like some of the other entries in this Face Off, Toshiba designed the 42ZV650U to look best at high brightness settings in a well-lit room. When the lights came up, the Toshiba, Vizio, and LG looked like much better sets, although this was largely a result of the bright lighting obscuring their elevated black levels.
But our interest here is evaluating the sets in an environment that provides the best movie watching. And that means a dimly lit or even darkened room. That's also the only sort of environment we can use that the average viewer can easily duplicate, apart from variations in room reflections. This helps make our results reasonably repeatable in your room. It's also the most challenging test a display can experience; poor black levels and mediocre shadow detail have no place to hide.
The Toshiba came in last in both subjective and measured black level, and it also placed last in shadow detail. It did take a solid second place in color (two other sets tied for first), where its extensive color adjustments pulled it through. And its resolution landed it at a near-tie for second place with three other sets.
Commenting on the Toshiba's black level, one panelist generously offered that it "wasn't great. I generally prefer a deeper black than what I see here." But she did note that the set looked "amazingly better with the room lights on." She also saw "a surprising amount of detail in the shadowy temple shot" from Seven Years in Tibet (chapter 10). Another judge thought the black level was OK: "Not the worst, but not the best either."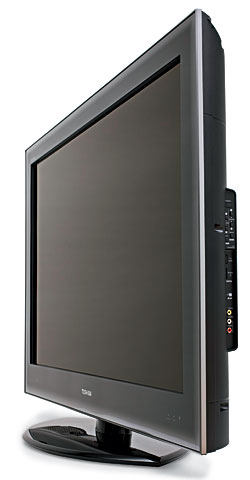 But a different panelist thought the Toshiba was the worst of all the sets with the Stargate star field scene. He said he saw very little shadow detail in the deepest blacks on other material. He also thought the image fell to pieces off axis. There was also a negative comment on how the Toshiba (and the Vizio as well) lost all detail on Kong's fur in King Kong (chapter 48).
While not all of the panelists were equally enthusiastic about the Toshiba's color, two praised its natural-looking fleshtones on different program selections. Another panelist was put off by the set's reds, but he thought its greens were good.
One judge commented that the Toshiba looked softer than the Vizio. But another gave it a 10 for detail, and a third, while less enthusiastic in her numerical score, said she "could almost feel the texture of the book pages" in Casanova (chapter 7) and wished "we could print Home Theater on paper like that."
Conclusions
The panel results make it hard to be upbeat about the Toshiba. Still, there appears to be a good set in there trying to get out. It's hard to fault the overall color quality—or the color adjustments that can help a good calibrator get there. While the set's resolution only drew middling praise, several of the sets were tightly clustered in their scores for this category. I don't think any potential buyer will be unhappy with the Toshiba's color or resolution, particularly on mid-level and bright scenes.
The black level and shadow detail are another matter. But as with Vizio and LG, Toshiba is now introducing sets that will use LED backlighting with local dimming to improve black level and shadow detail. They should be available by the time you read this. Such sets will not immediately filter down to this price range, but they should still be relatively affordable (at press time, the first Toshiba 46-inch LED local dimmer was priced at $2,300). Hopefully this development will answer our concerns.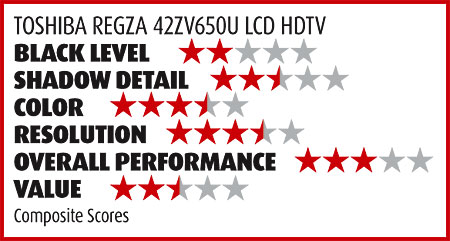 <!- ----------------------- Tech Center Ads ----------------------------->

SPONSORED TECH CENTER
<!- ---------------------336x280 ADS------------------------------->
<!- ---------------------FIXED AD------------------------------->
<!- ---------------------336x80 ADS------------------------------->
<!- --------------------Sponsored Link Ads-------------------------------->
<!- ------------------------Bottom Ads---------------------------->