Them's High Definition Fightin' Words
The war of the words over who will reap the lucrative licensing fees from the next-generation high-resolution disc format (i.e., HD DVD vs. Blu-ray) continues to inflict heavy collateral damage on consumer interest and confidence in the potential of a high-definition spinning disc format.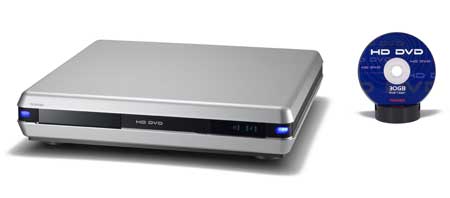 It looked like HD DVD was in retreat with word that Toshiba would delay introduction of HD DVD hardware in the U.S. until early next year. Then the format's front guard began a significant assault with multiple announcements in late September. The first trumpeted the development of a 30 GB dual-layer HD DVD-R disc. Shortly thereafter, Toshiba proclaimed they were the first in the world to develop a notebook PC with an HD DVD-ROM drive. (That's no surprise, but it does give them bragging rights - and helps the computer and IT industries get behind the format.) The big salvo, however, came with the news that computer-tech giants Microsoft and Intel had chosen to back HD DVD. A combined statement was dropped in a daring daylight raid:
After extensive review both companies determined that the HD DVD format developed by the DVD Forum meets important criteria and delivers unique advantages, including PC and connected device interoperability and an easy, affordable transition to high definition for consumers. HD DVD can bring the excitement of HD video to the consumer faster than competing formats, with the potential for more affordable hardware and more interactive experiences.
Toshiba continued the attack on the "competing formats":
We are confident that Intel and Microsoft's endorsement of HD DVD, in addition to the support already expressed by major Hollywood studios, Japanese and international content holders and disc replicators, will add to the momentum of support that is powering acceptance of HD DVD as the format of choice for next generation HD applications.
Momentum, like the wind, doesn't always go your way - as the "format of choice" folks found out when Paramount Home Entertainment followed with an announcement that they had decided to declare neutrality support both formats. Many industry experts anticipate that we'll soon see two more HD DVD-backing studios, Warner and Universal, withdraw from the battle and follow Paramount's strategic retreat.
Toshiba wasted little time going on the offensive to minimize the damage:
We see Paramount's continued commitment to releasing HD DVD titles as proof that the studio still recognizes HD DVD's advantages: accelerated time to market, greater proven capacity, lower expected price, and enhanced consumer features… In terms of development, HD DVD is far in advance of Blu-ray. Volume production of discs will see decisive cost and productivity advantages in favor of HD DVD. On the strength of these facts, we are convinced that Hollywood studios and other content holders will eventually opt for commercialization of the HD DVD format.
You might think Microsoft's involvement with HD DVD would make acceptance of the format a foregone conclusion, but the software behemoth isn't the monolith it once was. The Microsoft/Intel announcement of support for HD DVD drew criticism from PC makers Dell and HP. Maureen Weber, General Manager of Hewlett Packard's Personal Storage Business had this to say:
From a PC end-user perspective, Blu-ray is a superior format. It offers 67-150% more storage capacity, higher transfer rates, slim-line notebook compatibility, broadband connectivity and a proven interactive layer with BD-Java… Every computer manufacturer in the BDA [Blu-ray Disc Association] carefully reviewed both formats and ultimately chose Blu-ray as the superior solution for meeting customer demands and providing the best possible end-user experience.
Commenting on customer feedback and the company's own comparison of the formats, Dell's Chief Technology Officer, Kevin Kettler, said:
…Dell has no doubt that Blu-ray Disc best meets the needs of computer users and provides the type of open industry standards needed to drive innovation and growth of the format across all platforms - consumer electronic, personal computers and gaming consoles.
Blu-ray disc interactivity is built on BD-Java. HD DVD uses Microsoft-developed iHD. You can make your own conclusions as to the basis of Microsoft's support. Of course, most of the other companies who have been vocal in the fight have their own profit-and-loss reasons for support. (Can anyone hear "gaming consoles" and not think of Sony's upcoming Playstation 3?)
Maybe consumers should get royalty payments from one of the formats. Set it up like a multi-level marketing program where early adopters get payments based on disc sales from the people they signed up underneath them. Are you listening Toshiba and Sony? We want in on this royalty thing, too.
<!- ----------------------- Tech Center Ads ----------------------------->

SPONSORED TECH CENTER
<!- ---------------------336x280 ADS------------------------------->
<!- ---------------------FIXED AD------------------------------->
<!- ---------------------336x80 ADS------------------------------->
<!- --------------------Sponsored Link Ads-------------------------------->
<!- ------------------------Bottom Ads---------------------------->