Test Report: Pro-Ject Debut III USB turntable Page 2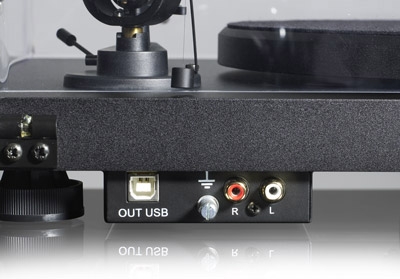 For people who are used to ripping digital music files from a CD in a few seconds, it will probably feel incredibly unwieldy and tedious to copy files in the analog domain. Since this process happens in real time, the only way to "rip" an entire album to your hard drive using the Debut III USB is to play it at actual speed all the way through. And even then, your work isn't done. When you rip a CD to your computer, an online database like Gracenote can recognize your digital files and tag them with song title, artist, and other information commonly known as metadata. But a vinyl LP doesn't allow for automatic metadata tagging. To make the digital copies useful, you'll need to go through and split the file at the song breaks, manually type in the songs' information, and insert cover art that you locate somewhere online. Of course, if your plan is to simply burn a CD, you can probably get away with just inserting the song breaks. Still, between the transfer, editing, and manual tagging, you should probably allow for about 1 to 1 1?2 hours per record.
Other features of Audacity include an adjustable click remover, which seems to work pretty well (although there's always a danger of overdoing it with this type of tool). More interesting is the equalizer, which has several presets, as well as manually adjustable EQ settings for different types of 78-rpm discs. A standard Debut III USB can't play 78s, but a pulley adapter and an electronic speed-adjustment box are available as options. And the good news here is that a 2.5mm-wide-groove plug-in stylus is also available for the Ortofon OM 5 E cartridge.
PERFORMANCE
The sound quality of my digital transfers depended primarily on the condition of the source records. The CDs I made sounded excellent played over my car stereo or through computer speakers, although when compared directly to the LPs over my reference system, they lost a little of their immediacy and dimensionality. Still, in many ways the copies carried a good measure of the analog magic that audiophiles crave. Files transferred to my iPod as high-bit-rate MP3s also sounded very good, although the CAT-scan-like clarity of my Ultimate Ears Custom UE 10 Pro in-ear monitors revealed far more surface noise than the other playback methods.
BOTTOM LINE
Bridging the gap between the old analog world and today's digital one, where files can be moved around and transferred with ease, has never been simple. While the prospect of squeezing a large collection of vinyl LPs onto an iPod might sound appealing, the time-consuming work involved means that it's best left for transferring a few precious, irreplaceable records that you can't get in digital form. For that purpose, the Pro-Ject Debut III USB gets much better results than any other similar product I'm aware of. And remember, with its analog output, this turntable can also provide excellent sound when simply playing one of your precious records on your regular stereo system.
<!- ----------------------- Tech Center Ads ----------------------------->

SPONSORED TECH CENTER
<!- ---------------------336x280 ADS------------------------------->
<!- ---------------------FIXED AD------------------------------->
<!- ---------------------336x80 ADS------------------------------->
<!- --------------------Sponsored Link Ads-------------------------------->
<!- ------------------------Bottom Ads---------------------------->