Speaking of Wire . . . Page 3
Outdoor Applications
It's such a pleasure to hang out on the patio and click your BBQ tongs along to your favorite music. I find that they make excellent castanets, adding a snappy rhythm to a new-age flamenco. Of course, for the full effect, you'll need the outfit: a chef's hat and apron.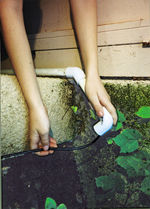 There are lots of weatherproof speakers in different configurations to suit your needs, but running speaker wire to the great outdoors has its challenges. First, use a specific cable called direct burial, which is built to be laid underground. Next, remember our rodent and insect friends. Even though the cable may be impervious to moisture and corrosion, you could still be asking for trouble later on. It's so inexpensive and easy to run PVC conduit. In the event that you get a bug to do some planting and start digging around with a shovel, you won't be in danger of shearing the cable. Make sure you caulk the open end of the PVC with foam or plastic filler to prevent moisture and unwanted guests from entering.
This Ol' House
I once moved into a house that was prewired, if you can call it that. Actually, the wire was more like a chain of those twist ties you find in the produce section of the market. It may as well have been a string of shoelaces tied together. Single-strand wisps of copper were running every which way, and sometimes they just disappeared into a wall, terminating who knows where. Of course, if I'd used any of that existing rat's nest, I would've been sorely disappointed. So I trashed the whole thing and started with fresh, new lengths. If you find yourself in such a situation, it's always best to just start over.
Bozo No-No Number Three: No splices. Using spliced speaker wire is like trying to duct-tape a broken baseball bat back together. It may change the impedance seen by the amplifier or create a bridge between the positive and negative conductors, making it potentially unsafe. It allows stray RF into the signal and can completely compromise the system's sound quality, especially on a demanding, high-amplitude signal. Breaking the cable's insulation exposes the inner wire to the environment, causing it to lose its integrity. Don't do it.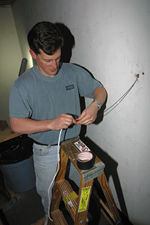 And in Termination . . .
Try to use only as much cable as you need. Most speaker-wire manufacturers specify a maximum length for optimum performance. It may even be printed on the outer jacket of the cable. A good rule of thumb is to use 16-awg or thicker wire for runs of up to 50 feet. After that length, you'll begin to lose signal amplitude, and the amp will have to work harder. Use heavier-gauge wire (12 or 10 awg) for longer lengths. Extra lengths rounded up like a lasso act as an antenna and can collect unwanted RF—stray signals in the environment created by lighting fixtures, ham radios, motors, and the like.
A sensitive entry point for this nastiness are the cable's ends. A poorly attached terminal is worse than none at all. There are all sorts of clever inventions to secure raw wire, such as pins, banana jacks, and many others. Some of these connections provide clever solutions for hard-to-reach holes or for quick and easy access, but you may decide to twist up the raw ends and attach the wire directly to the speaker and amp. Just make sure that you do a very clean job, and don't let the bare wires from the positive and negative sides touch each other. Some cable is so thick, you may be tempted to use only a small portion of it for bare-wire connects. This is not a good idea. If you're using arc-welding wire or the cables you use to jump-start your battery, you'd better have good termination pieces. Double-check your work for a permanent, solid connection. Gold terminals are good because you can use any extras as emergency earring presents.
Knowing When to Call for Help
Tim Adams, general manager of Envision Media Environments in Reseda, California, has seen it all. He's even been called in to rescue homeowners who've trapped themselves inside their walls. Tim has a simple take for you weekend warriors who want to run your own speaker wire: "If you have a situation that allows easy access and you are construction-savvy, then do it. Once you start tangling with power, security, and phone lines—well, that's why we have a state contractor's license and liability insurance."
Regarding new construction, Tim usually gets his crews into a project once the low-voltage lighting and phone lines are being installed and after the air ducts and heavier installation is completed (although, like most installers, he prefers to be involved as early as the design stage). The hard hats tend to trample on tender, low-voltage lines.
A good rule of thumb: If you feel like you're about to take a chance, stop. A good indication is when you find yourself chanting your Hail Marys, closing your eyes, or yelling, "Here goes nothin'!" Before you bore into that chimney firebox or through a wall when you don't know what's on the other side, hire a pro. The good ones are usually busy, so be patient. If you're building a big system, complete with sound insulation, multiple zones, and lots of very expensive equipment, let a pro do the whole thing. As Tim says, "There's more there than meets the eye."
<!- ----------------------- Tech Center Ads ----------------------------->

SPONSORED TECH CENTER
<!- ---------------------336x280 ADS------------------------------->
<!- ---------------------FIXED AD------------------------------->
<!- ---------------------336x80 ADS------------------------------->
<!- --------------------Sponsored Link Ads-------------------------------->
<!- ------------------------Bottom Ads---------------------------->