Sony PlayStation 3 Game Console/Blu-ray Player Page 2
Unlike my original 60-GB model, the new PS3 isn't backwards compatible with PlayStation 2 games, so if you have a large collection of older games, you'll want to keep your PS2 connected to your system. Fortunately, all PS3s include a standard Wi-Fi connection, which is an awesome feature if you don't have wired Ethernet throughout your home. These days, an Internet connection is virtually mandatory for Blu-ray due to frequent firm-ware updates, BD-Live, and media streaming.
Regrettably, Sony didn't take the opportunity to add an IR receiver to the new PS3. Sony sells its own Bluetooth-compatible aftermarket remote for $25. It's an upgrade over the DUAL- SHOCK 3 wireless controller, but it's of little consequence if you use a universal remote. There are aftermarket remotes from Logitech ($60), Nyko ($20), and others. However, I don't understand why Sony didn't include IR support with the new form factor. Granted, with Bluetooth, you don't have to point the remote at the unit, and it works at distances of up to 30 feet. Still, until other devices start to use this technology and there's a Bluetooth universal remote, the PS3 will be the lone wolf in this regard.
User Interface and Setup
Setting up the PS3 is a breeze. When you first turn on the unit, a standard setup option lets you choose your video connection, audio and video outputs, and network settings. If you choose HDMI, the PS3 queries your equipment to determine the best audio and video settings and lets you confirm the changes. You can then further refine the settings under the Settings section of the XrossMediaBar (XMB) menu.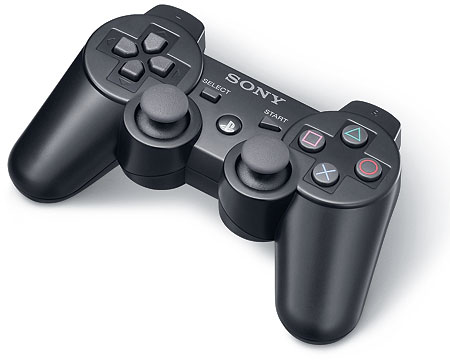 Network configuration is a snap, whether you're using Ethernet or Wi-Fi. Once it's configured, the PS3 is a fantastic digital media hub. It can stream content from any DLNA-compatible network device, so if you have a large number of MP3s, digitally stored videos, or pictures, you can easily access them. Additional features include a serviceable Web browser, access to the PlayStation Network (sign-up required), and for Netflix subscribers, the ability to stream movies and TV shows.
Unlike other Blu-ray players that offer this service, the PS3 requires a Netflix Streaming disc that the company will send free of charge. The disc uses BD-Live to enable streaming from the service. Once it's configured for the PS3, it works just as well as other devices I've used. The user interface is very intuitive. It shows you large cover art and detailed information about any titles in your Instant Queue, including plot summary and star rating. I use the service to watch a lot of TV episodes. The PS3 lets me know which episodes I've already watched, and if I stopped in the middle of one, I can resume where I left off.
When I access Netflix from my TiVo Series3 DVR, I have to use a PC to add additional titles to my Instant Queue. But the PS3 has a tabbed interface with additional options (New Arrivals, Comedies, TV, etc.) that you can either add to your Instant Queue or immediately stream. Each tab has 100 to 150 titles, so if you aren't looking for anything specific, you'll always be able to choose something from the comfort of your couch. If you're picky, you can always access the Netflix service through the PS3 Web browser. That means you'll never need to fire up your PC or Mac.
Video Performance
As with previous incarnations of the PlayStation 3, the video output with Blu-ray Disc is flawless according to the benchmark discs I test with. When it first launched, the PS3 didn't support 1080p/24 output, but Sony rectified this some time ago with a firmware update. The 1080p/60 output has also improved with firmware updates, especially with upconverted 480i DVDs. It doesn't add any artificial sharpening or artifacts, and it has nearly perfect deinterlacing. The best upconverting Blu-ray player I've used is the OPPO BDP-83, which still beats the PS3, but not by much.
<!- ----------------------- Tech Center Ads ----------------------------->

SPONSORED TECH CENTER
<!- ---------------------336x280 ADS------------------------------->
<!- ---------------------FIXED AD------------------------------->
<!- ---------------------336x80 ADS------------------------------->
<!- --------------------Sponsored Link Ads-------------------------------->
<!- ------------------------Bottom Ads---------------------------->