Sony PFM-42B1 42-Inch Plasma HD Monitor Page 2
For those of us who lack a home-automation system, the remote is very simple, offering only the basic monitor functions. The nonbacklit control has buttons for the inputs, size controls, brightness, and contrast, as well as the menu controls. That's it. The menu structure is very extensive and gives you full control over all functions. There are six color-temperature settings and 20 memory settings to keep all the setups handy. If you choose to mount the display in a vertical orientation, you should align it in this perspective.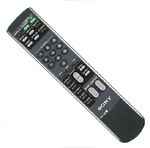 Watching a flat panel takes a little getting used to. First, you should mount the unit at a viewing distance that's at least five picture heights away. If you're too close, the element structure can be very distracting. Second, each input has its own settings, so align each source to the input. I set up the panel for HDTV from a Panasonic HD tuner, a Sony progressive-scan DVD player, and the output from an ATX computer with a 3-D video card. A Klein pattern generator provided the test patterns for the RGB computer setup and the DVD for the progressive-scan setup. I found the process to be tedious and time-consuming, but the PFM-42B1 did align well. Thanks for all the memories.
As the measurements box shows, the color temperature also aligned well. There are some waves in the color and luminance, but that's typical of most flat-panel monitors. The plasma's native colors are a bit different from those specified for NTSC monitors. The color decoder is—well—not very efficient; it's very red. The black level is very good for a plasma panel of this size. Although the DC restoration wasn't very good, it was better than that of most panels.
The monitor's internal comb filter removes most of the dot crawl, although moving images still exhibit some trailing. There are some image motions that plasma and other flat technologies just can't keep up with. This is something you learn to live with when you own a flat panel.
Of the plasma panels I have seen, this one is good. In general, though, I wouldn't use a plasma in a high-performance home theater. This type of monitor is well-suited for displaying informational multimedia because it will handle any image brought into the office. The PFM-42B1 is a good display for corporate boardrooms, for hanging on the wall in places with limited space, or for your everyday TV-watching when connected to an outboard tuner. It's great for HDTV and general movie-watching; so, if a $7,999 display fits in your budget, then go for this one.
Highlights
• 1,024-by-1,024 resolution
• UXGA capability
• Flexible aspect ratio
• 20 video memory settings

<!- ----------------------- Tech Center Ads ----------------------------->

SPONSORED TECH CENTER
<!- ---------------------336x280 ADS------------------------------->
<!- ---------------------FIXED AD------------------------------->
<!- ---------------------336x80 ADS------------------------------->
<!- --------------------Sponsored Link Ads-------------------------------->
<!- ------------------------Bottom Ads---------------------------->