Sony BRAVIA VPL-VW85 SXRD Projector Page 2
However, out of the box, the VPL-VW85 didn't really need the color gamut tweaking a color management system like the RCP can provide. In all respects (including both the color points in the Normal Color Space setting and the relative brightness of each color), its gamut was about as close to the standard HD color gamut as I've yet seen. But projection lamps change with age, and adjustments that aren't necessary at 100 hours might be useful several hundred hours down the road when a new calibration is needed (no calibration is forever).

The VPL-VW85 offers 10 gamma correction settings, plus off. Sony also has a PC program called Image Director 3 that lets you manually tweak the gamma. I didn't test it here, but I found that the existing selection of gamma correction settings was sufficient.
There are nine color temperature selections, and five of them are custom. Each of the custom settings provides both high (gain) and low (bias) settings for each color. Unlike most of the other picture controls, the color temperature settings are global—that is, they apply across all inputs. But you can use different custom selections for different inputs.
The Cinema Black Pro menu provides the settings for Sony's Advanced Iris and two lamp settings (High and Low). There are two dynamic iris settings, Auto 1 and Auto 2, plus a manual option that offers a wide range of fixed iris settings and an off position that opens the iris all the way. A dynamic iris responds to the average brightness of each image, widening on bright scenes to let out more light and closing down on dark scenes to produce deeper blacks. You can adjust each of the Sony's auto choices to one of three sensitivities: Recommend, Fast, or Slow. I used Recommend for all of my testing.
The projector is extremely quiet in its low lamp mode and imperceptibly louder in high. But with the VPL-VW85's high brightness and my relatively small screen (78 inches wide, gain 1.3), I never used the high setting.
In addition to the usual aspect ratios, the VPL-VW85 includes an anamorphic zoom option that's designed for use with an anamorphic lens for showing 2.35:1 films on a 2.35:1 screen. The projector also has a 12-volt trigger signal that lets you move a motorized anamorphic lens into place when you select this aspect ratio. I didn't use the anamorphic feature in this review.
With a 1080p/24 source, the Sony projects at a refresh rate of 96 frames per second. To reach 96 hertz, it either repeats each original frame three times or uses its Motion Enhancer feature to create interpolated frames. The upside of the latter is noticeably smoothed-out motion. The downside is that Motion Enhancer, particularly in its high setting, makes film-based sources look like video. A separate Film Projection feature also offers a dark frame insertion feature that I didn't test. I left both of these features off for all of my tests.
The remote control is one of the best I've seen for a video projector. It is fully backlit and has separate, comfortably large, and well-spaced buttons for the most used controls. But there are no direct input selection buttons—an issue common to many remotes.
Performance Plus
Some videophiles don't like to use a dynamic iris. They see it as a crude kludge to make up for shortcomings in a display. But our video systems are full of kludges that allow them to work with maximum efficiency within the limits of human perception.
Auto irises often juggle gamma a bit, possibly to make their operation more seamless to the eye. The VPL-VW85 produced its best Auto 1 gamma numbers in Gamma 6—about 2.3 in the mid-brightness region, with lower gammas at the bottom and higher at the top. With the Advanced Iris off, Gamma 3 produced a nearly uniform gamma of 2.3 across the full brightness range. Most experts recommend a gamma between 2.2 and 2.4.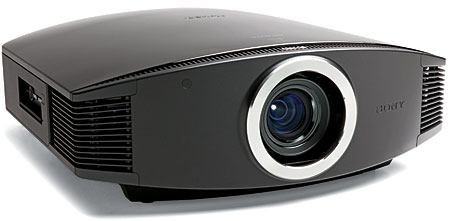 Even with the Advanced Iris off, which opens up the aperture all the way, the VPL-VW85's black level is superior to most projectors we've tested. If you dial in an auto setting, it's even better.
The VPL-VW85's black level isn't as deep as the black level we measured from the VPL-VW70. The reason is obvious: The VPL-VW85 is a much brighter projector. Nevertheless, with its auto iris engaged, the VPL-VW85 produces blacks as subjectively deep and rich as you're likely to see in any competing projector. This is even true with some that sell for several times its price. Yes, there are one or two projectors out there that can produce deeper measured blacks, but at these low levels, the visible differences are subtle.
<!- ----------------------- Tech Center Ads ----------------------------->

SPONSORED TECH CENTER
<!- ---------------------336x280 ADS------------------------------->
<!- ---------------------FIXED AD------------------------------->
<!- ---------------------336x80 ADS------------------------------->
<!- --------------------Sponsored Link Ads-------------------------------->
<!- ------------------------Bottom Ads---------------------------->