Sony BRAVIA KDL-52XBR4 LCD HDTV HT Labs Measures
HT Labs Measures
Contrast Ratio: Full On/Full Off 4,463:1
Unless otherwise noted, all of the measurements were taken in the Cinema picture mode, adjusted for the most accurate picture.
I measured a maximum peak contrast ratio of 4,463:1 with the picture control on 75, the brightness at 57, and the Advanced C.E. control on medium. The measured black level shown is one of the best we have ever measured on a flat-panel display. However, this black level (and contrast ratio) is not likely to be realized with real, constantly changing program material. When a full black screen is displayed immediately after switching from a brighter one, the black level measured a far higher 0.029 ft-L. After the black image remained on the screen for approximately 8 seconds, the black level dropped to 0.009 ft-L. The change was not only measurable, but clearly visible as well.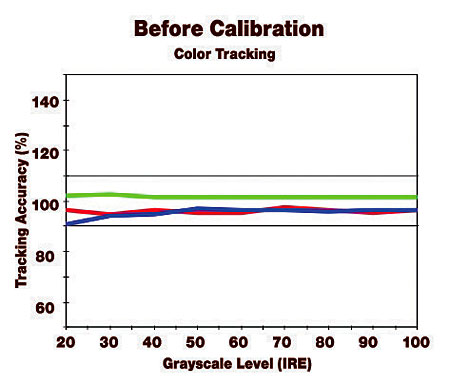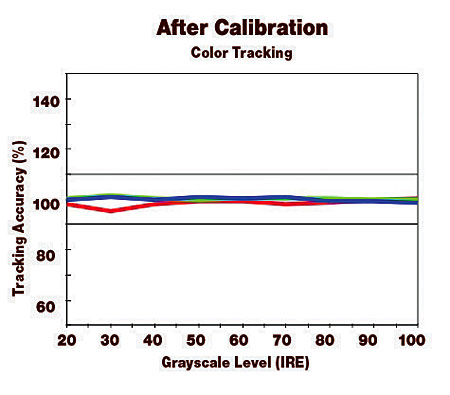 The more closely the three colors overlap in the color-tracking chart, the more accurately the display matches the D65 color-temperature standard. The After chart shown above indicates good tracking, but with a slight deviation toward minus red around 30 IRE. Attempts to eliminate this, however, resulted in an excessive red shift in very dark scenes.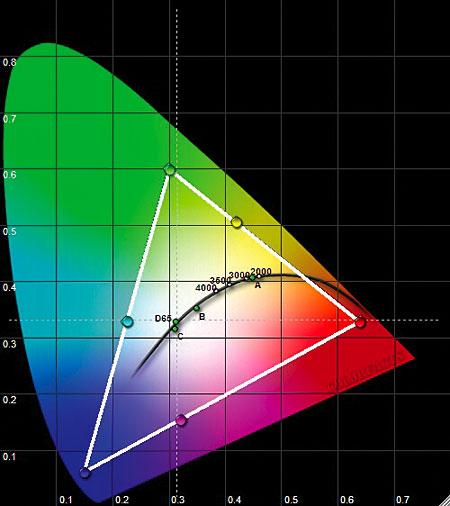 The standard color-space setting, shown in the pie-shaped CIE chart above, is a virtually perfect match to the HD color standard. The wide color space (not shown) is slightly oversaturated in green but is otherwise closer than most other displays we've measured.
The Sony's 480i-to-1080p upconversion was worse than average, with more jaggies and artifacts than I usually see on my standard collection of video-processing tests. The set performed better on HD 1080i-to-1080p deinterlacing, falling down only in its 3:2 (film mode) pulldown performance, where it was inconsistent, passing some of the tests but failing others. None of these video-processing shortcomings were intrusive on most real program material. But the KDL-52XBR4 is clearly at its best with 1080i/p and 720p source material, or material upconverted (properly) to those resolutions before arriving at the set.
The same is true for the set's resolution. It's poor at 480i and 480p, in both black and white (luma) and color (chroma). But it improved dramatically in 720p and 1080i/p, ranging from good to excellent (slightly better in HDMI than in component).
Overscan (with the display area control set to Full Pixel, +1, or Normal, in order of preference) was 0 percent at 1080i/p and 720p, and a maximum of 1.5 percent in 480i or 480p.—TJN
Settings
Unit-to-unit sample variations, the viewing environment, and the source might render these recommendations less than optimum. We strongly recommend that you confirm the results on your sample by using one of the many display setup DVDs available. Such a DVD will help you set the user video controls correctly, and get as close as possible to an optimum setup short of a full calibration by trained and properly equipped technician. A professional calibration will include a White balance (color temperature) optimization, a procedure the average user is not equipped to perform.
Picture Mode: Cinema
Backlight: 0
Picture: 75
Brightness: 57
Color: 47
Hue: 50
Color Temperature: Warm 2
Sharpness: 10-40
Noise Reduction: Off
MPEG Noise Reduction: Off
DRC Mode: Off
DRC Palette: N/A
Advanced Settings
Black Corrector: Off
Advanced C.E.: Medium
Gamma: Off
Clear White: Off
Color Space: Standard
Live Color: Off
White Balance:
Gain: Red 0, Green -2, Blue -1
Bias: Red -7, Green -4, Blue 0
Detail Enhancer: Off
Edge Enhancer: Off
Others controls (various menus)
Display Area: Full Pixel, +1, or Normal (in order of preference, as available).
Motion Enhancer: Off
CineMotion: Auto 1
Video Color Space (x.v.Color): Normal
Color Matrix: Auto
Light Sensor: Off
<!- ----------------------- Tech Center Ads ----------------------------->

SPONSORED TECH CENTER
<!- ---------------------336x280 ADS------------------------------->
<!- ---------------------FIXED AD------------------------------->
<!- ---------------------336x80 ADS------------------------------->
<!- --------------------Sponsored Link Ads-------------------------------->
<!- ------------------------Bottom Ads---------------------------->