Sony Bravia KDL-46XBR4 LCD Digital Color TV Page 2
Apart from the usual video controls (Brightness, Color, Contrast—or Picture, in Sonyese—etc.), the XBR4 offers a blizzard of additional bells and whistles, some useful in moderation, others best left off or in their default modes. To describe them in detail at this point, however, will risk eyes glazing over all across America. If you want to learn more about them, either now or later, go to "Controls and Settings," near the end of this report, just prior to the Measurements section.
Puttin' on the Hz
One of the weaknesses of LCDs has been motion blur; the LCD elements simply do not respond to fast changes in the image as quickly as do other display technologies (CRT is the best in this respect, followed closely by plasma).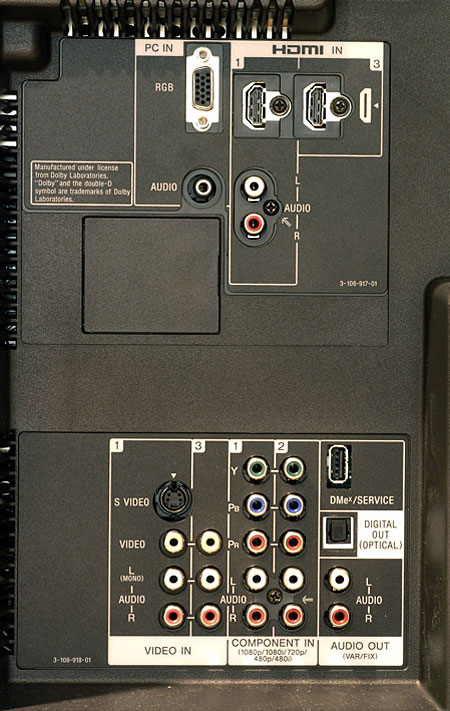 By now you're likely aware that more and more LCD sets are being designed to operate at a refresh rate of 120Hz. The XBR4 always operates at 120Hz. Operating at 120Hz rather than the more usual 60Hz can improve an LCD's motion performance, but how well it does this depends on how the original source is upconverted to the set's 120Hz frame refresh rate. In the XBR4 the upconversion is controlled by the setting of the Motion Enhancer control, and Motionflow is Sony's moniker for the technology activated by the Motion Enhancer.
To limit the techno-babble here, we'll restrict our discussion to 1080p. Because other resolutions must first be upconverted to the set's native 1080p, either inside or outside set, Motionflow ultimately operates on them the same way.
Converting a 1080p/60 or 1080p/24 source to 1080p/120 requires simulating the additional frames in some way, since they are not in the source. There are three ways to do this: interpolation of new frames, repeating the original frame multiple times, or making every other repeated frame a black frame. Motionflow creates these addition frames by the first method—temporal interpolation.
Rather than me attempting to describe—badly—how this is done, I'll pass along the explanation Sony provided to me:
"Motion Enhancer's Standard & High settings are settings for what level [the] amount the temporal interpolation is, conceptually like 3D comb filter setting. Standard is the recommended and default setting. High is a setting that a user could use to increase the amount of interpolation for a more aggressive 'fluid' look. However, the tradeoff is that some artifacts may be visible.
About artifacts...High Frame Rate technology works by first identifying objects moving in a sequence of frames then figuring out the position of those objects and create new intermediate frames estimating where those objects would be. Fundamentally, with traditional video, it is impossible to identify objects with 100% accuracy, as they are part of a 'flat' video plane. When an object is incorrectly identified, an artifact may become visible. This artifact may manifest itself as a 'halo' around objects or in more extreme cases, make moving objects appear unnatural, as parts of an object may be moved to the wrong position.
Because of this, having the experience with picture quality and video is critical and where Sony's Motionflow is superior to many competitors, which may have a 'check' for High Frame Rate. Our Standard [setting] represents our engineering experts optimal setting to improving resolution in moving areas while minimizing artifacts."
If the source does not contain 3/2 pulldown, such as a 1080p/60 video-originated source or a 1080p/24 film-based source from a Blu-ray or HD DVD player, Motionflow adds either one interpolated frame (1080p/60) or four interpolated frames (1080p/24) to each source frame to reach the 120Hz refresh rate required by the set's 120Hz operation. If you turn the Motion Enhancer off, each source frame is simply repeated as many times as needed to get to 120Hz, with no interpolation.
If the source contains 3/2 pulldown, such as 1080p/60 video from a film-based source, the 3/2 pulldown is not removed. Motionflow converts the 1080p/60 source directly to 1080p/120 by adding one interpolated frame to each source frame. If you turn the Motion Enhancer off, each source frame of a 1080p/60 signal is merely repeated once to reach a 120Hz refresh rate, but there is no frame interpolation.
I was a skeptic at first about all this 120Hz hullabaloo. But as implemented in Sony's Motion Enhancer, it really works.
While it didn't make a difference on all programming, when it did the effect could be dramatic. In chapter 7 of Star Trek: Insurrection (a 480i, standard definition, DVD), about 34 minutes into the film, there's a shot with a camera rotating around three characters in the foreground. Behind them is a forest of vertical columns. Without the Motion Enhancer, the vertical edges on both sides of the columns flicker badly as they move across the frame. With the Motion Enhancer on Standard, however, the flicker virtually disappears.
In chapter 1 of the same film there are two scenes that have been used extensively in the past by us, and others, to test a display's video processing. In the first scene, children play in and around piles of hay, and in the second the camera pans across the roofs of the buildings in their village. Without the Motion Enhancer the hay strands flicker visibly. The leading and trailing edges of the buildings do the same. The Motion Enhancer cleaned up both of these scenes.
The opening title sequence of Invincible (1080p/24, HD, Blu-ray) is an extended series of slow pans. Not all of them show the effect of the Motion Enhancer, but two, in particular, do. One is a shot of guards closing a gate. Another is a slow pan across a snowy stadium during a football game. In the gate shot, the vertical edge of the gate flickers slightly as it's closed, much like the columns in Star Trek: Insurrection, though less blatantly. In the pan over the stadium, the yardage lines run horizontally across the screen, and as the camera moves up past them they flicker badly as well. The Motion Enhancer eliminated both of these artifacts, demonstrating that it works on both horizontal and vertical motion, and that it can even eliminate some artifacts with 1080p/24 material.
It's worth noting here that at two recent trade shows Meridian demonstrated a new Meridian-Faroudja outboard processor that was similarly effective in reducing such motion problems. In fact, it was this demo that showed me how good a test the scene in Chapter 7 of Star Trek: Insurrection was for such artifacts. But the Meridian-Faroudja processor alone costs just a few bills short of $30,000.
<!- ----------------------- Tech Center Ads ----------------------------->

SPONSORED TECH CENTER
<!- ---------------------336x280 ADS------------------------------->
<!- ---------------------FIXED AD------------------------------->
<!- ---------------------336x80 ADS------------------------------->
<!- --------------------Sponsored Link Ads-------------------------------->
<!- ------------------------Bottom Ads---------------------------->