Sony BDP-S360 Blu-ray Player Page 2
The BDP-S360 includes full internal decoding for all of Blu-ray's advanced audio codecs, including Dolby TrueHD and DTS-HD Master Audio. You can also choose to simply bitstream them in native form. However, the player does have one minor quirk. The dynamic range function defaults to on, so I'd recommend that you set it to Wide Range during your initial setup in order to eliminate any possibility of unnecessary implementation of dynamic range compression.
The remote was simple to navigate, but it lacks backlighting. The design is simple, and the button layout is pretty easy to navigate, even in the dark.

Video Performance
Sony has definitely upped the ante with the BDP-S360's video processing. Previous players did a good job with 1080p/24 playback of Blu-ray titles, but their deinterlacing and standard DVD playback left a lot to be desired.
The BDP-S360 features very good video processing that actually improves upon Sony's flagship BDP-S5000ES's performance. (See our March 2009 issue for the full report.) It includes full HD deinterlacing and solid standard-definition deinterlacing.
The BDP-S360 still doesn't sup- port HD motion-adaptive deinter-lacing. This is vital for material that's sourced from video-based cameras. This also includes some concert titles that are only available in 1080i and any AVCHD content that's sourced from a consumer-grade 1080i camera. However, this will generally have little effect on Blu-ray playback.
The Sony's standard-definition DVD deinterlacing was good, but its scaling wasn't quite up to the level of the better video processing solutions out there. I used several different luma and chroma bursts to evaluate resolution, and I noticed some occasional flickering and scaling artifacts. If you want to make the most out of your DVD library from a Blu-ray player, you might want to evaluate this player's performance against some of the other options that include higher-end video processing solutions.
In Use
It was nice to see Sony improve on its general operability with this new design. While I can't say the BDP-S360 has reached the level of the outstanding PlayStation 3 in terms of load and response times, it's definitely faster than previous Sony models I've tested. Load times were just above average for a new player, and I didn't find myself as agitated with the Java-intensive discs as I typically am with most players. Sony also includes a Quick Start mode hat turns the player on a bit faster than normal. It doesn't cut down on load times, but it gets you up and going quicker. General navigation was average and could still use some improvement.

I really enjoyed the outstanding video and audio performance that the BDP-S360 offers. During my time with the player, I had the chance to watch Fox's recent remake of The Day the Earth Stood Still. While I wasn't that big of a fan of the film as a whole, the video and audio presentation was outstanding. The player did an incredible job with the disc's detail and depth. It is great to see so many manufacturers supporting the Blu-ray format's full audio and video capability in lower-priced players now. It takes the guesswork out of it, so you can sit back and enjoy the ride.
DVD playback was good, but some other manufacturers deliver better video processing, including 1080p/24 playback, at or near this price point. Still, the player did really well with DVDs. Unless, like me, you're a picky videophile with a large screen, this one will fit the bill nicely.
Unfortunately, Sony doesn't include any advanced Internet connectivity features like those in the other players in this roundup. I'm surprised that Sony didn't include access to its BRAVIA network or even some areas of the PlayStation Network. This may be a missed selling point now that so many products at this price point include features that go above and beyond standard Blu-ray playback. I also wish Sony had included wireless support like it does with its BDP-S560. The easier we make this experience, the more adoption we'll see going forward.
Wrapping It Up
Overall, Sony has definitely improved upon its previous players and delivered a solid Blu-ray player with the BDP-S360. I have no complaints about the BDP-S360's Blu-ray playback performance, but the design leaves a bit to be desired in terms of extra features and connectivity.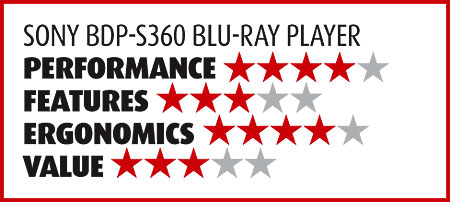 <!- ----------------------- Tech Center Ads ----------------------------->

SPONSORED TECH CENTER
<!- ---------------------336x280 ADS------------------------------->
<!- ---------------------FIXED AD------------------------------->
<!- ---------------------336x80 ADS------------------------------->
<!- --------------------Sponsored Link Ads-------------------------------->
<!- ------------------------Bottom Ads---------------------------->