Sony BDP-CX7000ES Blu-ray Disc MegaChanger Page 3
On standard-definition material, the player failed 2:2 content but passed both 3:2 source and edge-adaptive tests with ease. The opening sequence of Star Trek: Insurrection (DVD) was jaggie free, as was the coliseum flyover in Gladiator. The Sony's scaling performance (480i to 1080p) is very good; it nearly equals the best Blu-ray players on the market. Its layer change on DVDs is also very fast. The player offers a variety of video enhancements, including an HD Reality Enhancer, which applies some artificial sharpening to the picture, as well as Super Bit Mapping, which upconverts the standard 8-bit video signals from Blu-ray and DVD to 14-bit. The first enhancement adds some ringing to sharp edges, and the second didn't seem to do any harm. Still, for good measure, I spent the majority of my evaluation time with both features disabled.
Living With the Beast
One of the biggest complaints about Blu-ray players is their user experience and disc compatibility. I lived with the MegaChanger for more than a month, and it played everything I threw at it. While it's no speed demon, it's not a sloth either. Java-intensive discs are slow—as they are with most players—but only the occasional disc seemed to trip up the player. For example, disc one of Lost: The Complete Fifth Season took 86 seconds to load, versus 50 in an OPPO BDP-83. I don't know how much of this time was related to the carousel spinning around to find the appropriate slot, so it's nearly impossible to determine the exact starting point. Non-Java titles loaded in just under a minute, which is satisfactory. Once you're at the main menu, navigation is speedy, and the remote commands react instantly.
Toward the end of my evaluation period, J.J. Abrams' reboot of Star Trek arrived in the mail, and I couldn't wait to take it for a spin. The Gracenote server didn't have this title in its database, but I had the disc two weeks before street date, so I'm not surprised. I compared the Sony's 1080p/24 video output with my reference OPPO BDP-83, and I couldn't detect any difference in picture or sound quality. Both were excellent. The picture is very natural and revealing. Every facial pore was visible, and the intricate weave in the Starfleet uniforms was clearly visible. Decoding the audio in the player revealed no shortcomings with the action-oriented Dolby TrueHD 5.1 soundtrack. It features an active surround soundstage, window-rattling bass, and plenty of shipboard ambient sounds.
Animated Blu-ray titles look just as impressive; Pixar's Up and Monsters, Inc. delivered flawless picture quality. Vibrant colors leapt off the screen, whether it was the rainbow of balloons whisking Carl and Russell off to South America or the impressive detail in Sulley's fur. You'd be hard-pressed to find anything that looks better.
The BD-Live performance works fine—once you spring for a USB flash drive. The usual assortment of goodies downloaded without any hassles. I've been very disappointed with BD-Live up to this point, but some new features are making their way onto the market. These include Fox's BD-Live Lookup and Sony's MovieIQ, which access IMDb for information as well as community screenings that will allow large numbers of people to watch a movie at the same time and chat online during the movie. Maybe this will help keep these people out of the local Cineplex.
Wrap Up
Sony is currently the only manufacturer of Blu-ray Disc changers on the market, so if you're in need of one, your options are limited to the ES model or the lower-priced BDP-CX960 ($800). Compared with many current video server products, many of which start at $5,000 and go up dramatically from there, this MegaChanger is a bargain. And those other products can't store Blu-ray Disc content on their hard drives—you have to put discs into the tray one at a time just like a standard player. Granted, these other systems bring different capabilities to the table, but none offer the convenience of storing and managing your Blu-ray collection.
Living with the BDP-CX7000ES the past month has given me a new perspective on the convenience of a disc changer. Although I can personally live without it, I enjoyed having a good portion of my library accessible from one player, and I can see people getting hooked on the experience.
If you don't care about the storage and are willing to leave the comfort of your couch to change discs, better video processing is available in other players. But if you're looking at this MegaChanger, that's probably not you. The BDP-CX7000ES offers Blu-ray performance at 1080p/24 that's on par with the best we've seen and very solid DVD upconversion, which makes it attractive if you're looking for large-capacity storage and management and don't want to spend media server money.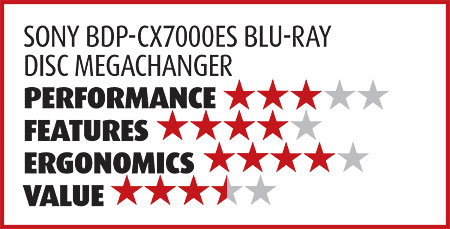 <!- ----------------------- Tech Center Ads ----------------------------->

SPONSORED TECH CENTER
<!- ---------------------336x280 ADS------------------------------->
<!- ---------------------FIXED AD------------------------------->
<!- ---------------------336x80 ADS------------------------------->
<!- --------------------Sponsored Link Ads-------------------------------->
<!- ------------------------Bottom Ads---------------------------->