Sony BDP-CX7000ES Blu-ray Disc MegaChanger Page 2
Additional setup options are available under Settings on the XMB for both video and audio. The easy setup covers most of the basics, but the video section offers additional options. It can force 1080p/24 output, set the HDMI color space, or turn off the Super Bit Mapping feature (defaults to On). Unfortunately, there isn't a Source Direct option for the video output as there is on other Blu-ray players. This feature is a must if you use an external video processor so the player can output the native resolution on the disc to have any video processing take place in the external scaler. Audio settings include speaker settings if you're using the analog outputs (Size, Distance, Level), BD Audio settings (internal or external decoding), and settings for the digital audio outputs (optical/coaxial).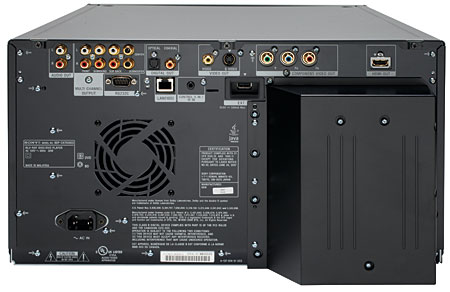 Next up is disc loading, which is time consuming. If you load a single disc, it takes the player about 45 seconds to access Gracenote's online database to download the box art and title information (based upon the metadata stored on the disc). I loaded 100 discs of various media (20 CDs, 30 DVDs, 50 Blu-ray Discs), and the download took just over an hour. While the database correctly identified every CD and DVD, it didn't find various Blu-rays, such as Warner's Willy Wonka and the Chocolate Factory and Spears & Munsil High Definition Benchmark: Blu-ray Edition. Additionally, Star Trek VIII: First Contact and Pirates of the Caribbean: The Curse of the Black Pearl weren't labeled in English, although the cover art was correct. You can manually edit each disc to correct any errors, but with the phone-style keyboard, it isn't very user-friendly. An input for a USB keyboard would be a nice upgrade. Overall, though, I was impressed with the database's accuracy.
Once the player is loaded, managing your library is very intuitive. There are various search options, and music and movie/video discs are separated under different headings in the XMB. You can scroll through them by slot number, name, or release year. There's also a Group Content mode, which organizes discs by category (Title, Genre, Cast, and Director). When you sort your discs by one of these groups, the Sony lays them out alphabetically, and it's lightning-fast to scroll through and locate the appropriate disc. If you're in the mood for a Western or comedy, you can sort by genre and discover how many films are classified that way in your collection. When I searched by Director, I found 10 movies directed by Clint Eastwood—each and every one damn entertaining too!
In the past, Sony has included daisy-chaining capabilities for connecting multiple changers, which would be a great convenience if you have a massive collection. Regrettably, this feature hasn't ported its way onto the MegaChanger.
Two potential downsides to this changer are the lack of media streaming capabilities and Wi-Fi. Wi-Fi and streaming from Amazon, Netflix, YouTube, Pandora, or from a home server have begun to surface in relatively inexpensive players from several manufacturers, including Sony.
Firmware updates are available over the Ethernet port, which you can configure to search manually or automatically upon startup. In the time I've had the player, there hasn't been an update, so I can't determine how well it works or how long an update takes.
Video Performance
The MegaChanger let me run through my battery of test discs without leaving the comfort of my couch. First up in my tests was 1080i deinterlacing, and the results weren't great. While it passed the motion adaptive tests (important for AVCHD material), it failed both 3:2 and 2:2 tests. Granted, there aren't a lot of 1080i discs on the market—in fact, in the U.S., they're mostly relegated to concert discs. However, for a player in this price class, high expectations for video processing are a given. It does pass both above white and below black, and it resolves the full luma and chroma detail from 1080p content.
<!- ----------------------- Tech Center Ads ----------------------------->

SPONSORED TECH CENTER
<!- ---------------------336x280 ADS------------------------------->
<!- ---------------------FIXED AD------------------------------->
<!- ---------------------336x80 ADS------------------------------->
<!- --------------------Sponsored Link Ads-------------------------------->
<!- ------------------------Bottom Ads---------------------------->