Software Reviews
DVD: Gunfight at the O.K. Corral—Paramount
Video: 2
Audio: 2
Extras: 1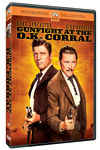 This 1957 version of the famous gunfight that pitted Wyatt Earp and Doc Holliday against the Clanton gang rides on the performances of its stars, Burt Lancaster and Kirk Douglas. The pair's grudging respect for each other, their relationships with women, and the events that lead to the conflagration at Tombstone (which occupies about six minutes of the 122-minute running time) is at the core of this film, which meanders like a lazy creek in a dusty town. The film doesn't age well, primarily because it seems so cliche-ridden today. Viewers should remind themselves that this movie actually invented many of the Old West cliches we take for granted now, such as the outlaw firing shots at the saloon piano player to inspire him to play.
Despite a 1.85:1 anamorphic image that befits the movie's original Vistavision framing, the picture quality is nothing special, and you may even be distracted by grain and color flashing, especially in outdoor daylight scenes. Sonically, the DVD is similarly bland, retaining the original mono. Dialogue is never a problem, though. It's also interesting that every gunshot fired during the climactic fight uses the identical sound effect. Unfortunately, this is about as bare-bones as a DVD can get—there's not even a trailer.
Western completists will want this disc for their collections, in any case; otherwise spin it as a rental for the lead performances, a look at a very young Dennis Hopper (as Billy Clanton), and that hummable theme song.—Gary Frisch
DVD: Speed Racer—Artisan
Audio: 2
Video: 3
Extras: 3


Speed Racer fanatics, rejoice! At last, the first eleven episodes of the classic '60s Japanimation series are available on DVD. Previously, fans had to make do with Speed Racer: The Movie, which was really just a collection of three episodes along with a bad '90s rap version of the classic theme song. Happily, this new set restores the original theme, even if the opening and closing credits have been slightly modified. The episodes themselves are here in all of their hyperactive glory; after all, Speed Racer may be the only show that somehow managed to fit an hour's worth of dialogue into twenty-three minutes of action. Speed, indeed . . .
With eleven episodes crammed onto one bargain-priced disc, this collection is actually quite a deal. Unfortunately, the compression seems to have compromised the already-shaky 1.33:1 picture quality a bit more than necessary. The Dolby mono soundtrack is also merely average but certainly respectable, given the source material's age. Bonus features consist of a number of simple galleries illustrating the features of the Mach 5, the show's classic villains, and the cast of voices. Speed Racer was my favorite show when I was young; and, although this collection may not be perfect, it will certainly keep your little Spridles and Chimchims enthralled for hours.—Gary Maxwell
<!- ----------------------- Tech Center Ads ----------------------------->

SPONSORED TECH CENTER
<!- ---------------------336x280 ADS------------------------------->
<!- ---------------------FIXED AD------------------------------->
<!- ---------------------336x80 ADS------------------------------->
<!- --------------------Sponsored Link Ads-------------------------------->
<!- ------------------------Bottom Ads---------------------------->