Software Reviews

Bob Marley and the Wailers—African Herbsman (DVD-Audio, Silverline/Sanctuary)
Where was I? Umm. . .oh yeah, reviewing. DVD-Audio. Uhh. . .Bob Marley. Yeah. Well, roll one up and savor the raw immediacy of this early work from reggae's internationally revered founders.
African Herbsman
is built around the aborted
Soul Revolution
, the Wailers' second album and the last that they'd record before defecting to the greener pastures of Island. Also included are several indie hit singles and spacey instrumental dub versions.
High fidelity this is not. Really, uhhhh, no problem there. These tracks were recorded before the Wailers moved into the deluxe studios funded by their British label. The stereo originals are expanded to 5.1 via matrixing. There's plenty of channel leakage and even a bit of vinyl surface noise, but this is the kind of low-fi that hits the spot. Bass lines come through clearly, vocals have a pleasant warmth, and the surround retrofit opens up the mix. Some tracks sound as though they were recorded on audiocassette (and probably were), but every one exudes the authenticity of music being freshly discovered by people who've paid some dues.
Here, then, are Bob Marley, Peter Tosh, and Bunny Wailer caught in 1971, right between their emergence into the mainstream and those earlier days when Kingston's drug squad would raid their smoke-reeking, low-rent recording spaces and steal their instruments. Here is the breakthrough hit "Trenchtown Rock" in its original form, along with "Lively Up Yourself," "Kaya," and other songs that became famous in their better-recorded Island versions. Fire 'em up.—Mark Fleischmann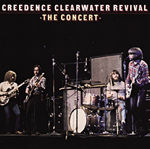 Creedence Clearwater Revival—The Concert (SACD, Fantasy)
Creedence Clearwater Revival's all-American concoction of full-tilt rockabilly, swamp pop, R&B, and country yielded an unending string of hit singles starting with "Suzie Q" (not included here), "Proud Mary," "Bad Moon Rising," "Green River, ""Down on the Corner," "Born on the Bayou," "Fortunate Son," and my personal favorite, "Who'll Stop the Rain." John Fogerty, the band's lead singer, guitarist, and prime songwriter, crafted a winning formula and stuck with it for the band's four-year run; they broke up in 1972.
The Concert was recorded in California at the Oakland Coliseum on January 31, 1970, and it includes 14 of the band's biggest hits. Unlike other '60s stalwarts, CCR rarely reworked their tunes or engaged in extended jams. Even so, The Concert's live renditions take on a slightly harder edge than the more-familiar studio works. Fogerty's ferocious vocals are even more urgent; the guy didn't know how to hold back. The band's pulse never falters.
As for this new SACD remaster, it's pretty darn basic—there are no extras, bonus tracks, or new photos. It's a hybrid, albeit stereo-only SACD, yet comparisons with the remastered CD of a few years ago reveal major differences. The SACD's sonics are definitely fatter with more meat on its musical bones. There's more hall sound and a little more air on the SACD, but the recording itself is no great shakes. The rougher-sounding CD actually adds an agreeable edge to the music; it's more rock-'n'-roll.—Steve Guttenberg
<!- ----------------------- Tech Center Ads ----------------------------->

SPONSORED TECH CENTER
<!- ---------------------336x280 ADS------------------------------->
<!- ---------------------FIXED AD------------------------------->
<!- ---------------------336x80 ADS------------------------------->
<!- --------------------Sponsored Link Ads-------------------------------->
<!- ------------------------Bottom Ads---------------------------->