Software Reviews
DVD: Hollywood Homicide—Columbia TriStar
Video: 4
Audio: 4
Extras: 2
Hollywood Homicide is the kind of film that probably looked much better in concept than it did on the scripted page—and far better than it does on screen. Two Hollywood detectives—one a real estate broker on the side, the other an aspiring actor—try to wedge in a murder investigation between their second lives. All of the buddy picture elements are here, notably the grizzled veteran (Harrison Ford) teamed with a green, slightly bumbling rookie (Josh Hartnett), but the screenplay by director Ron Shelton bumbles its own way through the story, creating zero believable chemistry between the two. Ford has never looked older or more dour as the long-timer who's more anxious to unload a turkey of a property than solve the case.
Shelton, the talent behind many sports (Bull Durham) and cop (Dark Blue) movies, fails to acknowledge in his commentary track how poorly this film was received by audiences, instead going into the usual high-falutin' thematic elements ("Everyone in Hollywood would rather be someone else."). The track is joined only by filmographies and trailers, making this an exceptionally dull presentation of an A-list film.
If you choose to sit through this car wreck, you'll at least be treated to a terrific 2.40:1 anamorphic picture that's virtually devoid of artifacts or edge enhancement, and an active Dolby Digital 5.1 soundtrack that gets ample opportunity to show its muscle, whether reproducing gunfire, screeching brakes, or hip-hop. The disc also contains a full-screen version of the film.
Harrison, Josh, you both deserve better than this.—Gary Frisch
DVD: The Italian Job (2003 and 1969 versions)—Both Paramount
TIJ 2003:
Video: 4
Audio: 4
Extras: 3

TIJ 1969:
Original:
Video: 4
Audio: 4
Extras: 4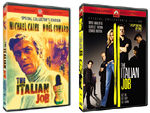 Caper movies come and go, although some make a more-lasting impression for their sense of style. A story of nice-guy scofflaws, would-be tough guys, and revenge, the big-budget remake of The Italian Job seems at times a little too enamored of its own purported slickness, although the 2.35:anamorphic is predictably warm and rich, with only mild compression artifacting, and the Dolby Digital 5.1 audio offers kick and sparkle, particularly with the well-recorded music.
The real story is Paramount's decision to release the original Job in the same wave as last summer's hit, both as collector's editions. This Michael Caine version is also presented in a 2.35:1 anamorphic format and with a carefully remixed Dolby Digital 5.1 soundtrack that demonstrates impressive separation and no lack of power, even if it is a bit limited in dynamic range and fine sonic detail. The picture is sharp, marred by only minor instances of dust and the like. The movie itself is refreshingly lighthearted (Benny Hill is on board!) and witty, set to a fun Quincy Jones score—a highwater mark for '60s cool. The extras here are more enjoyable as well, with a commentary track by the producer (surprisingly, none is included on the remake) and meaty interviews with the original cast and crew that rise above the typical tedium of "Wow, everything about this movie is so great!"—Chris Chiarella (The Italian Slob)
<!- ----------------------- Tech Center Ads ----------------------------->

SPONSORED TECH CENTER
<!- ---------------------336x280 ADS------------------------------->
<!- ---------------------FIXED AD------------------------------->
<!- ---------------------336x80 ADS------------------------------->
<!- --------------------Sponsored Link Ads-------------------------------->
<!- ------------------------Bottom Ads---------------------------->