Software Reviews
DVD: Animal House: The Double Secret Probation Edition—Universal
Video: 3
Audio: 3
Extras: 4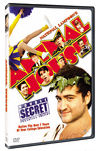 National Lampoon's
Animal House
may be a comedy classic that you can watch again and again, but does that also mean you have to buy it again and again? The new
Double Secret Probation Edition
is the third version of
Animal House
to hit DVD shelves, and even the gullible girls at Emily Dickinson College wouldn't fall for this scam, would they? There's no denying the greatness of the film itself, but most fans would likely already own the
Collector's Edition
released in 1998. Is this new version really worth buying
Animal House
for a second or even a third time? Surprisingly, it is.
Although there are still no deleted scenes or alternate takes on the Double Secret Probation Edition, director John Landis provides the next best thing: a new featurette starring many of the original cast members that updates the lives of the film's classic characters. It's a kick to find out that Babs still works at Universal Studios, Boone and Katy remarried and divorced again, and of course Mr. And Mrs. Blutarsky are now President and First Lady. Most of the bonus features from the Collector's Edition are included here, and the 1.85:1 anamorphic picture has been improved upon, as well. The sound has also been remixed into Dolby Digital 5.1 and contains significantly less hiss than prior versions. My advice to you is to start drinking heavily and pick up the Double Secret Probation Edition faster than you can say, "Toga! Toga!"—Gary Maxwell
DVD: El Mariachi and Desperado Special Editions—Columbia TriStar
El Mariachi
Audio: 3
Video: 3
Extras: 4

Desperado
Audio: 5
Video: 5
Extras: 4

Just before the release of Once Upon a Time in Mexico, the third in Robert Rodriguez's Mariachi trilogy, Columbia re-issued the first two movies as special-edition DVDs. If you already own the 1999 two-sided disc that contains both films, you have most of what's on these versions. New material includes a preview of Once Upon a Time on both discs, a new transfer of El Mariachi pulled from the original negatives, and a trial version of a video-editing program on the Desperado disc. Otherwise, the bonus features carry over from the previous release.
Frankly, it would be tough to improve on these bonus packages. Rodriguez's commentary tracks are detail-packed, rapid-fire explanations of how he does so much with such small budgets. The "10-Minute Film School" featurettes are just as engrossing, a real education for any prospective filmmaker. Plus, if you've ever wondered how one guy could make the gory/funny Mariachi films and the Spy Kids franchise, Rodriguez's early short Bedhead (packaged with El Mariachi) helps close that loop.
Both films are presented in the 1.85:1 anamorphic format with Dolby Digital 5.1 soundtracks. The high-zoot treatment can't do much to polish the ultra-low-budget Mariachi, but few films look or sound better than this transfer of Desperado. I loved hearing the shell casings clink on the ground from every corner of my living room.—Drew Hardin
<!- ----------------------- Tech Center Ads ----------------------------->

SPONSORED TECH CENTER
<!- ---------------------336x280 ADS------------------------------->
<!- ---------------------FIXED AD------------------------------->
<!- ---------------------336x80 ADS------------------------------->
<!- --------------------Sponsored Link Ads-------------------------------->
<!- ------------------------Bottom Ads---------------------------->