Sit Up and Sit Down
Hard-core movie watchers may never get up off the couch (or comfy recliner) now that
D-BOX Technologies, Inc.
has introduced the
Quest X3ME
. (D-BOX says you're supposed to pronounce "X
3
ME" as "extreme". To me it looks more like "ex cubed me", which sounds like what someone with a bad cold says after they sneeze on you, but it's their product so we'll let them say it any way they want.)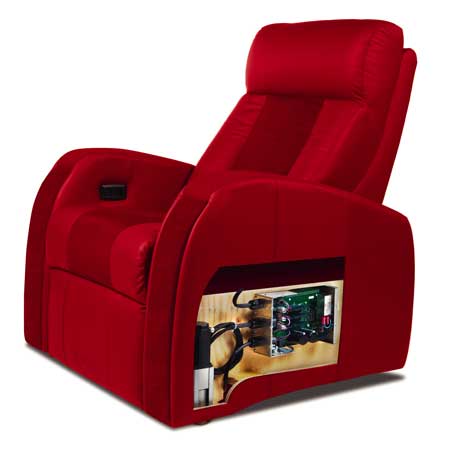 D-BOX, in case you're not familiar with the company, specializes in motion simulator products. ("We make the gear that moves your rear!" could be their slogan, but somehow I don't think they'll be using that any time soon…) Unlike less-moving, more-shaking tactile transducer technology (e.g., Buttkicker and Clark Synthesis), motion simulation doesn't rely on vibrating the furniture - it actually moves the furniture using small, rapid movements to create the illusion of larger movements. The movements are created by motorized actuators placed under platforms or built into chairs, sofas, and couches. D-BOX's systems use external Controllers that store specific motion command codes for individual movies. The motion codes, programmed by D-BOX engineers to exactly track on-screen motion, are interpreted by the Controller and sent to the actuators. D-BOX simulator systems can be purchased as complete "plug-and-play" seating or as add-on, field-installable motion simulator hardware to integrate into your own choice of seating.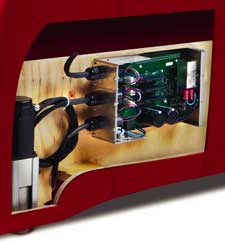 The "plug-and-play" Quest X3ME seating borrows three-axis technology from D-BOX's top-of-the-line Odyssee motion simulator. In addition to the standard front/back and left/right motion simulation, the new system can simulate up/down movement with the help of three built-in SynDrive motorized actuators. Two are mounted in the front arms of the chair, while the third actuator is installed in the rear center. D-BOX calculates that, combined, the actuators can deliver up to 2Gs of intense acceleration and are capable of providing a whopping 1.5 inches of vertical travel. (Do NOT drink and ride.)
The Quest X3ME is built using a chair frame constructed of hardwood solids and 13-ply European hardwood plywood with metal-to-metal fasteners in order to withstand the significant motion-related stresses. (You certainly don't want to purchase the add-on kit and strap it beneath Granny's antique rocker - although you can be pretty certain you won't have any problem with termites in the wood if you did.) The new recliner also features a two-stage motorized "wall-hugger" recliner mechanism and is covered in "100-percent premium leather."
D-BOX says the Quest X3ME (if you pronounce it properly) can be yours for $10,000. Brave souls willing to put their own furniture to the test can have the add-on system for $4,299. Either way you go, you'll need a Controller that tells the actuators what to do, when to do it, and how long to do it. Two options in Controllers are available. The $799 version is the PC-based PC3 Motion Controller Interface (MCI) that includes the required Windows software. For those who are tired of their computer kicking them in the butt, D-BOX offers the $2,999 Series 3 340c Kinetron Controller with a built-in 40 GB hard drive (for storing D-BOX F/X motion codes). Each Controller includes the F/X Motion Code Volume 4 with motion codes for 100 movies. F/X Motion Code Volumes 1, 2, and 3 are available for $250 each.
Spill-proof cups are not required buy highly recommended.
<!- ----------------------- Tech Center Ads ----------------------------->

SPONSORED TECH CENTER
<!- ---------------------336x280 ADS------------------------------->
<!- ---------------------FIXED AD------------------------------->
<!- ---------------------336x80 ADS------------------------------->
<!- --------------------Sponsored Link Ads-------------------------------->
<!- ------------------------Bottom Ads---------------------------->