Sinclair Audio Brighton 50B Speaker System Page 2
Conjuring Soundfields
The American stars George Clooney as an assassin on the run. Although this film is full of long silences, the Brightons had several opportunities to deliver indoor and outdoor ambience, sometimes conjuring soundfields of considerable size. The most vivid one was a train station alive with bare-walled reflections. The most subtle one featured outdoor gunplay muffled by snow-covered ground. Low-level resolution was at its most effective with the faint birdsong that twinkled through a woodsy scene. Clooney's baritone voiceover got a fair amount of chest from the sub and a little nasality from the monitors—but these things weren't out of proportion. The nasality was clearly in that part of the soundtrack because it disappeared in later dialogue. Meanwhile, voices were well anchored in the center speaker, both on and off axis, with only minimal shift as I moved around on the sofa. Oboe and cellos popped from the elegant orchestral soundtrack, tastefully sweetened by the silk domes.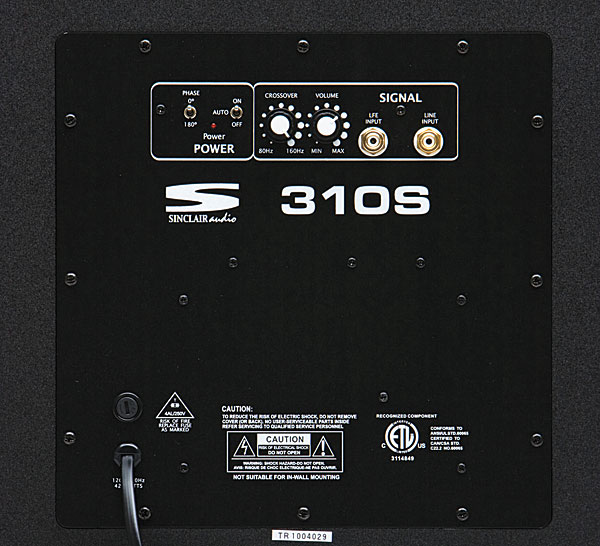 My Soul to Take features a soundtrack of lesser refinement. The chameleon-like Brightons did nothing to disguise its crudity. In fact, they sounded like completely different speakers. The most prominent surround effect was a "psycho swirl," as my notebook called it, that sonically depicted tormented characters in all channels. It had plenty of trajectory but not much depth. All-channel thunder showed that the speakers and sub were meshing well.
180° South is a documentary with an interesting character-based plot concerning a handful of Americans who climb a Chilean peak while musing about man and nature. Nature provides the epic visuals, including snow- and rock-covered mountains, majestic surf, and Easter Island. Man provides the soundfield, a mixture of music, voiceovers, dialogue, and natural ambience—just like any movie. The Brightons responded to the quality of the elements. Music from a variety of stringed instruments was strongly imaged in the left and right channels, with just a little sweetening in the surrounds. Voiceovers were limited strictly to the center channel but didn't suffer for it. Wind and other sounds of the great outdoors—which must have been recorded in either mono or two-channel stereo—spread nicely across a 5.1-channel canvas and sounded great on the 50Bs.
Bass Motivations
Telarc recorded Celebrating the Music of Weather Report in 5.1 with the Brecker Brothers and other jazz/fusion luminaries in attendance. The 2001-vintage SACD was a high-resolution treat. Above the 80-hertz sub crossover, Steve Gadd's bass drum was strong and tight in the center channel, while his snares came from the left and right channels. Below the sub crossover, the passive radiators and their total elimination of port-induced air turbulence kept low frequencies civilized without depriving them of their power. Bass lines were even and distinctively voiced, whether they came from bass guitar or synthesizer. While the rhythm section stayed in front, other instruments were often suspended between the front and surround channels on either side, forming a horseshoe pattern, my favorite kind of surround-for-music mix. Having four identical Brighton monitors in the four corners of the soundfield, as well as a reasonably well-matched center speaker, made the placement of instrumental elements so precise that I could just about visualize them as well as hear them.
Goldberg Variations Acoustica is a jazzy group improv, loosely based on the Bach masterpiece, featuring the AIX All Star Band. It arrived on Blu-ray Disc with 3D video (which I watched in 2D) and a choice of four soundtracks. These include two different versions in Dolby TrueHD 5.1 (stage mix and audience mix), one in Dolby Digital 5.1 (stage and audience perspectives in one mix), and one in 24-bit/96-kilohertz stereo PCM. Parsing fine distinctions between the Dolby TrueHD stage and audience mixes, I came to prefer the latter, although the front-focused stereo mix was perfectly capable of flaunting its highresolution prowess with just two Brighton monitors operating.
As I shifted among the mixes, the most striking element was Dean Parks' electric guitar, as it floated through soundfields of different dimensions and shapes. The speakers comfortably supported its wide dynamic envelope, letting it rise in volume without thinning out.
Leo Kottke's Standing in My Shoes CD sounded bigger and less speaker-bound in the Dolby Pro Logic II Music mode than in stereo—although there was little shift in timbre, thanks to the center's knack for blending in with the other speakers. Kottke's deep baritone comfortably straddled the speakers and sub but wasn't especially localizable in the latter. The silk-dome tweeters smoothed the top end of his steel-stringed acoustic guitar, but the woofers didn't disguise his muscular technique in the bass frequencies. I wouldn't accuse the tweeters of rolling off the top—on at least one track, I heard a celesta that I'd never noticed before—but the 50B's approach to mids and highs was gentle enough to support the high-volume blasting of "Vaseline Machine Gun," Kottke's classic, mind-blowing slide guitar workout.
Sinclair Audio has made an impressive stateside debut with the Brighton Series. The wellbalanced presentation of these four monitors, center, and sub suited a variety of movie and music content, relegating neither to second place. They changed their soundfield as often as I change my socks, imposing little personality of their own, although they seemed to thrive especially well with highresolution content. Mate them with a mid-priced A/V receiver, and you'll get most of what surround audiophilia has to offer at an accessible price.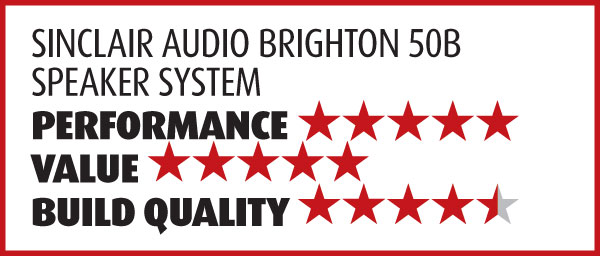 <!- ----------------------- Tech Center Ads ----------------------------->

SPONSORED TECH CENTER
<!- ---------------------336x280 ADS------------------------------->
<!- ---------------------FIXED AD------------------------------->
<!- ---------------------336x80 ADS------------------------------->
<!- --------------------Sponsored Link Ads-------------------------------->
<!- ------------------------Bottom Ads---------------------------->