Shoot Your Kids - In High Definition
Think of all the memories you want to save: your baby's first steps; your daughter's first wedding; your son's first red card in a soccer game; your mother-in-law's - no, you probably don't want to save anything to do with your mother-in-law.
Of course, there are plenty of memories you'd like to savor and share with family, friends, and people you meet on an airplane. Mega-pixel digital photos are fine, but most of us are from the generations reared on moving images from the mother-of-all-babysitters, the TV. Still images don't totally satisfy us. We hunger and thirst for video. Now that so many of us are hooked on the breathtaking beauty of HDTV (the Consumer Electronics Association estimates that there'll be nearly 15 million HDTV sets in US households by the end of 2005), we want our precious memories to be in high definition, too.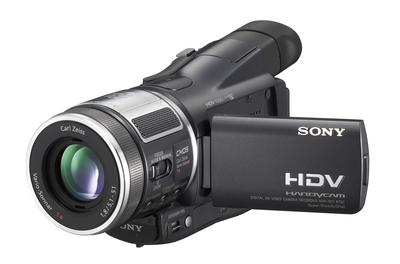 Never ones to shy away from money being thrown at them, Sony and JVC already offer HD camcorders for the oddly named "prosumer" - a person who's neither a professional nor a run-of-the-mill consumer. He lives in that expensive nether world where the pro gear is just too costly (and typically too big and heavy) but the low-brow stuff designed for the average Billy Bob or Betty Joe is beneath him. Sony's new HDR-HC1, a small HD camcorder that'll sell for around $2,000, aims to put high-definition camcording in more hands than ever - bringing home-grown HD within the reach anyone who can qualify for 12- or 18-months No Interest Financing.
The HDR-HC1 is surprisingly light (about 1.5 pounds) and shoots in surprisingly low light. Sony says the excellent low-light capability comes from the company's CMOS imaging sensor technology which is "designed to deliver faster image processing speeds for richer colors, more vivid detail, and significantly less glare from reflected light." (Which is a good thing since, in a sense, unless your looking directly at the sun or other light source, everything you see is reflected light. But let's not argue semantics.) Sony also says that the camcorder's Carl Zeiss Vario-Sonnar T*lens enhances the image's richness and clarity in both bright and low-light environments. Moving images benefit from the CMOS imagers and Sony's Enhanced Imaging Processor technology.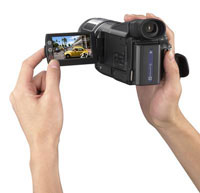 But who cares about image quality? What the average mom or dad wants is something that's light and easy to hold. (Just kidding - image quality is important, but size, as they say, does matter, too.) In addition to being half the price of Sony's earlier model (HDR-FX1), the HDR-HC1 weighs about half as much as its predecessor due to its compact lens, fewer circuit boards, and lower power consumption. The low power requirement means the HDR-HC1 camcorder can pack a smaller battery (an InfoLithium M battery) and still provide around 90 minutes of recording time.
The new must-have camcorder includes a 2.7-inch wide, hybrid, touch-panel LCD screen for framing shots, viewing recorded video in the field, and accessing menu options. When recording in DV mode (standard definition) for the huddled masses, you can switch between 16:9 and 4:3 on the LCD screen to see exactly what those poor, deprived folk will see on their TVs. In high-definition mode, the HDR-HC1 records in 1080i on standard MiniDV tapes (conforming to the HDV format specifications). The camcorder will also have fully automatic controls, a built-in microphone, an "intelligent" pop-up flash, and Super SteadyShot image stabilization.
For those moments when you don't want to shoot video (shoot video not people I always say), the HDR-HC1 can take 2.8-megapixel digital still images and store them on a Memory Stick PRO Duo flash memory card in the camera. Sony says the HDR-HC1 is the only HD camcorder (and one of only a handful of regular camcorders) capable of snapping a 1-megapixel digital still picture whilst simultaneously recording high-definition video. How sweet is that?
Other features of the camera include 10X optical and 120X digital zoom, a Cinematic mode which records video with a film-like appearance, and recording high definition in "total darkness" using Sony's Super NightShot Plus Infrared System. There's no word yet whether or not the model's NightShot technology will have the ability to "see" through clothing as some of Sony's first camcorders using the feature could. (Sadly, Sony quickly modified the technology to eliminate the X-ray vision aspect. Some people just have no sense of humor...)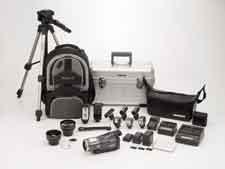 Sony says the HDR-HC1 will be available in July, 2005. At the same time, a full line of optional accessories (custom cases, lights, lenses, microphones, batteries, chargers, and cables) will be available for the videographer who has plenty of money to burn and wants to impress the other overly competitive soccer dads (and moms) on the sidelines.
<!- ----------------------- Tech Center Ads ----------------------------->

SPONSORED TECH CENTER
<!- ---------------------336x280 ADS------------------------------->
<!- ---------------------FIXED AD------------------------------->
<!- ---------------------336x80 ADS------------------------------->
<!- --------------------Sponsored Link Ads-------------------------------->
<!- ------------------------Bottom Ads---------------------------->