Sherwood Newcastle R-965 AV receiver Page 2
The Video 1 and 2 inputs are record loops with matching AV outputs, so you'll want to reserve these inputs for use with a VCR, DVD recorder, or TiVo. The record outputs can be switched independently to send different sources. However, the Video 2 record output serves double duty as the Room 2 output, so if you plan to have a second zone, you'll be left with only one record output in your main room. And if your recording device can accept a digital audio input, the Sherwood has a digital optical output for recording (plus a coaxial digital output for a Zone 2 feed).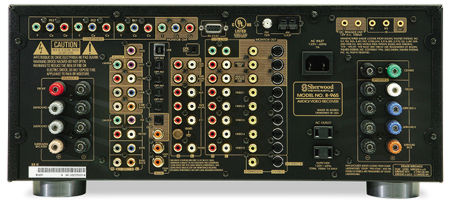 In addition to the regular AV inputs, the R-965 has a 7.1-channel analog Direct Input for use with a DVD-Audio or SACD player. (Of course, there are no such players with eight analog outputs, so the point of having the extra inputs is beyond me.) [Perhaps 7.1-discrete channels on some future format such as Blu-ray-based SACD or HD-DVD-based DVD-Audio? Just daydreaming.—Ed.] Dedicated composite and S-video inputs are provided, and the receiver's bass-management f[unctions are active on this input.
The R-965 has preamp outputs for all channels, including two subwoofer outputs. If you'll be using only one Surround Back speaker in a 6.1-channel configuration, you can switch the unit to Passive Subwoofer mode and connect an unpowered sub to the Surround Back R speaker terminals.
There are a total of nine pairs of high-quality speaker binding posts, labeled Front (L/R), Center, Surround A (L/R), Surround B (L/R), and Surround Back/SW (L/R). In addition to feeding a passive sub as mentioned above, the Surround Back speaker terminals can be assigned to feed speaker-level audio to the Room 2 zone.
This is the first receiver I've seen that sports a USB connector. Familiar to computer users, this high-speed serial port can accept 2-channel PCM digital audio from a PC, or it can be switched to enable downloads of upgraded operating software. A 9-pin RS-232C connector is also provided for the latter function.
Custom installers and our more intrepid readers can use the R-965's IR control jacks in conjunction with a Xantech multiroom kit (sold separately) to operate the unit from a second room or when it is hidden from sight behind cabinet doors. A pair of DC trigger outputs can be used to raise and lower projectors, screens, and the like. The first jack triggers each time the receiver is powered on or off, the second when a specific, assignable input source is selected.
Control Freak
For the most part, I found the Newcastle R-965 easy to set up and operate. The onscreen display (OSD) is simple but adequate, with six screens. Menu navigation is annoyingly inconsistent, sometimes requiring a push of the Enter button, other times a Return. I often found myself exiting the menu system entirely rather than stepping back to a previous sub menu.
The Power Amp Assign screen is used to direct the rear-channel power amps to drive either the Surround Back or Room 2 speakers (so they can play a second, independent source). The Speaker Setup screen lets you select a speaker configuration (Large/Small for each speaker), which is then applied globally for all inputs. The subwoofer crossover frequency defaults to 80Hz, but can be adjusted from 40 to 120Hz in 20Hz increments.
Although the R-965 does not have individual channel-level settings for each input, the Channel Level Setup screen does allow you to adjust and then store three channel-level presets for later recall. You can even adjust the LFE level separately for Dolby, DTS, and MPEG decoding modes.
The System Setup screen is where you reassign digital and component inputs, turn Digital Re-Mastering on and off, etc. The Surround Setup screen selects a default decoding mode and adjusts a variety of Dolby Digital parameters. Finally, the Room2 Setup screen has settings for volume level (fixed or variable) and source.
When an S-video or composite source is active, the white menu lettering appears on a transparent background, and so appears to float above the live video image. This can, of course, make it difficult to decipher the menu. On the other hand, the live video image is muted and replaced by a blue background when a component-video source is onscreen. This can be disconcerting, but at least the Sherwood's OSD can be invoked from all outputs, even component. And yes—if you wish, you can turn off all onscreen displays, including the volume indicator.
Two remotes are included with the R-965. The main one is a universal learning model that Sherwood repackages from Universal Remote Control, who sells it as a standalone product. It's a good-looking remote, with large, well-spaced buttons and a nifty central rocker control. It feels great in the hand. An LCD shows the current function of ten "soft" buttons. It's even backlit. But it's missing one critical thing: there are no dedicated buttons for input selection! The LCD page labeled Main shows the operating layers. To get to the input-selection buttons, you have to first hit Aud1. Many other frequently used operating functions are buried in subpages. I quickly grew tired of the whole affair and programmed my trusty Marantz RC-2000 Mk.II with the Sherwood's commands. This worked much better for me and my family.
A secondary remote is provided for Room 2 operation. This simple remote has buttons for Zone On/Off, Input selection, Volume, and Mute. To use this IR remote, you must purchase and install a Xantech multiroom IR repeater kit.
The front-panel fluorescent display is uninspiring, at best. The currently selected input (named as you prefer) appears in large characters, but everything else is indicated by tiny, sometimes confusing legends. I frequently had to get up and walk across the room to peer at the display just to determine which of the many possible surround modes I was listening to.
I know I'm beating a dead horse, but I just can't let it pass: the R-965's manual is a joke. This is a very complex product, with numerous parameters that must be set correctly for optimal performance. Beginning and ad-vanced users alike deserve logically organized, clearly written operating instructions, which they don't get here.
Curtain Time
The Sherwood Newcastle R-965 was one great-sounding receiver. My notebook is sprinkled with comments like: "Detailed but not harsh. Solid bass. Conveys sense of acoustic ambience. Instruments are rendered 3-dimensionally. No sense of strain . . . " I can't remember the last time I had this kind of reaction to a receiver, even one that lists for two grand.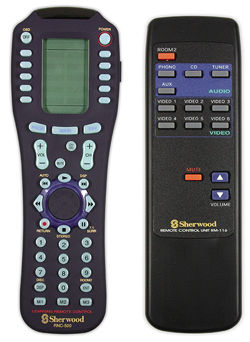 But before I played even a single note through the R-965, I was struck by how quiet it was. There's very little self-induced noise, even with the volume cranked.
In 2-channel mode, the R-965 reproduced all my favorite tracks with aplomb. Bernard Haitink and the Concertgebouw Orchestra's recording of Shostakovich's Symphony 15 (CD, London 417 581-2) has long been a touchstone. The first movement is an orchestral tour de force, with delicate flute and glockenspiel passages, stirring trumpet fanfares, soaring woodwind solos, and a variety of percussion, including snare drum, cymbals, and a truly massive bass drum. All of this is beautifully recorded, with instruments clearly positioned in space and enveloped by the glorious acoustic of the Amsterdam Concertgebouw, one of the world's great concert halls. Through lesser electronics, the sense of 3-dimensional space so wonderfully captured on this disc disappears, resulting in a flat, emotionally uninvolving presentation. But everything was right there with the Sherwood.
Moving to a completely different genre, I spent a great deal of time listening to the Nitty Gritty Dirt Band's Will the Circle Be Unbroken: Volume Two (Universal UVLD-12500). The subject of a recent PBS documentary, this groundbreaking 1989 recording was one of the first in decades to gather a group of musicians in a single room and have them actually play together with the tape rolling, rather than bring each performer separately into the studio to overdub a recording track by track. The result is a superb-sounding, musically joyous experience.
With John Prine singing "Grandpa Was a Carpenter" in the background, I switched back and forth between the coaxial digital and analog outputs of my Pioneer Elite DV-F07 DVD/CD jukebox. Even though it's a bit of a pain to use as a single-disc player, the Pioneer has been a fixture in my system for several years now. The reason is simple: I've yet to find a receiver or processor with D/A converters that sound better than the Pioneer's Legato Link DACs. I also experimented with the Sherwood's Re-Mastering function, which upconverts garden-variety, 16-bit/44.1kHz PCM audio to 24/192 resolution.
With Re-Mastering turned off, the Pioneer's Legato Link DACs sounded slightly smoother and cleaner than the Sherwood's in the high frequencies. But with Re-Mastering engaged, the Sherwood's high end seemed to snap into focus, becoming at least the equal of the Pioneer. I still haven't decided which I like better, but at this point I'm leaning toward the Sherwood.
Turning to multichannel soundtracks on DVD, the Sherwood struck just the right balance of power and finesse. Because I use full-range front speakers in a fairly small room, I don't feel the need for a subwoofer in my system. Although my big B&W 801 speakers present a fairly benign 8ohms load to the amp, they're more than happy to soak up as many watts as I care to throw at them. They also require an amp with good damping characteristics to control their big 12-inch woofers. This obviously places greater demands on a power amplifier than would a more typical home theater speaker system with small satellites and a powered sub.
Judging by the deep roar of the Saturn V rocket in Apollo 13, the manifold explosions and mayhem of Saving Private Ryan, and the submarine and minefield detonations in Finding Nemo, among others, the R-965 had what it took to handle the most demanding sound effects, even when driving full-range speakers. It also effortlessly reproduced subtler ambient effects and delivered clean, intelligible dialog. I have yet to feel the need to engage the Sherwood's Cinema EQ, though I'm glad to know it's there.
I watch a lot of regular TV programming on my system. Although some shows are recorded in matrixed Dolby Surround, many are still broadcast in stereo or even mono. Nevertheless, I still prefer to have the dialog coming out of the center speaker, so I usually leave the processor in its Dolby Pro Logic mode when watching TV. The Sherwood's Dolby Pro Logic IIx Movie mode worked great for this purpose, providing a noticeable improvement over plain ol' Pro Logic.
Last but not least, I have to admit that both the DTS Neo:6 Music and Dolby Pro Logic IIx Music modes work pretty darn well with many 2-channel music sources. These are certainly a huge improvement over the grotesque DSP modes still found on all too many products. (The R-965 has a dozen such DSP modes, but I won't tell if you won't.)
Conclusion
The Sherwood Newcastle R-965 is an attractive and well-thought-out piece with exceptional build quality. It features an enormously comprehensive and flexible suite of AV inputs and outputs, including my new "must have" feature, unified component-video output. Above all, it delivered excellent audio performance in 2-channel and multichannel modes. The one area that could stand some improvement is the user interface—but the same thing can be said of most of its competition.
Speaking of competition, the R-965 must duke it out for shelf space in a brutally competitive and rapidly changing market. Several 7.1-channel receivers with similar specifications and features are on the market, and all cost less than the Sherwood. Examples include the Denon AVR-3805 ($1199), Onkyo TX-NR901 ($1500), and Marantz SR7400 ($999).
I haven't had any hands-on experience with these specific receivers, so I can't say how they sound compared to the Sherwood. But the R-965 sets the bar pretty darn high. And I'd be surprised indeed if any less-expensive competitor even comes close to the Sherwood's superior build quality and elegant look and feel. If you own a high-performance luxury car like a BMW or Lexus (or would if you could), the R-965 has your name written all over it.
<!- ----------------------- Tech Center Ads ----------------------------->

SPONSORED TECH CENTER
<!- ---------------------336x280 ADS------------------------------->
<!- ---------------------FIXED AD------------------------------->
<!- ---------------------336x80 ADS------------------------------->
<!- --------------------Sponsored Link Ads-------------------------------->
<!- ------------------------Bottom Ads---------------------------->