Scanning High-Def: Live Free or Die Hard on Blu-ray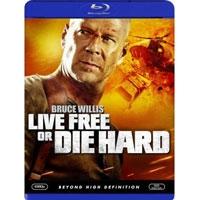 20th Century Fox
---
Movie •••½ Picture ••••½ Sound ••••• Extras •••
It's a major Oscar oversight that the sound on this movie didn't get an Academy Award nomination. I've rarely heard a mix of effects, dialogue, and music so well balanced - so solid yet transparent. There's a lot going on, and the surround channels are kept busy most of the time, but nothing ever gets murky, blurred, or distorted. Having DTS-HD Master Audio 5.1 on this Blu-ray Disc doesn't hurt the wonders of the film's original sound, but even the Dolby Digital 5.1 track is good, although it just doesn't have the same openness.
The AVC MPEG-4-encoded transfer is also superlative, providing lots of demonstration-quality scenes. Its excellent contrast creates steely blues and stable blacks, as well as shadow detail that's downright remarkable. Even in dark scenes, you can always tell exactly what's going on, and sharp images have great depth in both close-ups and long shots.
There is one fly in the ointment, however: This high-def release (also available as part of the Die Hard Blu-ray collection) is the PG-13 version of the film. For the R-rated Live Free, you'll have to get the standard-definition DVD. The main difference between the two is that the PG-13 version loses all of the expletives - which, for some of us, are what helps make John the rough 'n' raw hero we know and love. Yippie-ki-yay, Oedipal practitioner.
Either way, the movie is exciting and enjoyable. Sadly, the same isn't true of all the extras, but there's a very interesting 97-minute documentary called Analog Cop in a Digital World. You can watch it in one go or as individual segments on various facets of the production. The segment about combining digital work with live-action stunts is particularly fascinating. Beyond that, there's just a dull one-on-one between Kevin Smith and Bruce Willis (Yippie-Ki-Yay, Mother******), an excerpt from a Fox Movie Channel promotional show, and a music video by rock-rapper Guyz Nite, which consists of inane music partnered with 5 minutes of rapid-fire clips from the whole Die Hard franchise in chronological order. It's quite dreadful, and to add insult to injury, there's a featurette on the video's creation.
Only one extra is unique to the Blu-ray Disc - a game called Black Hat Intercept, in which you have to wind your way through myriad obstacles to kill a computer virus that is about to take over all systems. Although my Sony Blu-ray player has the latest firmware update, the game didn't play too well. In fact, I had difficulty navigating most of the disc - and often when I clicked on an icon to get a result, there was usually 5 or more seconds of totally black screen before that result appeared. But that's just my experience. Even if you also have these difficulties, the brilliant transfer of the film makes this disc worth buying. [PG-13] English, DTS-HD Master Audio 5.1 and Dolby Digital 5.1; French and Spanish, Dolby Digital 5.1; letterboxed (2.35:1) and anamorphic widescreen; dual layer.
more Entertainment reviews Back to Homepage What's New on S&V
<!- ----------------------- Tech Center Ads ----------------------------->

SPONSORED TECH CENTER
<!- ---------------------336x280 ADS------------------------------->
<!- ---------------------FIXED AD------------------------------->
<!- ---------------------336x80 ADS------------------------------->
<!- --------------------Sponsored Link Ads-------------------------------->
<!- ------------------------Bottom Ads---------------------------->