Samsung LN-T5265F LCD 1080p HDTV Page 2
If you compare the Movie mode directly to Dynamic or Standard it's easy to be taken in by the excessively bright and punchy image the latter two provide. I suspect that most buyers of this and similar sets are using one of these hyper-real modes, completely oblivious to the fact that they aren't seeing the best image the set can provide.
In fact, jumping to Movie mode after becoming acclimated to Dynamic or even Standard can be a shocking letdown. But give it time. It will take a while to appreciate the Movie mode's more natural, finely detailed, and relaxing image. It's much the same as readjusting the bass and treble controls on your audio system to their midpoints after realizing they're not there just so you can crank them up to 11 all the time.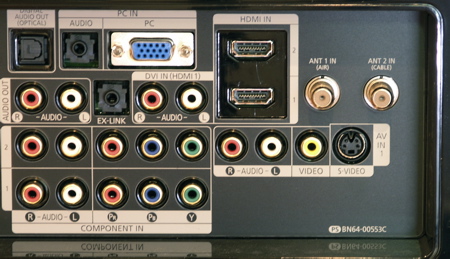 The settings in the Picture menu can be adjusted separately for each input. In addition to the usual Contrast, Brightness, Sharpness, Color, and Tint (the latter three are not available in PC mode), the usual flood of additional controls is here, some of them useful, others not.
The brightness of the cold cathode fluorescent backlight that's a fixture with all LCD displays (though we expect to see them gradually replaced by LEDs) is controlled by, oddly enough, the Back light control. Unlike the Brightness and Contrast controls, the Back light control raises or lowers the brightness of the image across the entire brightness range simultaneously. And at lower settings—which actually provide the best picture, it reduces energy consumption. I found that a setting of 3 out of 10 for movies and 4-5 for news and sports was plenty bright enough for anywhere but a brightly lit room.
Color Tone is a five-step color temperature adjustment. Out of the box, Warm2 was the closest to accurate, but with the right test tools the White Balance control (found under the Detailed Settings option in the Picture control menu) can bring the set very close to the desired D6500 white point across the full brightness range (see "Measurements"). The White Balance control provides separate red, green, and blue adjustments for both ends of the brightness range, and, like the other Picture controls, they can be set separately for each input.
There are a maximum of six aspect ratio options available under the Size control (not all are available at all input resolutions). They may also be selected using the P.Size button on the remote. The only ones you should ever need to use are 16:9, Zoom1, 4:3, and Just Scan (the others produce varying degrees of creative geometric distortion). Just Scan minimizes overscan and maximizes resolution. It's available only with 720p, 1080i, and 1080p inputs in HDMI, and 720p and 1080i inputs in component.
Zoom1 is the option you'll want to use for 4:3 letterbox (non-anamorphic) DVDs. No other aspect ratio option will display this type of source with a properly proportioned image (neither stretched nor squeezed like a fun-house mirror). But Zoom1 will fill the screen from left to right with a properly proportioned image only with 480i and 480p sources. So if you want to play back one of the increasingly rare, older non-enhanced DVDs (or a standard definition letterboxed television broadcast), you'll want to switch the aspect ratio to Zoom1 and the output resolution of the source to either 480i or 480p for component or 480p for HDMI (the Samsung's HDMI inputs will not accept a 480i source).

Active Color is one of those controls best left off. And since it's available only in Dynamic mode, I found it easy to avoid. DNIe, similarly, is a conglomeration of "enhancements"—noise reduction, detail, contrast, and white level—that are best avoided. It's only recently that Samsung has made it possible to leave this feature off (it used to be non-defeatable in all modes). In any case, DNIe is not selectable in Movie mode either, so I didn't use it.
A single, moderately effective Digital Noise Reduction control offers five positions including Off and Auto.
In addition to the While Balance adjustments mentioned earlier, the Detailed Settings, a submenu of the Picture menu, includes seven other controls. Black Adjust produces a darker picture by crushing the blacks; I left it Off. Dynamic Contrast provides four settings (including Off) said to provide optimal contrast. I'll have more to say about this unfortunately named control (it should not be confused with the Dynamic picture mode) a bit further on. The Gamma control should produce a Gamma of 2.2 (an optimum value) in the zero setting, but my measurements showed it to be under 1.9. I generally found that a Gamma setting of either zero or -1 worked best for me, depending on the program material.
The Color Space control offers a choice between Auto and Wide. According to Samsung, Auto is the most accurate, a point confirmed in the "Measurements" section. The My Color Control option increases or decreases the saturation of pink, green, blue, and white. I left these controls centered; if used randomly they're almost certain to degrade a properly calibrated image.
The two position (On/Off) Edge Enhancement control sounds like an invitation to trouble, but when used with low settings of the Sharpness control I actually found that it provided a small but visible benefit without introducing the white "enhancement" lines or haloes normally characteristic of this sort of image processing. For more on the effect of this control, see "Measurements."
The LN-T5265F is set is said to be compatible with the new xvYCC color space (also sometimes referred to as x.v.Color), and an xvYCC control is provided to turn it On or Off. The description of this feature in the owner's manual makes it sound like something you should use all the time for better color. But unless the source material also conforms to the xvYCC color space, using it for playback of current source material will produce inaccurate color. There are, at present, no consumer sources available that are produced in this color space, and apart from perhaps a few video games produced for a Blu-ray or HD DVD gaming machine, there aren't likely to be any in the foreseeable future. Leave this control Off.
There are a number of other features in the LN-T5265F that don't relate to picture quality, including the usual Parental Lockout, Anynet+ (which enables control of other Samsung devices connected through the HDMI CEC links), and even a fitting to attach an anti-theft Kensington Lock—the kind we all use (sure we do) to secure our laptop computers to the nearest immovable object.
The onboard audio is also surprisingly decent—at least for non-critical use. And there are as many gee-whiz adjustments for the audio as there are for the video. But in my sample the sound occasionally triggered a nasty buzz in the cabinet—a loose screw, perhaps.
Enough already. My computer bit-rate meter is reminding me it's time to move on to the really important stuff. Namely, how the Samsung performs as a video display.
Screening
In nearly every respect that counts, the Samsung was a pleasure to watch. I liked what it did right and wasn't overly troubled by its few visible faults. It was easy to get involved in a good movie or television broadcast without being distracted by odd color shifts, poor black levels, or video processing artifacts- all of which have plagued past LCD designs.
<!- ----------------------- Tech Center Ads ----------------------------->

SPONSORED TECH CENTER
<!- ---------------------336x280 ADS------------------------------->
<!- ---------------------FIXED AD------------------------------->
<!- ---------------------336x80 ADS------------------------------->
<!- --------------------Sponsored Link Ads-------------------------------->
<!- ------------------------Bottom Ads---------------------------->