Runco Reflection VX-101c Front-Projection System Page 2
You can, eventually, get everything set up correctly. Once you do, however, you'll be hit with yet another, hopefully avoidable ergonomic hurdle. The piece of paper that you pushed aside when you took the projector out of the box offers "quick" instructions for setting contrast and brightness. Adjusting these controls, particularly contrast, is trickier than with CRT projectors. DLPs don't bloom and therefore don't burn up, but push the contrast too far and you can clip the brighter portion of the image. This means that light-gray or colored images will be as bright as, and indistinguishable from, white images. Since both the projector and processor have adjustments, it's important that you set one relative to the other. Runco makes a decent attempt at explaining this, but their suggestion requires subtraction and fractional multiplication—an insane task for even the average installer. I've met few who carry a calculator in their tool kit. I'd recommend that you set the processor at a midpoint and then accurately adjust the projector's setting using test signals from Ovation's Avia test disc. The disc's "white PLUGE" signals easily determine the cutoff point for DLP and LCD projectors. This way, you can use the processor to make changes if a particular program's level is, for whatever reason, too low or high.
Other controls are easier to adjust and create great rewards. For example, the controller's color decoder is reasonably accurate, allowing for maximum adjustment of color and tint. This results in a vivid picture with saturated colors. While tests show colors to be slightly less saturated than with other systems, you would be hard-pressed to notice. The red Rangers' uniforms from the DVD Mystery, Alaska snapped off the screen just as they would at your local hockey rink.

Black levels are also good. DC restoration, for example, keeps dark images consistent, regardless of what the rest of the picture does. Even absolute black levels are good. A display's ability to create darker blacks adds to the image's contrast, snap, and depth. Nothing produces a deep, dark black level like a good CRT projector. DLPs have typically had a more dark-gray "black" level. The VX-101c, however, never made me want for more. Then again, our sample clocked 26 foot-lamberts on a 6-foot-wide screen. This is extremely bright for a front projector. One way DLPs overcome lighter darks is to make brighter whites. Since people are much more sensitive to contrast—the difference between light and dark—than to the absolute level of black, a bright DLP can look great, and the VX-101c does.
A certain part of the image's snap may come from the improved gamma curve, or relative intensity (not color) in the gray scale. DLPs designed for the computer market typically have a linear gray scale that is inappropriate for video. Images on such a projector tend to look polarized or appear to have too much contrast. Runco, however, has readjusted this projector's gamma through the controller so that images fade from black to white with a more natural and accurate gradation.
The actual color of the gray scale, which adds an overall tint to the image (see measurements), tracks as slightly blue, but it's reasonably close to the industry standard. I would like to see better, but this is a limitation of the color of the DLP's light bulb and is comparable with other projectors in this class.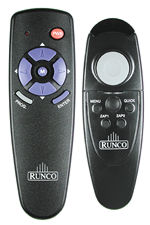 The processor does contribute, however, to the picture's detailed image. The 3:2 film recognition helps create a picture free of motion artifacts. With the exception of the comb filter, which allows some dot crawl to creep through, the processor is comparable to, and in some ways better than, any other scaler or line doubler on the market. If you stick to S-video and component signals, you will have no need for a different processor.
The biggest surprise, though, comes from direct comparisons with other LCD and DLP projectors. The Runco DLP, with its seemingly low panel resolution, looks equally as detailed (if not more so) and has significantly better contrast than its immediate competition. The processor does an excellent job of scaling the image to fit the display and, although the DLP may not meet the 480p limit of upconverted NTSC signals, you'd be hard-pressed to notice the difference. In total darkness, the projector looked great. Pictures from various films snapped off the screen.
Given the hurdles they had to overcome, Runco has done an excellent job of creating two symbiotic products that make the most of each other to give you a great picture. You may pay a few bucks more for this combination, but you end up with the best-looking DLP projector I've run across. While the jury is still out on the VX-101c's DTV capabilities, the additional aspect-ratio control for NTSC sources is extremely beneficial. If you're planning a home theater and are looking for a low-maintenance projector that offers an excellent picture, you should definitely consider this system.
Highlights
• Aspect-ratio control for 1.78 screens
• Excellent deinterlacing and scaling
<!- ----------------------- Tech Center Ads ----------------------------->

SPONSORED TECH CENTER
<!- ---------------------336x280 ADS------------------------------->
<!- ---------------------FIXED AD------------------------------->
<!- ---------------------336x80 ADS------------------------------->
<!- --------------------Sponsored Link Ads-------------------------------->
<!- ------------------------Bottom Ads---------------------------->