Rocket Loudspeakers by Onix RS750, RSC200, RS250, and RSS300 Loudspeakers Page 2
After a few weeks' break-in, I tried an experiment, alternately using the RS250 monopoles and RSS300 dipoles for the rear surround channels. I've always been bothered by the phasiness of dipolar surrounds. I recognize that in many rooms dipolars are the only way to get the rear speakers to disappear into the soundfield, but they do so by confusing our perception system with out-of-phase pairs of drivers. This solution was an easy compromise in the ancient analog world of Dolby Pro Logic, but became much less necessary after discrete digital formats were introduced by Dolby and DTS. These newer surround modes seem to lose some of their immediacy and precision through dipolar rear speakers.
A lengthy listening session spent switching between the monopole and dipole surrounds confirmed my previous conclusion: In a larger room, for both surround music and movie soundtracks, I would much rather have two pairs of monopole speakers than one pair of dipoles. With monopoles, the soundfield is both more involving and immersive, yet sounds that are supposed to originate in a particular point in space do exactly that—which can be unnerving at times.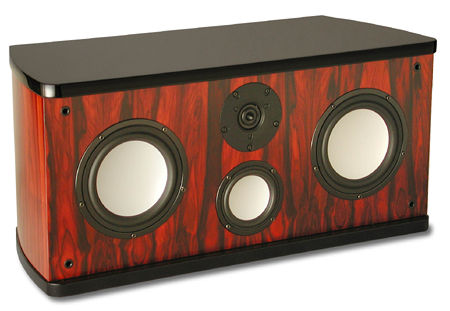 As much as I usually hate hearing musicians in the rear speakers when listening to surround music—I'd rather the sides and rears contained only ambient reverberation, plus crowd noise in live performances—they came across more convincingly through the direct radiators; the dipoles fuzzed up their sound too much. There are few music groups that I can imagine wanting to be in the midst of during a performance, but sitting among the amazing musicians Béla Fleck invited to hisBluegrass Sessions (DVD-Audio, Warner Bros. 9 47332-9) was almost a fantasy, it sounded so invitingly good.
In today's world of DVD-Audio and SACD, the only way I can comfortably use and recommend dipolar speakers is to those who have smaller, rectangular rooms and/or limited budgets. The Rocket RSS300 doesnot include Vifa's ring-radiator tweeter; it has 1", aluminum dome tweeters with a silk suspension. The RSS300 is not a full dipole—it throws only one tweeter out of phase—but it would sure be nice if there was a switch to bring that tweeter in phase with the other drivers for bipole operation.
Stage III: Blast Off Vifa's ring-radiator tweeter is quickly becoming the favorite of independent speaker designers everywhere. Its distinctive bullet-shaped cone surrounded by a rippled ring reminds me of the old Allison "nipple" tweeter. The Vifa model uses two voice-coils to drive the bullet and the ring simultaneously, resulting in above-average power handling and an open, airy sound. Music's complex harmonic textures are dispersed over a wide listening window, and transient attacks are dazzling.
The Vifa tweeter is crossed over to the woofers using what Rocket calls avariable-slope network, which in most cases describes a crossover that operates as a first-order for the first octave outside the passband, for what is arguably the smoothest integration of the shared frequencies, then shifts gear to a second-order crossover below this first octave so that fewer damaging low frequencies are sent to the weaker voice-coils of the tweeter. Rocket was not forthcoming about the specifics of this crossover, but from the transparent sonic results, I'd say they got it right.
The four-woofer system in the RS750 is a novel approach to a vexing problem. In all two-way speakers, the range on both sides of the crossover point is shared by the tweeter and woofer; the designer must either lower the crossover frequency to give the tweeter more of these crucial but higher-energy sounds, thus lowering the speaker's power-handling capability—or use a lower-mass woofer, which usually reduces the amount of deep bass the speaker can reproduce.
Rocket's solution is to use multiple low-mass woofers in an arrangement that engages more of them as the frequency descends. Only the topmost woofer handles those important midrange sounds; as the sounds go deeper, additional cone area is added to handle the wave creation—when all four woofers are firing simultaneously, they have the same cone area as one 11.5-inch woofer.
A great test for this can be found on a recent DTS demo disc—always the best catch for journalists at each year's Consumer Electronics Show. The first track is Insane Clown Posse's "Ain't Yo Bidness," a rambling gathering of spite. The song begins with a growling mumble of a voice juxtaposed against a clearer singer; underneath is a driving bass line that is doubled by a low-frequency synthesizer. When I stuck my face right in front of the speaker, the voices were clearly created by the top woofer blending with the tweeter, while those amazingly deep lows were delivered by the entire set of four woofers with incredible results. From the normal listening position, this delineation of drivers was not evident; the sound was well integrated from top to bottom.
The RS750's four-woofer system plays down to a reported 38Hz, which many inexpensive subwoofers can't reach. In every room I tried the speakers, this was enough to please all but the most bass-hungry. Only with a few movies—especially my favorite Hollywood explosion, the gasoline tanker on the Niagara Bridge near the end of The Long Kiss Goodnight—did I ever find myself wanting more low end.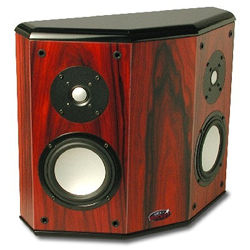 The RS750 will play all the bass most folks need; if your budget is tight, I'd spend more on the center channel and surrounds and wait for the Rocket sub. The RS750 constantly surprised me with the depth and accuracy of its reproduction of music with heavy bass content; I didn't miss that last octave of bass.
Stage IV: We Are In Orbit The Rocket system took me to another level, though I never felt short of oxygen. Through dozens of movies and hundreds of music CDs, they never failed to do what we expect from accurate speakers—they simply "disappeared," letting the performances flow through them with the least intrusion. On many occasions, even when simply listening to National Public Radio news, I was taken aback by their clear, balanced, lifelike sound. I have not critically listened to a speaker system in my studio that was more able to make me forget my surroundings.
The Rockets are some of the most civilized and honest speakers I've heard. On every level—from appearance to build quality to long-term enjoyment—they delivered more than I expected for their very affordable price. Nor did they deliver anything that was annoying, or that distracted from the performance. All of their parts, down to the speaker binding posts, are of substantial quality. The sum, within the balancing act necessary in designing any speaker system to appeal to those with a limited amount of money, is an incredible and enjoyable value. Were these speakers sold at retail, there's a good chance they'd cost at least twice as much.
Mark Schifter and his gang at AV123 have taught us how to surf the monster wave from China. Grab onto a Rocket or two and let them do the work. You won't be disappointed. I'm very sorry to see the Rockets go—they've been wonderful.
Highs and Lows
Highs
• High value for money
• Impressive subjective performance
• Three-way center channel design–rare at this price
• Easy load to drive
Lows
• Measured performance not up to the results of the listening tests
<!- ----------------------- Tech Center Ads ----------------------------->

SPONSORED TECH CENTER
<!- ---------------------336x280 ADS------------------------------->
<!- ---------------------FIXED AD------------------------------->
<!- ---------------------336x80 ADS------------------------------->
<!- --------------------Sponsored Link Ads-------------------------------->
<!- ------------------------Bottom Ads---------------------------->