Review: Definitive Technology Bipolar SuperTower Speaker System Page 5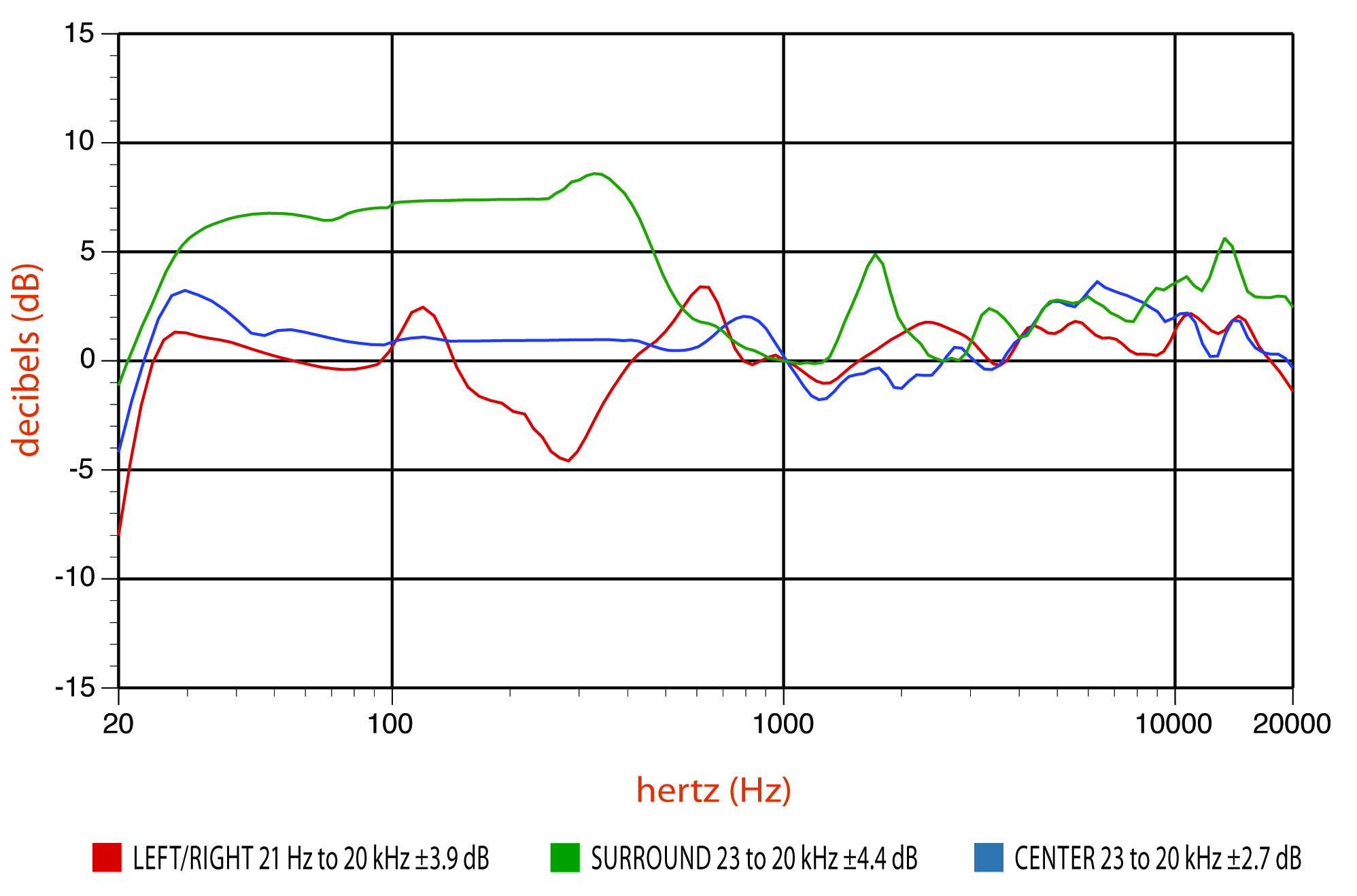 Extended Test Bench
Frequency response (at 2 meters)
• left/right 21 Hz to 20 kHz ±3.9 dB
• center 23 to 20 kHz ±2.7 dB
• surround 23 to 20 kHz ±4.4 dB
Sensitivity (SPL at 1 meter with 2.8 volts of pink-noise input)
• left/right 92 dB
• center 92 dB
• surround 87 dB
Impedance (minimum/nominal)
• left/right 3.5/6 ohms
• center 3.9/7 ohms
• surround 3.2/7 ohms
Bass output, tower (CEA-2010 standard)
• Ultra-low bass (20-31.5 Hz): 103.6 dB
• Low bass (40-63 Hz): 110.5 dB
Bass limits
• center 40 Hz at 84 dB
• surround 50 Hz at 82 dB
Measuring multidirectional loudspeakers like the BP-8060ST bipolar tower is always challenging because our typical measurements don't take rear radiation into account. Fortunately, the BP-8060ST measures well regardless.
Measurements of all speakers were made at 2 meters, enough distance to ensure that full effects of cabinet diffraction and front-panel reflections were included. The fabric grilles were left in place. The BP-8060ST was measured standing on the ground, the way it will always be used, with an on-axis measurement taken at 10 feet to capture the effect of floor bounce. The CS-8060HD center speaker was placed on a 6-foot stand, which gave quasi-anechoic results down to 220 Hz. The SR-8080BP surround speaker was mounted to a large piece of plywood to simulate wall-mounting. The curves you see in the graph for the tower and center speakers show an averaged response from 0° to 30°, smoothed to 1/12th of an octave. For the surround speaker, curves from 0° to 60° were included in the average. All woofers, ports, and passive radiators were close-miked, scaled, and summed as appropriate, then their combined responses were spliced to the averaged quasi-anechoic responses to produce the curves you see here. All responses are normalized to 0 dB at 1 kHz.
The measurements of the BP-8060ST tower speaker are actually better than it would appear from the chart. Our measurement technique takes into account floor bounce, the cancellation effect that occurs when sound bouncing from the floor combines with direct sound. (Floor-bounce effects change with the listening distance. I recently altered the technique to capture floor bounce at a reasonable listening distance of 10 feet; our past measurements portrayed the floor bounce at a listening distance of 2 meters.) Anyway, the floor bounce causes a big dip centered at 280 Hz with a corresponding peak at 620 Hz. Take this floor bounce out of the measurement (as most manufacturers do) and you get a staggeringly excellent measurement of ±1.6 dB. Off-axis response looks very good. At 45°, it's actually flatter than the on-axis response, except for a very narrow peak at 14 kHz.
The CS-8060HD is a well-engineered MTM (midwoofer/tweeter/midwoofer) center speaker, with essentially flat on-axis response and excellent averaged response across a ±30° listening window. As expected, interference between the midwoofers starts at about 30° off-axis, where a 7-dB dip appears between 1 and 4 kHz. At 45°, the dip moves down in frequency, occurring between 600 Hz and 2 kHz.
Bipolar surround speakers like the SR-8080BP rarely measure all that well because they're designed to spray sound almost randomly all around a room. But the SR-8080BP works well for a speaker in its class. Response is ragged at all angles, as expected, but the curves average out to a fairly flat ±4.4 dB.
Anechoic sensitivity (averaged output at 1 meter from 200 Hz to 10 kHz) varies from decent to great, with the surround coming in at 87 dB (pretty good for a bipolar surround speaker), and the tower and the center at 92 dB (or 92.4 dB, to be precise, slightly better than DefTech's 92-dB spec). Impedance curves are fairly mild. The tower drops to 3.5 ohms at 326 Hz and averages about 6 ohms, with a maximum phase shift of -25° at 4.9 kHz. The center drops to 3.9 ohms at 326 Hz with nominal impedance of 7 ohms and max phase shift of -31° at 200 Hz. The surround hits 3.2 ohms at 264 Hz and averages about 7 ohms, with max phase shift of -36° at 174 Hz. All in all, nothing here that any garden-variety receiver can't drive, especially considering that the tower and center speakers' internal amps will be handling the bass.
The subwoofer section of the BP-8060ST is fairly kicking given the speaker's compact size. Low bass output (40-63 Hz) averages 110.5 dB and ultra-low bass (20-31.5 Hz) output averages just 103.6 dB — numbers that put some midsize subwoofers to shame. It's not distortion that limits the useful output in this case but either mechanical noise from the woofer cone or the amplifier's internal limiter stepping in to protect the driver.
While the low-level frequency-response measurements indicate response down into the low 20-Hz region for both the center and surround speakers, the bass response at those low frequencies is distorted and unusable. Actual usable response extends down to 40 Hz at 84 dB for the center speaker and 50 Hz at 82 dB for the surround. Which is plenty for center and surround speakers. —Brent Butterworth
<!- ----------------------- Tech Center Ads ----------------------------->

SPONSORED TECH CENTER
<!- ---------------------336x280 ADS------------------------------->
<!- ---------------------FIXED AD------------------------------->
<!- ---------------------336x80 ADS------------------------------->
<!- --------------------Sponsored Link Ads-------------------------------->
<!- ------------------------Bottom Ads---------------------------->