ReQuest F2 Media Server System Page 3
This is where we ran into some difficulty. Even though the F2's IP address was established, the IMC wouldn't recognize it. The F2 seemed to lose its network connection a couple of times as well. I changed the Ethernet cable to the F2, and that seemed to solve the problem. It's been stable ever since. Once the F2 recognized the IMC, we successfully input the IP address. Hansen was uncertain why it took so long, so I can only surmise that it's usually easier to connect to an existing network.
This underscores the beauty of using a qualified ReQuest installer. Troubleshooting is their headache, not yours. They can also log on to your F2 from the Web using its IP address to remotely correct any software issues you might have.
Once the F2 and IMC are properly configured on the network, you don't need any additional wiring between the two units. The IMC's HDMI output directly connects to your A/V receiver or surround processor. Since audio from the F2 streams via Ethernet to the IMC, you only need a single HDMI cable to connect the ReQuest system to your home theater system. However, the system includes other connection options for flexibility.

You'll need to use a Web browser on your computer (or an optional ReQuest display device) to set up the F2's music library and playlists. However, once it's configured, you can access all of the audio, video, and photo files stored on the F2 via the IMC's menu on your main video display.
Operation
By default, the F2 encodes and stores the tracks from CDs in uncompressed WAV files and creates an extra MP3 320-kbps compressed audio file. But you can change this aspect of the ReQuest system's operation via Web browser if you don't need the compressed copies. When it archives DVDs, the F2 preserves the image bit for bit.
Except for analog zones, you can control the F2 with one of ReQuest's touchscreen displays or via Web browser on a networked computer. The F2 comes with a separate remote control, which you only use during setup. There's no IR control for any of the F2's functions.
To select music, there are several ways to find a specific song. You can browse by artist, album, song, genre, or playlist. You can also bring up a list of music and scroll through it or touch one of the A–Z buttons at the bottom of the screen to jump into the directory listing. It also has a search option that reveals a virtual keyboard. When you find the song you want, just drag and drop it into the Now Playing queue. The Now Playing screen shows the cover art and song title, as well as the next song in the queue. You can also make playlists. Once you've configured all of your music listening choices, you can access them from the IMC's menu. You can drop songs into the Now Playing queue, add to existing playlists, or create new playlists from the IMC menu by pressing Play on the remote for more options.
The IMC runs quietly, but the F2's loud, constantly on fan makes this a rather noisy system. You should install the F2 where it won't increase your listening room's noise floor. You don't have the option to turn it off when it's not in use. There's no standby mode, and when you restart the units, they have to boot up just like computers. This means they have to reconfigure themselves, which includes reconnecting to the network. It's critical that your network is reliable and stable if you plan to turn the units on and off. With that said, the F2 has to be on when you plan to access it remotely. If you're looking for the most energy-efficient system, this probably isn't it.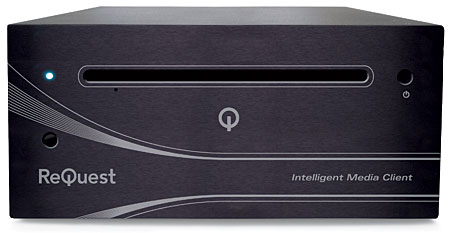 I found the audio's quality to be good, and since the F2 archives CDs as uncompressed WAV files, there's no discernible difference between the stored file and the hard media. The video playback, with 1080p upconversion, was quite good. Even with upconversion, the streaming video's quality can be mixed depending on the original source and the speed of your Internet connection.
Version 2 of ReQuest's NetSync for iTunes software, which rolled out too late to be tested for this review, is said to allow users to sync existing songs, playlists, and metadata to and from an existing iTunes library and the ReQuest server.
While it's easy to control the ReQuest system via Web browser, it isn't the most integrated or simple design. For complete control, programming, and archiving, you'll have to bounce back and forth between three different devices (computer, IMC, and F2). It's much simpler to use the system with the TS.15 since you can use it to set up your music playlists and Now Playing queue instead of a computer. Regardless, it's still an additional device. However, you can still access your music library on the IMC and choose individual songs by artist, song, album, and genre.
Conclusion
One of the ReQuest system's most desirable features is its ability to access your music library from any computer, anywhere in the world. No matter where you are, you can access your music library without having to duplicate your files and store them on multiple devices. The ReQuest system's operation isn't as streamlined as other media server systems such as Qsonix or Meridian Sooloos. But it's important to note that these systems don't currently support video, which adds an extra layer of complexity. ReQuest is at the forefront of current trends, and I suspect that the company will continue to refine its systems to keep them current. The overall complexity of using and controlling this system precludes an unqualified recommendation. Still, the ReQuest F2 Media Server system is comparable in price to other standalone systems, and it offers some compelling features.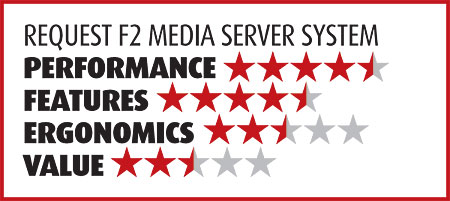 <!- ----------------------- Tech Center Ads ----------------------------->
<!- ---------------------336x280 ADS------------------------------->
<!- ---------------------FIXED AD------------------------------->
<!- ---------------------336x80 ADS------------------------------->
<!- --------------------Sponsored Link Ads-------------------------------->
<!- ------------------------Bottom Ads---------------------------->