Public Enemies (Blu-ray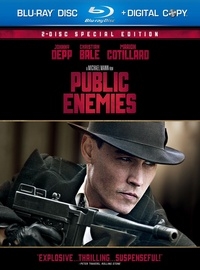 John Dillinger (Johnny Depp) is one of the most infamous gangsters in American history. The charismatic bank robber and his gang robbed countless banks during the Great Depression and he became a folk hero to the downtrodden public who had no sympathy for the banks that had plunged the country into the economic abyss. J. Edgar Hoover (Billy Crudup) proclaimed Dillinger Public Enemy Number One and sent his best agent, Melvin Purvis (Christian Bale), to bring him down.
I can't think of a Michael Mann film I haven't enjoyed, and Public Enemies blasted out of the gates with an excellent first act but fell apart in the second with disappointing and emotionally flat character development. Depp's portrayal of the legendary gangster is adequate, but it's nowhere near as memorable as his Burton roles or as dynamic as Captain Jack Sparrow. Furthermore, the feds aren't very likable, but maybe that was intentional considering Hoover's eventual abuse of power. On the plus side, the film is historically accurate, but when comparing the entertainment value versus The Untouchables, another film depicting a similar era, I'll take Elliot Ness and his band of lawmen over Bale's crew.
Public Enemies has one of the most spotless presentations I've seen on Blu-ray, unfortunately it looks nothing like film and more like a sterile video transfer. That being said, black levels are deep and inky, colors well saturated, and flesh tones accurate. Detail is strong in both foregrounds and backgrounds, but some strong application of edge enhancement makes bright scenes painful to watch with prevalent ringing around objects.
While the DTS-HD MA 5.1 soundtrack has its moments it disappoints on many levels. Dialog reproduction is sporadic, especially when Depp or Bale mumbles their lines, necessitating a higher volume level that I'm accustomed to. Then when dynamic sequences kick-in, such as the numerous gun fights, it becomes too loud for all but the hearing impaired. Moreover, some of the gunshots don't sound right, specifically pistols, which can sound like cap guns compared to the blasts from the Tommy Guns.
There are a barrage of supplements on the disc including a director's commentary, numerous behind-the-scene featurettes, some historical pieces, and some interactive features. These include Universal's U-Control with a PIP track and interactive timeline. Profile 2.0 players can access the BD-Live center for a chat feature, user commentaries, scene sharing, and a "Gangster Movie Challenge."
I had very high expectations when I sat down to watch Public Enemies but I was disappointed in both the movie and the presentation. I enjoyed the historical perspective of the production, but the delivery left a lot to be desired. Give it a rent.
Release Date: December 8, 2009
Studio: Universal
Movie: 6/10
Picture: 8/10
Sound: 6/10

Review System
Source
Oppo BDP-83 Blu-ray player

Display
JVC DLA-RS1 projector
Stewart FireHawk screen (76.5" wide, 16:9)
Electronics
Onkyo Pro PR-SC885 pre/pro
Anthem PVA-7 power amplifier
Belkin PF60 power conditioner
Speakers
M&K S-150s (L, C, R)
M&K SS-150s (LS, RS, SBL, SBR)
SVS PC-Ultra subwoofer
Cables
Monoprice HDMI cables (source to pre/pro)
Best Deal analog-audio cables
PureLink HDC Fiber Optic HDMI Cable System (15 meters) from pre/pro to projector

Acoustical treatments from GIK Acoustics
<!- ----------------------- Tech Center Ads ----------------------------->

SPONSORED TECH CENTER
<!- ---------------------336x280 ADS------------------------------->
<!- ---------------------FIXED AD------------------------------->
<!- ---------------------336x80 ADS------------------------------->
<!- --------------------Sponsored Link Ads-------------------------------->
<!- ------------------------Bottom Ads---------------------------->