Pioneer SD-532HD5 Digital-Ready Rear-Projection Television Page 2
The result of all these settings and features is an excellent picture. I used test scenes from the Disney film A Bug's Life to judge picture quality and was quite happy with the results. For starters, the TV automatically finds the correct aspect ratio for the given source. With the picture composed properly, I found that the image had plenty of snap, or brightness; of course, as with any properly calibrated TV, the room lights should be dimmed. Colors also popped off the screen and contributed a sense of depth to the image without ever looking exaggerated. Although I can't say for certain what color a Disney bug is supposed to be, the images had both richness and nuance in their various shades.
I got similar results with high-definition images, as well. NBC's 1080i presentation of Chuck Henry's Travel Café was so clear and sharp that I was getting hungry just watching it. The soufflé desert and salmon entrées seemed to be an arm's reach away. You felt like you could grab the dish right out of Chuck's wrinkled fingers.
The only drawback I found came when I connected a progressive-scan DVD player. Actually, since I reviewed the TV before receiving Toshiba's progressive-scan player (see review in our February 2000 issue), I used the progressive component outputs of the DVDO line doubler. Since the doubler's output frequency is the same as a progressive DVD player, the results should be the same. Unfortunately, the TV automatically switches into 16:9 mode with this signal, which means that only DVDs "enhanced" for 16:9 (or recorded anamorphically) can be viewed with correct geometry. Any other image will appear stretched left to right. Rumor has it that Panasonic's forthcoming progressive DVD player will have internal aspect-ratio control, which would compensate for the situation. I also noted that the TV's internal doubler does as good a job as any other I've seen, although it could, in theory, benefit from something like the DVDO. But, as I mentioned, the DVDO won't work because it doesn't have aspect-ratio control. If money is no object, you could improve the picture with Faroudja's DVP-2200 scaler ($7,999).
Pioneer has made a bold commitment to their consumers by offering nothing but HD-ready displays. We thoroughly commend their position, especially when it means getting displays like the SD-532HD5. The set has plenty of inputs and features, has reasonable ergonomics, and is compatible with most new technologies. On top of that, it offers several picture adjustments that actually work, allowing you to get the best image possible, whether it be from high-definition broadcasts or black-and-white movies.
Highlights
• VGA and wideband component inputs allow you to use any HD tuner
• Gray-scale settings for both color and black-and-white images

HT Labs Measures: Pioneer SD-532HD5 TV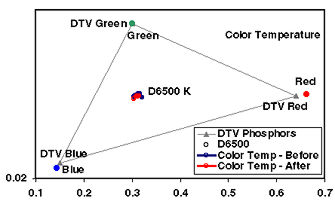 The above chart shows the gray scale (or color temperature) of the Pioneer HD-ready TV and the color points of the display's red, green, and blue tubes. The gray scale of the sample we reviewed measured close to the industry standard of D6500 K before we made any changes. Images are only slightly red toward the brighter end of the scale. After making adjustments using the Photo Research SR-650, the gray scale tracked even better. The SD-532HD5's color points are extremely accurate, comparable to those colors specified by SMPTE for HD displays. The light output was approximately 24 foot-lamberts. The display has good DC restoration and an accurate color decoder.—MW
<!- ----------------------- Tech Center Ads ----------------------------->

SPONSORED TECH CENTER
<!- ---------------------336x280 ADS------------------------------->
<!- ---------------------FIXED AD------------------------------->
<!- ---------------------336x80 ADS------------------------------->
<!- --------------------Sponsored Link Ads-------------------------------->
<!- ------------------------Bottom Ads---------------------------->