Pioneer EX Series Surround Speaker System Page 3
The S-W1EX is a good subwoofer, but for me is the least impressive part of the system. It's beautifully built, and never sounded strained, even when pushed to extremes by above titles enumerated above, or any others with challenging bass tracks. But the near subterranean bass I've heard on tracks like
Flight of the Phoenix
is lacking here. I used two of the subs for most of my listening and even the pair did not push the bass performance into territory occupied by such bass standouts as the Revel B15, Martin Logan Descent, and Aerial SW12.
While the S-2EXs work well as surrounds, if you have to substitute less expensive speakers to fill in the side or back channel duties in order to afford the system, the sacrifice will be barely evident—as long as you're primary goal is surround for films, not music. I also tried Mirage's new OMD-R surrounds ($2,000/pair), and didn't feel in the least deprived. The surround experience was just as compelling as with the S-2EXs. And if your room has a high enough ceiling to allow the surrounds to be mounted (as I prefer) several feet above your ears, which is impractical with the very heavy S-2EXs, it might sound even better.
Music
All of my music listening was done with the projection screen fully retracted to avoid unnecessary acoustic reflections from its surface.
Dynamic, slightly rich, and capable of creating a large, well-defined, and full-bodied soundstage without strain. Those were my first impressions of the S-1EXs used as a stereo pair on music with either one or two S-W1EX subwoofers. Not all that different from how the overall system sounded on 5.1-channel film sound, though of course with a less enveloping sense of space. And these impressions held up over months of listening.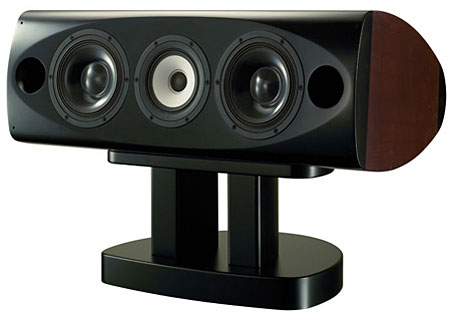 The sound was always essentially honest, while leaning somewhat to the forgiving side of neutral. On material I have found to sound well balanced on many other speakers the S-1EXs can sound just a little polite on the top end. But in compensation, they rarely sounded analytical or clinical, even on recordings that often sound too treble prominent and aggressive on other systems.
Don't take the above to be faint praise. If the material is lively and immediate, the Pioneers are as well. Brass and percussion come alive on good recordings, yet strings remain sweet and lush. Voices sound real and coloration is low. Centered images are locked in place. The soundstage is a little forward, which limits the depth resolution, but barely enough to deserve mention.
But on extended listening the Pioneer's slight lack of air on top, mid and upper bass warmth, plus an occasional tendency to turn edgy in the mid treble on some recordings (at high levels) did cause me some concern. On "Train Song" from The Best of Holly Cole, singer Holly Cole's voice sounded rich and full-bodied. The percussive sand block accompaniment, however, was a bit softer than on a number of other reference speakers I've auditioned. But on the plus side, the vocal sibilants, which often sound a bit splashy on this recording, profited from the Pioneer's less prominent top end. The bottom end on this recording sounded a little too full and wooly, but I've heard the same on more than a few speakers in my room.
On a completely different type of music, the subdued "Pie Jesu" from the Reuter Requiem on Reference Recordings sounded effortless, clean, and sweet. Again, I wished for a little more openness and air at the very top end here (which would also have enhanced the already respectable sense of depth), but not much else.
Why was the sense of air and space more evident on these Pioneers with film soundtracks rather than music? Primarily—I speculate—because of the added sense of space inherent in well-produced 5.1-channel surround. With two-channel music, the front speakers must do it all.
The Revel F52 was the last speaker I reviewed and was still on hand in the early stages of my review of the Pioneers. Comparing both speakers full range, without subwoofers, the Revels went noticeably deeper in the bass, with superior low frequency definition. They were also a little less forward in the midrange and more open and airy—though more clinical, dryer, and less forgiving, but not overbright—in the treble. The F52s also produced a deeper soundstage and never displayed that slight bite in the low treble that I occasionally heard on the Pioneers (more often on music than soundtracks). While neither speaker was reluctant to play very loud when required, the Pioneers could go a bit louder than the Revels, with greater ease, on highly dynamic material.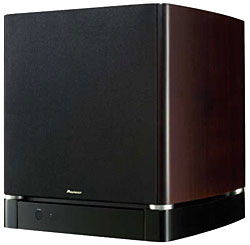 How important is the S-W1EX subwoofer on music? It made a significant difference. While it didn't appear to go that much deeper than the full range S-1EXs by themselves—though an additional 10Hz or so at the bottom end is a big deal—the bass was tighter and better defined with the sub. One sub provided a distinctly audible improvement and two subs, stacked, were even better. Two subs do not necessarily produce louder bass, but rather less is demanded of each one when the system levels are properly re-calibrated, thus lowering bass distortion.
There is no magic to the fact that the S-1EX worked better with subwoofer(s). It merely reflects the fact that the best imaging with a full range speaker is rarely found in the locations that also produce the best bass. When I used the subwoofers, I also rolled off the S-1EXs below 60Hz rather than allowing them to run full range.
The S-W1EX sounded awesome on every form of low frequency percussion I could throw at it, but couldn't quite reach into the deepest bottom end on organ pedal and the most aggressive film soundtracks. On at least one occasion it completely missed an organ fundamental that a number of other subs have reproduced clearly in my room. When I looked closely at the subwoofers their cones (active and passive) were pumping their little voice coils out, but the note just wasn't happening. I wandered around the room, trying to find a location where I could hear it just in case my listening seat had an unexpected null at that frequency, but it remained AWOL.
Even with two subs operating and the S-1EXs' bass rolled off the system's overall response remained a little rich through the mid and upper bass, but that is sometimes (but not always) characteristic of my room. The best bass here has always come by way of a little equalization on the subwoofer, whether via the passive parametric route, such as the three band filters in the Revel B15 sub, or electronic, as with the eq in the new Audyssey outboard equalization system. I tried the latter (currently under evaluation) on the Pioneer system and it cleaned up the bass and midbass significantly—the fullness was not just in the subwoofer region, but above the 60Hz crossover to the S-1EX speakers, as well.
Conclusions
I loved what the S-1EX (front), S-7EX (center), and S-2EX (surrounds) did with a wide variety of movie soundtracks. They were dynamic and punchy, but never etched or edgy. And the S-7EX center handled everything thrown at it with the same ease, including delivery of very natural-sounding dialog. The system is a definite candidate for the best film sound I've yet heard in my home theater.
The S-2EXs performed their surround duties without flaw, but I believe that, at least for films, two to four smaller (and less expensive) surrounds would be just as satisfying, and easier to position optimally, in a 5.1- or 7.1-channel system. And while the S-W1EX is a solid, well-engineered subwoofer, the rest of the system really deserves a sub that will dredge a bit deeper into the bottom end of the most challenging source material.
I enjoyed listening to the EX speakers on music as well, but more with respect than passion. I missed that extra bit of openness at the top end and clarity in the mid and upper bass that other speakers have produced in my room on two-channel material.
But it's also possible that my room is just not ideal for the S-1EXs' unique balance. I had the opportunity to hear them at HE2006 in Los Angeles last May in a much larger space—about twice the size of my home theater. The front-end electronics were from Bel Canto, and the setup was strictly two-channel, no sub. It was a significantly different experience there, and one that brings home once again the importance of the synergy (or lack of it) that can affect a loudspeaker and a room. Yes, the same basic sonic characteristics were in play. I heard the same slight warmth as at home, but it fit more comfortably into the overall sonic fabric. And yes, I still craved a little more air on top. But neither mattered all that much in this setup. The speakers produced the same sort of big, lustrous bubble of sound I heard from 5.1-channel soundtracks in my own room, absent only the sense of real space that only a true surround system can provide. It was a delight to hear.
All the more reason you must hear these speakers for yourself if you are shopping in this price range. Yes, you can approach their sound for less—that's true of any speaker system in this elevated price class. But if this is the speaker for you, it won't take a long audition to find out.
Highs and Lows
Highs
•Big, dynamic, immediate sound
•Front speakers integrate into a virtually seamless soundstage
•Solidly built and beautifully finished
Lows
•A little more air and openness on top would be welcome
•Can sound slightly too warm in the mid and upper bass
•Subwoofer performance is good, but the system could use a little more grunt at the extreme bottom end
<!- ----------------------- Tech Center Ads ----------------------------->

SPONSORED TECH CENTER
<!- ---------------------336x280 ADS------------------------------->
<!- ---------------------FIXED AD------------------------------->
<!- ---------------------336x80 ADS------------------------------->
<!- --------------------Sponsored Link Ads-------------------------------->
<!- ------------------------Bottom Ads---------------------------->