Pioneer Elite VSX-49TX A/V receiver Page 3
Switching to soundtracks, I watched and listened to
Harry Potter and the Sorcerer's Stone
. Aside from wishing I'd seen it as a 10-year-old, I found the receiver delivered the goods on every count. Dialogue was rendered cleanly and naturally, without the crispiness or metallic overlay receivers sometimes impart. The film is packed with front-to-rear and side-to-side panned surround effects that were presented smoothly and seamlessly.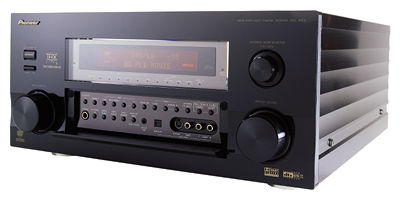 Grinding gears, I watched David Lynch's disturbing Mulholland Dr., glad that I hadn't read anyone else's analysis of the story—and glad that I wasn't watching in an empty house. Lynch's sound design and Angelo Badalamenti's twang-infested music track were definitely done justice by the Pioneer's bass performance, transient speed, and clarity.
The sonic performance delivered by the VSX-49TX was perhaps the finest I've heard from a receiver. I say "perhaps" because I no longer had all of those previous receivers on hand for a direct comparison on my current system. But I can say that I haven't heard a receiver that sounded better than the Pioneer.
Extras
Like other premium receivers, the VSX-49TX includes Dolby Pro Logic II and DTS Neo:6 movie and music modes. The Pro Logic II and Neo:6 modes have been covered in other reviews and don't differ in their basic performance in the VSX-49TX. They convert 2-channel or conventional Dolby Surround sources into a simulation of discrete multichannel surround sound with discrete surround-like separation and steering.
The receiver also has two proprietary Pioneer modes: SX (Studio Extension) and TX (Technical Extension), both of which add information derived from the existing two surround channels to the rear-channel speakers (if any) to create 7.1-channel sound. The differences between SX and TX aren't clearly explained in the manual, but apparently TX is better for movies and is the default mode for 6.1-channel sources.
The VSX-49TX includes the now-familiar THX features of Re-Equalization, Timbre Matching, and Adaptive Decorrelation, which deal with overly bright soundtracks mixed for large theaters, matching sounds from in front and behind and delocalizing mono surround tracks from the old days of Dolby Surround (which had a matrixed mono surround track). In addition is THX's Ultra2 package, with Advanced Speaker Array (ASA), to deal with the two rear speakers you add to get THX Surround EX.
There are three ASA options: THX Ultra2 Cinema mode, THX MusicMode, and Boundary Gain Compensation. The first two blend the 5.1-channel surround signals across the four surround speakers, for movies and for music, respectively. Boundary Gain Compensation, designed to work only with THX Ultra2-spec'd subwoofers, compensates for the excess bass that can be generated by poorly positioned woofers, or by a listening seat too close to a wall. BGC's effects are unpredictable with non-THX Ultra2 subwoofers, so while you should select "Yes" in the setup menu if your woofer is so certified, you should experiment with the feature when using non-Ultra2 subs. The RBH woofer currently in my system has not been sprinkled with Jar Jar Binks dust, so I left this feature off.
Enough with the THX enhancements already, don't you think? Fortunately, Pioneer's OSD software, easy-to-use remote, and great instructions make accessing and selecting all of these features easy.
The Elite VSX-49TX is a receiver, so there's also an extremely flexible AM/FM multiplex tuner with 30 station pre-sets, manual and autoscan, and direct-access tuning—just punch in the numbers of the station you want to hear. In terms of sound, sensitivity, and ergonomics, the tuner section was in keeping with the high quality of the rest of the receiver.
The 110-page manual is packed with even more features, and DSP surround enhancements for movies (Action, Sci-Fi, Drama, Musical, etc.) and music (Classical, Chamber, Jazz, Rock, etc.). Other options let you tailor the receiver's performance to your liking, and, of course, there's a multiroom function. Despite all that, the VSX-49TX never seemed overloaded or unwieldy. Everything was close at hand, at the touch of a button or two.
Conclusions
I've reviewed many fine receivers in the past few years, and most would satisfy my home-theater needs, but Pioneer's Elite VSX-49TX was easily my favorite, sonically and ergonomically. It's a handsome design, worked flawlessly, was easy to set up and use, and never confused me—even after I hadn't used it for a week. I knew it could be done, and Pioneer has done it.
The VSX-49TX produced the richest, biggest sonic picture I've heard in my listening room. Even in 2-channel mode, the sound never hovered on the speaker surfaces, but instead floated effortlessly across the front soundstage, presenting music the way a good high-end audio system does. Multichannel music was presented with even greater authority, size, and weight. Add the outstanding remote—the first LCD device to accompany a receiver that I can enthusiastically recommend—an easy-to-use OSD, the best receiver manual yet, and the unit's good looks, and you have one of the best, if not the best, A/V receiver on the market today. Expensive, but easily worth the money.
<!- ----------------------- Tech Center Ads ----------------------------->

SPONSORED TECH CENTER
<!- ---------------------336x280 ADS------------------------------->
<!- ---------------------FIXED AD------------------------------->
<!- ---------------------336x80 ADS------------------------------->
<!- --------------------Sponsored Link Ads-------------------------------->
<!- ------------------------Bottom Ads---------------------------->